How to throw a 70sthemed party with fun retro decorations
How To Set the Scene With A Funky 70s Vibe
The 1970s were known as the decade of tacky loud clothing (bell-bottom jeans) roller discos and classic music no one has ever forgotten. But, for those of us who grew up in the '70s, it was the purest time to be alive, an innocent era with no social media. We all had our hair styled to resemble Chia Pets and knew all the lyrics of the dancing queen.
It's no wonder why a 70s Party theme is so popular. The big bright colors, lava lamps, neon lights, and smiley faces all give tribute to the happy and fun times of the 70s. This theme is perfect for a 60th birthday party, retirement, or any birthday celebration. If teens love this theme, who wouldn't?
There's no time like modern days to get creative with your party decorations, and what better way to add some extra glamor, than with inflatables in a fun 70s theme? You can find all sorts of inflatables with original designs for this era, from disco balls and afros to peace signs and disco divas. Inflatables have become a popular addition to parties recently, and for a good reason. They are fun, and festive and can add a special touch to the overall atmosphere of the party. If you are looking forward to creating a 70s-themed party, why not consider adding some inflatables to the mix?
They are not only a great way to add some extra flair to your party, but they're also bound to get everyone in the mood to groove. So bust out your dancing shoes and get ready to party like it's 1979!
Speaking of teens, my son's 8th-grade graduation party incorporated the 70s decade into many of the party decorations for the massive party thrown by parents.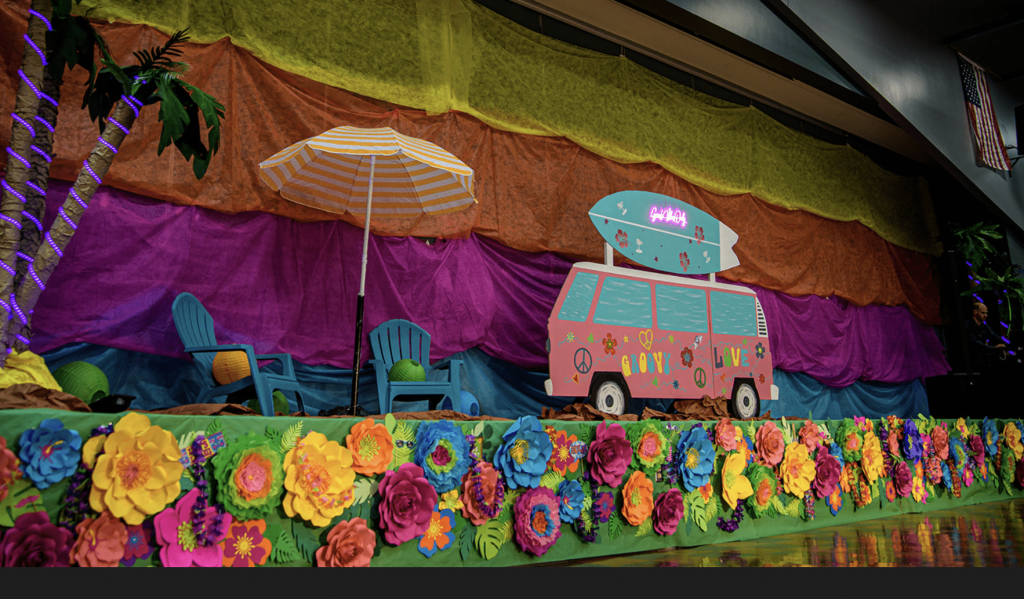 The Good Vibes Only theme- with 70s energy
Parents planned and executed the traditional massive 8th-grade graduation party. Every year a new theme is kept secret so the students are blown away when they attend the party.
The theme Good Vibes Only was selected because the kids had struggled with Covid related issues for two years straight. With that in mind, a broad-based happy theme represented happy and good vibes. Parents showcased the retro 70s vibe in several areas of the party- all with a "good times" feel. The cult classic 70s party theme is always a winner.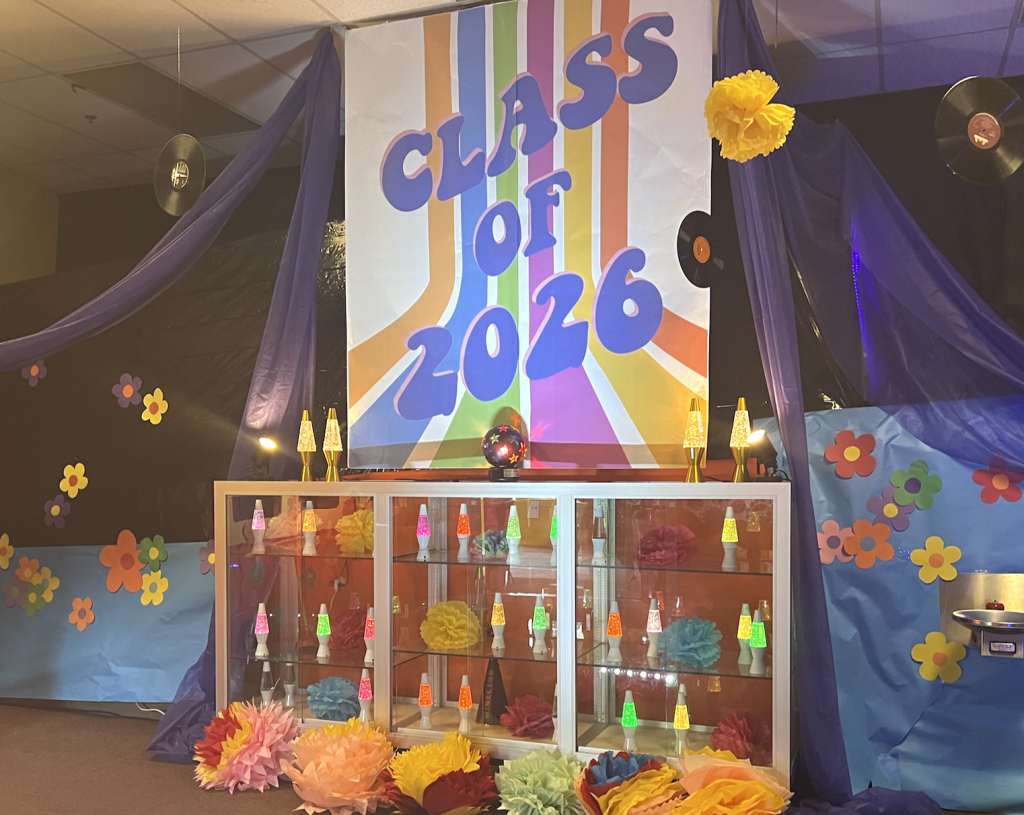 The 70's Beach Theme
The stage in the large auditorium in the school was decorated with an enchanting retro beach theme, which included a hand-painted Volkswagen van with peace signs and flowers painted all over it. Next to the wagon were hand-painted surfboards beach balls and palm trees.
The backdrop behind the palm trees and the groovy 70s van was a layered colored fabric that resembled a gorgeous sunset. The stage was used for the entertainment for the evening, which included special performances by the teachers and staff- the kids loved it.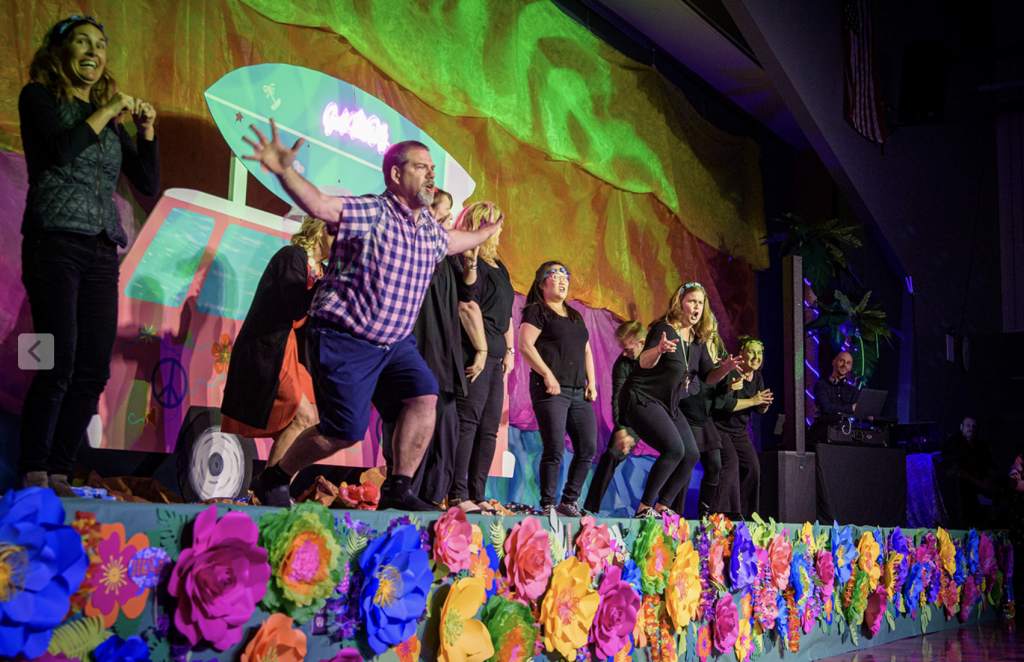 They decorated the short wall under the stage with bright handmade paper flowers.
A retro beach theme is a fun idea for any summer party. The color scheme is wide open. Just add some iconic elements and fun games that rock the 70s vibe. Throw in yard games like horseshoes for a guaranteed good time.
The 70s party music playlist
If you need a 70s beach party playlist, look no further than Jimmy Buffett, and the song that inspired the incredibly popular Margaritaville Cafe. Released in 1977, Buffett's classic tune will put your guests in the right mood.
Groovin 70's Throwback Theme
The entry space for the "Good Vibes Only" theme embraced the 70s era. From old vinyl records hanging from the ceiling, lots of bright paper flowers (cut out in a retro design) surfboards, and other groovy details.
The 70s iconic font- Typography from the era is very distinct, so if you're looking to create something with an authentic '70s look, you must have the right font.
Groovy was created from a hand lettering project inspired by typography from the 1970s. It comes with an extruded version, which is an exceptional addition. It also comes with almost 600 glyphs, stylistic alternates, swashes, and ligatures.
Folkloric is a retro sans serif that's very reminiscent of the 1970s. It comes with stylistic alternatives, ligatures, glyphs, numbers, punctuation, symbols, and a web font. It's perfect for magazine covers, book covers, retro posters, and more.
It's hard to imagine that 70s-inspired items are coming back into fashion, especially apparel colors and styles. It's an ideal time to throw a retro 70s throwback party. This would make a cool birthday party theme for adults, teenagers, and even kids. Below, find the grooviest 70s party planning tips.

Retro Decor Is Everything-
Look for tablecloths that have bold 70s prints (flowers were popular). For your party food, set your sights on bright 70s serving dishes and trays. Finally, use a vintage punch bowl to serve boozy or non-alcoholic cocktails made with a punch recipe from the 1970s. Perfect for 70s party planning!
There are plenty of memorable celebrities and cultural aspects of the 70s that are ideal for a 70s-themed party, such as vinyl records, Star Wars, disco balls, and all the iconic 70s apparel such as bell-bottom pants and wide-colored shirts. Have your guests dress the part with this classic party theme.
Shop in antique shops, thrift stores, party stores, and retro clothing stores for inspiration. Think about the days that we all went to roller rinks and slipped on our classic roller skates, swinging our hips to John Travolta as our big hair stayed in one place because of the sticky hair spray we used. The disco lights bounced off the ceiling. Yes, those were the days!
70s Table Decoration Ideas
Consider decorating the tables with a disco vibe or go with hippie or vinyl record decor. Get creative and check out Etsy for some pre-made creative ideas that make table decorations easy for any host or hostess.
If you want to go with a disco theme, consider incorporating a mini disco ball into a floral arrangement as an idea.
70s Groovy Party Favors
Fun 70s party favors to give out would be LIP SMACKERS, Pet Rocks, Mood Rings, Pop Rock Candy, and other popular candy from the 70s (Bottle Caps, Blow Pops, Ring Pops, etc..).
Lifestyle Cutouts and Stand-Ups
Fun items to have at a 70s Party are 70s Standees where guests can put their heads through the cardboard cutouts and get their picture taken. Popular characters from the 70s were anything Star Wars, Scooby Doo, Willy Wonka, I dream of Jeanie, and more.
Dress Like The 70s
Wearing 70s costumes is one of the most fun parts of hosting a 70s party. You will want to make sure and tell people that dressing up in 70s-related garb is required for entrance!
The most obvious 70s costumes usually involve platform shoes, peace signs, leisure suits, tie dye, big afro wig, big collared shirts, white disco pants, corduroy pants, extra wide ties, or even a full white leisure suit for the guys. A girl's costume usually includes go-go boots, colorful hippy clothes with lots of flowers, and don't forget the shoulder pads! Yikes!
70s Music
Think Saturday night fever and the bee gees when it comes to music for the party. Don't forget a mirror ball to go with the theme that could hang over the dance floor. Favorite bands like David Bowie, Donna Summer, and Diana Ross are always fan favorites.
70s Fun Activities
Paint your own pet rock, beer pong, and, of course, disco dancing. Board games are fun for smaller parties. Another fun game is twister! Remember that? My son loves chocolate fondue- this could be a good idea for younger guests. s