Creating the perfect living room arrangement is like assembling the pieces of a puzzle. It's a harmonious blend of aesthetics and functionality, where each element plays a vital role in shaping the heart of your home.
Whether you're starting from scratch or giving your living room a fresh makeover, the way you arrange your furniture can make or break the space.
In this blog post, we'll explore living room furniture arranging with expert tips and creative ideas to help you craft a personalized and stylish space. Keep in mind that the Living Room Design works for family rooms as well.
Let's dive into the world of furniture placement and discover how to transform your living room into a functional and beautiful sanctuary. Get tips for creating the perfect furniture arrangement and optimizing your living room design for comfort and style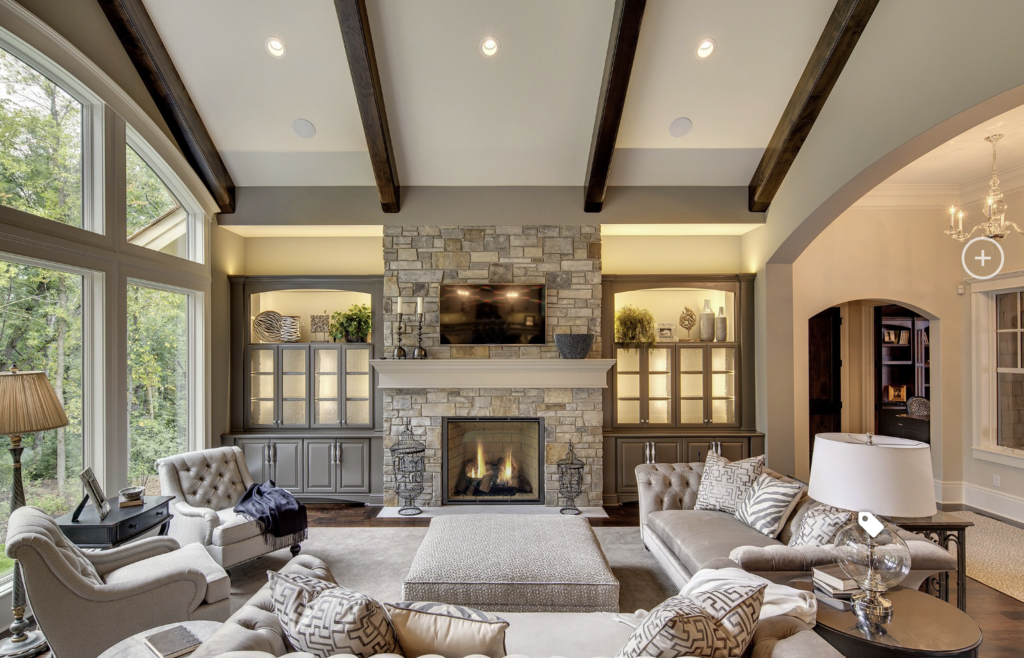 Creating A Room You Love and Will Live In
Living room layout is often times tricky. Whether you have a smaller living room, open plan living room, or a narrow space, we have some ideas to create a comfortable space to entertain friends or simply chill out.
Your room must definitely have enough room in which you can enjoy comfortable seating. In addition, you need to create enough space to walk around the furniture. This presents design challenges in living rooms so let's start with the basics.
Top 9 Interior Design Tips For Living Room Layouts
1. Arrange Furniture With A Focal Point
Arrange furniture in the living room to maximize the view, be it a TV or windows. Figure out what you want the main focus to be on. A design's main focal point typically represents the center of visual attention. In interior design, designers establish focal points to direct focus toward a distinctive element or area within a room.
When executed successfully, this focal point is emphasized, enhancing the room's allure, aesthetics, and visual appeal.
Determine what you want visitors to notice first when they enter the space For example, a fireplace naturally becomes a focal point in a room with one. However, not all rooms possess such defining architectural features.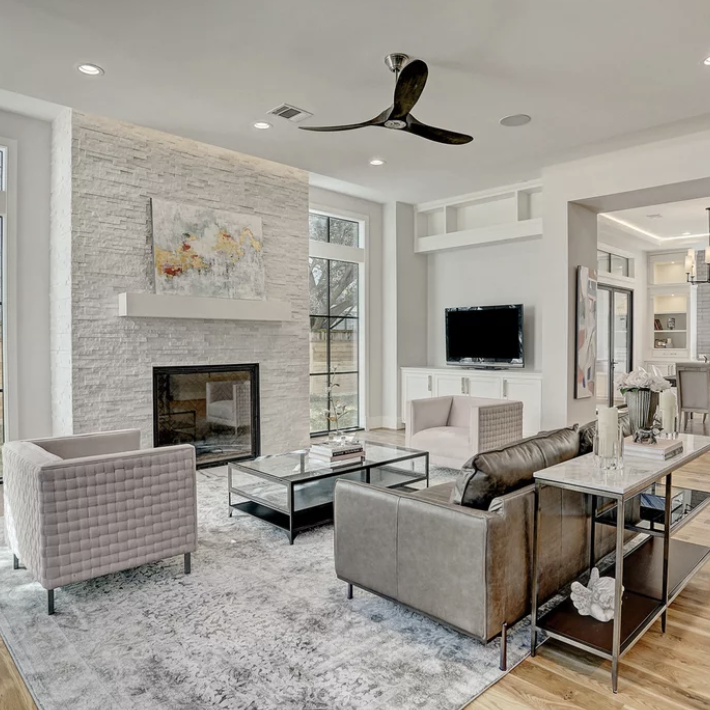 Popular Living Room Focal Points in Interior Design
Fireplaces- Such as a fireplace wall
Windows- An example may be a large window
Television- Where you want to watch TV
Furniture- Unique furniture pieces or a coffee table
Artwork
Feature Walls- With bookshelves
Once you've identified the room's main focus, the subsequent step is to fashion the room's design around it. The goal is to accentuate the focal point, ensure a harmonious flow within the room that leads towards it, all the while highlighting the room's inherent aesthetics and warmth.
Create Your Own Focal Point
To create your own focal point, hang a large piece of art on a wall or create a vignette of favorite objects on a console.
If you can't decide between arranging the furniture around the fireplace or the TV, choose both and mount the TV above the fireplace.
2. Start With The Largest Piece Of Furniture First
When organizing the layout of your living room furniture, begin by positioning the largest piece, typically the sofa, or occasionally, an armchair. Face this large piece of furniture toward the room's main focal point, whether it's a TV, fireplace, gallery wall, or window.
Face this large piece of furniture toward the room's main focal point, whether it's a TV, fireplace, gallery wall, or window.
I suggest not placing the large sofa directly in front of a window to ensure that natural light isn't obstructed. Following that, arrange smaller seating choices, like chairs or loveseats, either opposite or adjacent to the primary furniture piece.
Designing a well-arranged living room involves creating a space that is both aesthetically pleasing and suits your everyday needs. We have lots of living room ideas for you to explore depending on your floor space and furniture pieces.
The following guidelines for laying out your living room effectively are listed below. 
3. Furniture layout ideas for living room- Main seating
Place your main seating, such as a sofa or sectional, facing the focal point. This allows people to enjoy the view or conversation centered around the focal point. Ensure there is a clear line of sight to the focal point from the primary seating area.
A furniture arrangement that encourages conversation is ideal for rooms where you frequently entertain or relax with friends and family. For face-to-face chats (with sofas and chairs facing each other), place seating no more than 8 feet apart.
In a large living room, use furniture to create comfortable islands. This living room layout idea includes facing two sofas in the center of the room. Then place a group of chairs and side tables at one end to create a separate conversation area. Throw pillows and blankets to invite guests to get comfortable.
4. How To Lay Out Secondary Seating:
If your living room is spacious enough, consider adding a secondary seating area. Need extra seating? This could include two matching chairs or a loveseat.
Position furniture pieces in a way that complements the main seating area and provides additional places for people to sit.
5. Coffee Table and Ottoman Arrangement
Place a coffee table within easy reach of the main seating area. It should be large enough to accommodate drinks, snacks, and perhaps a decorative centerpiece. The coffee table can serve as a functional and aesthetic addition to the room.
Choosing the ideal ottoman for your space can vary depending on the size of your room, the size of your sofa, and the sectional configuration you choose. Often, the same rules for designing with coffee tables apply when you are designing with ottomans.
The size of your ottoman or coffee table should generally be 2/3rds of the width of your sofa or sectional. Allow 14″ – 18″ of space between your ottoman or coffee table and your sofa. This allows for plenty of space to pass through but still keeps the ottoman or coffee table within reach while sitting.
6. Consider Traffic Flow
Ensure that there is a clear and unobstructed pathway through the room. Arrange the furniture that allows people to move around comfortably without having to navigate around the furniture.
7. Warm Up The Living Room With Rugs
A well-placed rug will define your seating area and add warmth to the room. Make sure the rug is large enough to fit all the seating furniture, with a few inches of space around the edges. The front legs of the furniture should rest on the rug.
8. Balance The Weight and Scale Of the Furniture and Decor
Achieve a sense of balance by evenly distributing the visual weight of the furniture and decor. Avoid overcrowding one side of the room while leaving the other side empty.
9. Living Room Lighting
A key factor in the overall mood of your room, lighting plays a big part when planning how to arrange living room furniture. Windows let in ample natural light, while chandeliers, sconces, and lamps keep the room bright at night.
Arrange living room furniture near light sources to allow ample brightness for reading, conversation, and more. Improve lighting by installing in-floor electrical outlets to service floating furniture arrangements.
Remember that the key to a successful living room layout is finding a balance between aesthetics and functionality while accommodating your personal style and needs. Experiment with different arrangements to discover what works best for your space and lifestyle.
Flexible Living Room Furniture Arrangement Tips and Tricks
Creating a versatile flexible living room with adaptable furniture arrangements opens up numerous possibilities for functional and stylish design. Here are some additional ideas.
By embracing flexible living room furniture arrangements, you can adapt your space to various occasions, from casual family movie nights to elegant dinner parties, ensure you have ample seating space.
Invest in modular sofas or sectionals that can be rearranged to accommodate different group sizes or activities. These pieces allow you to create various seating configurations, from a cozy conversation area to a spacious lounging space.
Opt for furniture items with multiple uses. For example, a storage ottoman can serve as a coffee table, extra seating, and a place to stow away blankets and magazines. A sofa bed can transform your living room into a guest bedroom when needed.
Instead of pushing all the furniture against the walls, consider "floating" some pieces in the center of the room. This can create a more intimate seating arrangement and make the room feel cozier.
Define specific zones within your living room using area rugs. These can separate the seating area from other functional spaces, such as a reading nook or a game area.
Integrate mobile bar carts or utility carts into your living room. These versatile pieces can be used to serve drinks and snacks when you have guests over and can be moved around as needed.
Swivel chairs offer the flexibility to turn in any direction, allowing you to switch between conversation and TV viewing with ease.
Consider small folding tables or nesting tables that can be expanded or tucked away as necessary. They are perfect for providing extra surface space when entertaining.
Incorporate floor cushions or poufs that can be easily stacked or dispersed for additional seating. They are lightweight and can be stored away when not in use.
Consider using floor or table lamps with adjustable arms or shades to direct light where it's needed, depending on the activity in the room.
How do I arrange two sofas in my living room?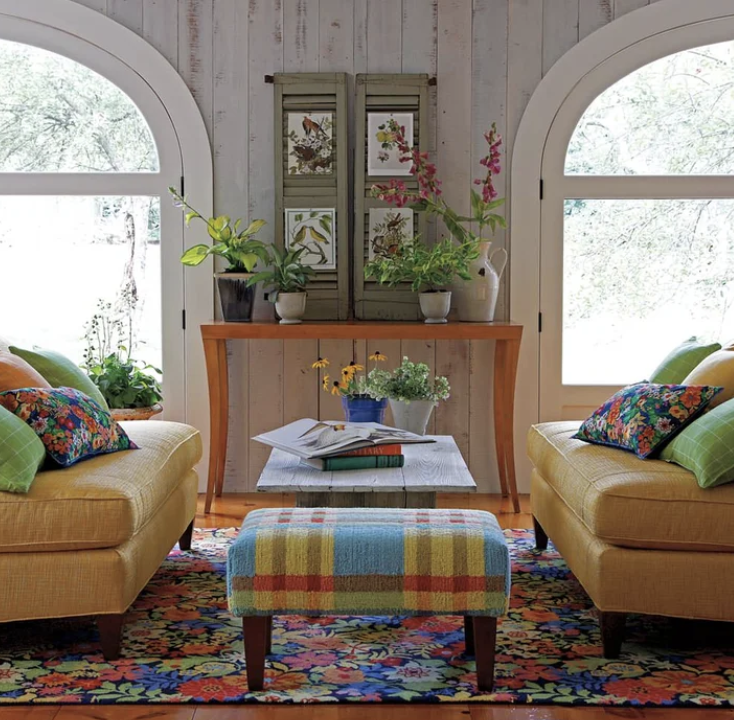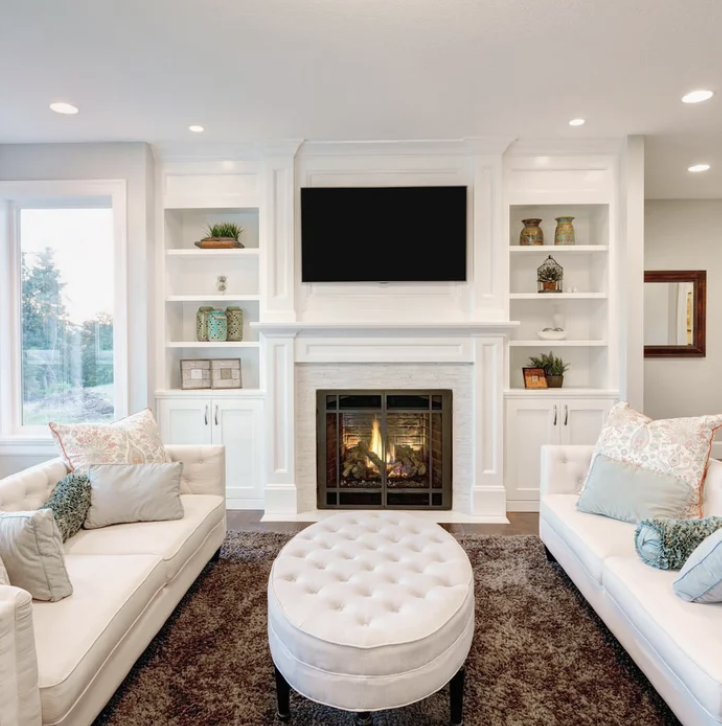 Things to consider when arranging sofas:
Select two sofas that complement each other in terms of style and color. You can opt for matching sofas for a cohesive look, or mix and match styles and colors for a more eclectic feel. Just ensure that they harmonize with your overall decor.
Place the two sofas facing each other to form a conversation area. This layout is great for encouraging interaction and makes the room feel cozy. Ensure there is a clear line of sight between the two sofas.
Consider placing a large area rug under the two sofas and the coffee table. This helps define the seating area and adds visual warmth to the space. Ensure that the rug is large enough for both sofas to have their front legs on it.
Position a coffee table in the center of the two sofas. It should be within easy reach of both seating areas. The coffee table serves as a convenient surface for drinks, snacks, and decor.
Consider the functionality of the room. If you plan to watch TV, ensure that the placement allows for comfortable viewing. You can position a television in front of one of the sofas or on a wall that both sofas face.
Ensure that the placement of sofas and other furniture creates a sense of balance in the room. The living room furniture arrangement is key if you can avoid overcrowding one side of the room while leaving the other side empty. Don't hesitate to experiment with the placement until you find a configuration that works best for your space and meets your needs.
The key to a successful arrangement is creating a comfortable and inviting atmosphere while taking into account the flow and functionality of the room. Positioning two sofas facing each other is a classic choice for creating an elegant and social living room space.
How to arrange furniture in a living room with lots of windows?
In the large living room with large windows, place furniture in the center. Seat placements should be facing one another, at least eight feet apart, and encourage conversation. ankle seats with rugs. Place additional seating and storage near the walls of the building on the outside.
Furniture Arrangements Ideas With a Fireplace and TV
Arranging a living room with both a TV and a fireplace can be a bit of a design challenge, but with some thoughtful planning, you can create a functional and visually appealing layout.
When deciding how to arrange living room furniture with a TV, prioritize comfort and accessibility for the best TV watching. Place the television so the screen faces away from the sunlight.
The viewing distance for a standard TV is 8 to 12 feet, and the best viewing angle is not more than 30 degrees. For traffic flow, create paths that flow behind viewers and not between them and the screen.
Here are several ways to arrange your living room with both a TV and a fireplace:
The Parallel Layout:
Position the TV and the fireplace on parallel walls. The TV can be mounted on the wall opposite the sofas or placed in an entertainment center. The sofas and chairs can then be arranged to face both the TV and the fireplace. This layout is great for creating two separate focal points in the room.
The Corner Layout:
If your fireplace and TV are both on one wall, consider placing the TV in a corner cabinet or mounting it on a swivel mount. This allows you to turn the TV toward the seating area when in use and away when you want to enjoy the fireplace. Arrange the seating to face the TV and the fireplace.
The Stacked Layout:
Place the TV above the fireplace mantel. This layout works well if your fireplace has a built-in or wall-mounted TV nook. You can arrange the seating to face the fireplace and TV, creating a cohesive look. Make sure the TV is at eye level when seated.
The L-Shaped Layout:
If your room allows, create an L-shaped seating arrangement. Place the TV on one wall and the fireplace on the adjacent wall. Position the larger sofa or sectional facing the TV and the shorter section facing the fireplace. This layout provides flexibility for different activities.
The Double Focal Point Layout:
Embrace both the TV and the fireplace as focal points. Create two separate seating areas with one area focused on the TV and the other around the fireplace. You can use a room divider, like a bookshelf or a low wall, to separate the spaces.
Conceal the TV within custom cabinetry or behind artwork when not in use. This allows the fireplace to take center stage when you're not watching TV. Arrange the seating around the fireplace, and when it's TV time, reveal the screen.
The Off-Center Layout:
If the TV and fireplace are off-center or not directly across from each other, you can balance the room by creating a more asymmetrical layout. Position your seating to face both features and use furniture and decor to visually balance the space.
Remember to consider the practical aspects, such as the height and viewing angles for the TV, as well as the safety of the fireplace. Additionally, think about how you use the room and tailor the arrangement to your specific needs, whether it's for watching TV, enjoying the fireplace, or both. Flexibility and comfort should guide your design decisions.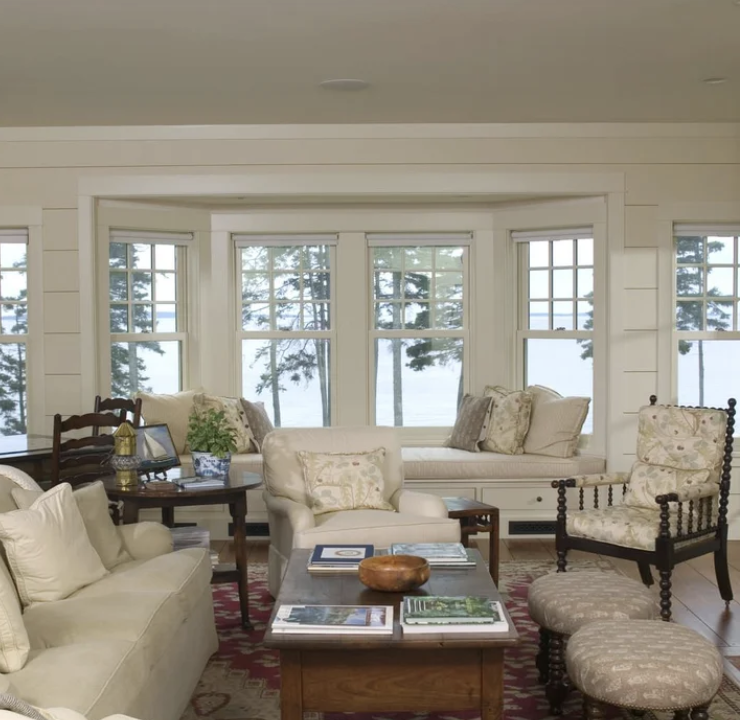 Layout Ideas for Bay Windows
Make a bay window an inviting place for reading a book or having a conversation. Featuring comfortable chair and ottomans. Provide chairs with a lighting area for reading in the darkness. Positioning the arrangement in the pop-out area will make the seating stand out in the room.
Create a cozy seating area around the bay window. You can place a window seat or a comfortable bench in the nook to make the most of the space. Adding cushions or pillows can make it even more inviting.
Enhance the ambiance with well-placed lighting. Consider adding table lamps or wall sconces to create a cozy atmosphere for reading or relaxing.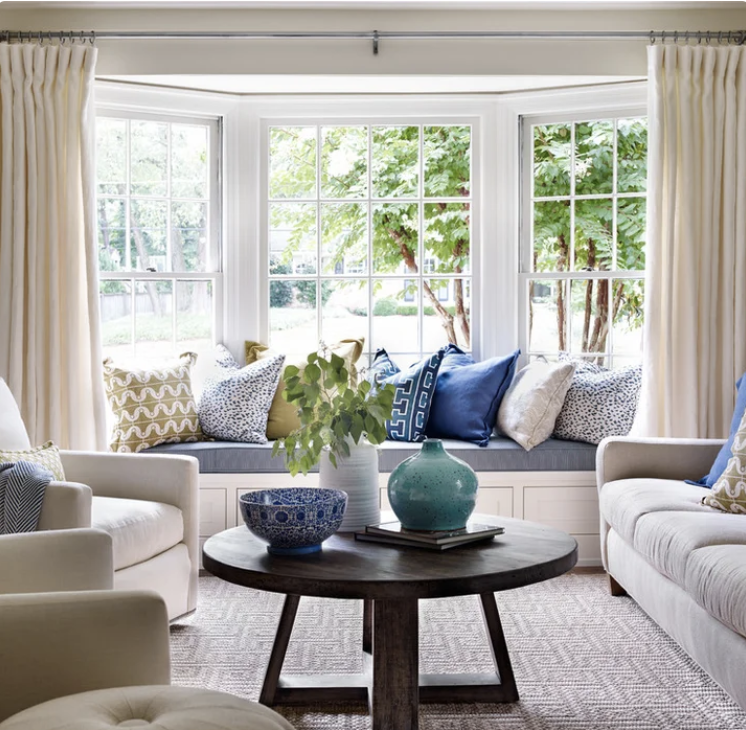 Place area rugs under the seating area to define the space and add warmth. Layering rugs can provide visual interest and texture.
Remember that the key to decorating around bay windows is to embrace the uniqueness of the space while maintaining functionality and comfort. Whether you create a cozy reading nook, a sunny breakfast area, or a serene spot for contemplation, the bay window can become a cherished feature in your home.
Make a bay window an inviting place for two Featuring comfortable chair and ottomans. Provide chairs with a lighting area for reading in the darkness. Positioning the arrangement in the pop-out area will make the seating stand out in the room.
Plan Storage Into Your Living Room Layout
When considering your furniture layout, don't forget about storage. Storage units may consist of bookshelves or storage in a side table.
Bench seats and banquettes placed along a wall can contain DVD storage and home entertainment items and also provide extra seating. If one wants a modern design for Victorian or Edwardian houses, try this design. Add a stone plinth of about 45mm in floor height throughout the walls. in addition, the fireplace walls will be able to store logs as well as firewood and serve as a central place for recessed fireplaces.
Frequently Asked Questions About Furniture Placement In Living Rooms
Still not satisfied? Here are some frequently asked questions
How do I arrange furniture in a small living room for maximum space utilization?
In a small living room, consider space-saving furniture and prioritize a minimalistic approach. Use multipurpose pieces, and place furniture against the walls to open up the center of the room.
What's the best furniture arrangement for a large living room?
A: In a large living room, create multiple seating areas to make the space feel cozier. Divide the room into zones for different functions, like conversation, reading, or entertainment.
Where should I place the TV, above the fireplace or on a media console?
A: The choice depends on your room's layout and personal preference. Consider eye-level viewing and aesthetics. Above the fireplace is a common choice if it doesn't strain necks.
How can I create a cozy and inviting atmosphere in my living room through furniture arrangement?
A: Arrange seating close together to encourage conversation. Incorporate soft furnishings, like throws and cushions, and use warm, inviting colors.
What is the most important piece of furniture in a living room?
No matter what style of furniture you have in your living room, the sofa is the most important piece of furniture.
How do you determine furniture placement?
Identify Function: Determine the primary function of the room.
Focus on Focal Points: Arrange furniture around a central focal point.
Prioritize Flow: Make sure you can walk easily through the room.
Balance and Proportion: Maintain visual balance and match furniture scale to the room.
Use Multipurpose Pieces: Use versatile furniture to maximize space.
Create Zones: Define specific areas for different activities.
Consider Views: Position furniture to take advantage of views.
Prioritize Comfort: Arrange furniture for easy access and personal comfort.
Experiment: Try different patterns until you find the best.
What is the biggest mistake in the placement of furniture?
The biggest mistake most people do while placing furniture is " Placing all your furniture against the walls"