The Hamptons are the ultimate definition of coastal chic. With their timeless designs and impressive architecture, the Hamptons style has become a household name that extends far beyond its East Coast roots.
I've always been enamored by the Hamptons, which is a beloved holiday destination for the rich and famous. These charming villages situated along the eastern coast of Long Island are renowned for their stunning beaches, luxurious homes, and exclusive parties. I incorporated the design style into my own home.
The Hampton style perfectly captures the essence of this region, with its traditional elements and refined atmosphere, yet it still manages to maintain a laid-back and relaxed vibe of a seaside vacation. The neatly manicured boxwood and hydrangea gardens explode with charm.
There are nine ways to design a home with a coastal hampton vibe– many shown below.
The Allure Of The Hampton Interior Design Style
The allure of Hampton interior design style can be appreciated without physically visiting the Hamptons. Its distinctive charm has enamored people worldwide, even though they may be far from the stunning Hampton Beach. Homeowners and interior enthusiasts alike are drawn to this timeless and sophisticated trend.
What is it about this style that has us all gushing, admiring, and wanting to replicate it in our own homes? For me, it's the way the Hamptons style effortlessly exudes enduring beauty and luxury, while still maintaining a level of comfort, simplicity and livability.
It's no wonder so many of us are head over heels in love with this chic interior style, and what better way to showcase its irresistible charm than by sharing four of the most heavenly Hamptons style living rooms around.
When we designed our home, I knew one thing, and that was I wanted that classic Hampton style with lots of open space. Our open concept space includes our living room area, dining room and kitchen that draws you in. It's where people love to gather and it opens up to the outdoor patio with continues our entertaining area.
I am going to share some design tips so you can create a hampton styled living room yourself.
The Heart Of A Hampton Home Is The Living Room
The heart of the Hamptons styled home is the living room. In many Hampton homes, the living room is the central gathering place where family and friends come together to relax and unwind. It's a space where the Hampton style really shines.
In the Hampton style, the living room is comfortable and inviting, with plenty of plush seating, soft furnishings, and natural light. It's a space that is both elegant and casual, with a focus on creating a relaxed and welcoming atmosphere.
What is the Hampton Living Room Design Vibe?
If you're looking to create a comfortable, stylish living room with a coastal theme, then the Hampton styled living room might be perfect for you.
In recent years, the Hampton style has become increasingly popular, especially in Long Island, where many beautiful Hampton homes can be found. A mix of traditional and modern design elements characterizes the style, with an emphasis on natural materials and textures.
Think about a beautiful room filled with lots of natural light with plenty of windows. The coastal style is inviting with natural materials such as timber floors, jute rugs. These materials give the space a warm and inviting feel, while also adding a touch of natural beauty to the room. It's a timeless classic design style that is always popular.
16 Elegant Hamptons Style Living Room Decorating Design Ideas
If you're looking to incorporate some Hampton-style decor into your living room, here are some ideas to get you started:
1. Add An Element Of Comfort & Coziness
Nothing makes a lasting impression like a luxurious interior that exudes comfort in every way. When it comes to Hamptons-style decor, oversized sofas and deep cushions are an absolute must-have. In fact, these statement pieces truly complete the look and feel of any Hamptons-inspired space.
But it's not just about size; quantity and quality play a vital role too. To make it cozy and luxurious, we chose lounge chairs and furniture with round edges and cushy textures. These thoughtful details add an extra touch of sophistication to the overall design, making every inch of the space feel warm and welcoming.
2. Choose Natural Materials and Textures
Natural textures like woven throw pillows, decorative items, and ceramic vases also add to the relaxed coastal look. Affiliate links are offered below.

Incorporate natural materials such as jute, wicker, and rattan in your decor to create a coastal and relaxed vibe. Use throw pillows and blankets made from natural fibers and add texture to your space with woven rugs, baskets, and decorative pieces made from materials that add texture.
3. Color Palette Of Crisp Whites and Natural Tones
When it comes to color palettes, the Hampton style living room is all about crisp whites and neutral tones. Use a neutral color palette of whites, beiges, and grays for the walls, flooring, and furniture to create a crisp and clean look. You can add pops of color with accessories such as throw pillows, art, and decorative items.
White kitchen cabinets with a clean wall paint color are an essential element in creating the classic and timeless Hampton style. This design aesthetic embodies a sense of casual sophistication, relaxed coastal charm, and effortless beauty.
4. Add elements of Rich Blue Color
The mix of rich blues in this stunning, yet highly functional living room inspired by the beauty of the Hamptons. The blue and white colors together is a design text-book look for this type of style.
Here, bold and patterned shades of blue harmoniously blend with crisp white walls and furnishings, creating a visually striking contrast that's both elegant and inviting.
To anchor the room and allow its true beauty and airiness to shine, carefully selected black decor accents have been added. Black pops with the hues of white and blue.
Many people use cool colors that may include baby blue or a soft gray blue hue decor pieces.

5. Timeless Fabric Patterns
To get a comfy, chic Hamptons living room, don't use bright colors or trendy prints. Instead, use timeless patterns like paisleys, geometrics, or brocade.
Mix and match different upholstery and cushion styles for a truly personalized look. For instance, you can pair a solid-color scatter cushion with a striped sofa and organic-patterned cushions to achieve a perfectly balanced arrangement. Just remember to choose cushion sizes that are appropriate for the size of your bed, chair, or bench.
By opting for classic patterns and carefully curated cushions, you'll create a space that's both stylish and comfortable, with a touch of Hamptons-inspired elegance.
6. Add Coastal Elements In The Home Decor
Use coastal elements such as seashells, driftwood, and coral to create a beachy vibe. Incorporate artwork featuring beach scenes and ocean views and use colors such as blues and turquoises to add a pop of color.
Lighten up your Hampton style living room with gorgeous lighting. Pendants and table lamps make it feel like home, while a floor lamp gives you more light for whatever you need. Glass lamps and statement pieces, such as ginger jars, can add a touch of elegance to the room.
Custom Linen Drapes with Ribbon Trim 2. Gideon Upholstered Swivel Armchair 3. Faux Coral Coastal Decor 4. Matching White Beaded Lamps 5. Safavieh Handmade Natural Fiber Barbados Chunky Rug 6. Six ft Fiddle Fig Tree 7. Baskets 8. Faux OliveTree 9. 54″ Caned TV Stand 10. Parkwood Swivel Chair 11. Essex Ottoman 12. Drift away Book Shelf 13. Beckett Chair – White 14. Channing Hand Knotted Rug 15. Norfork Sofa 16. Riverdale Hand Knotted Rug 17. Sea Striped Hand Knotted Rug 18. Dominica Abaca 19. Scalloped Jute Rug 20. Round Rattan Mirror 21. Scalloped Rattan Tray 22. Rattan Console 23. Brynwood Rug 24. Rattan Rug 25. Sakura Blossoms Giclee Art 26. Blue & White Chinoiserie Collection 27. Chinoiserie Home Decor Retro Pillow Cover 28. Hampton Style Pillow Cover 29. Floral Pillow
7. Hampton Wall Decor
Wall decor that features natural textures like woven wicker, rattan, or jute can add warmth and depth to a Hampton style room. Also framed artwork featuring seascapes, coastal landscapes, or simple abstract designs can be framed in clean-lined frames to add a touch of sophistication to the room.
Mirrors can help to brighten up a room and make it feel more spacious. Choose mirrors with simple frames in neutral colors to complement the overall decor.
Hampton style lighting fixtures often feature materials like glass or metal in simple, classic designs. Check out the wall scones below:

8. Bring in the Outdoors
Incorporate plants and greenery in your living room to bring in the outdoors. Use potted plants and hanging planters to add a touch of nature to your space.
To achieve a classic Hampton look, you may want to consider using indoor plants that are native to coastal regions, such as palms, succulents, and ferns.
You can also incorporate woven baskets or terracotta pots to give your plants a natural, organic feel. Grouping plants together in varying heights and textures can create a lush, layered look that is quintessentially Hampton. Finally, consider arranging your plants near windows or in well-lit areas to ensure they get the sunlight they need to thrive.
9. Choose Statement Pieces
When you add a statement piece such as a large piece of artwork or a unique coffee table it well add interest and personality to your space. Choose pieces that reflect your personal style and add a unique touch to your living room.
Amazon Finds:
Barcalounger Thornfield Recliner -Shoreham-Blue 2. Twenty Inch Chinoise pot with Faux Silk plant 3. Hampton Style Chandelier 4. Uttermost Side Table 5. White Slipcover Chair 6. Soft Blue cozy throw 7. Floral pillows 8. White Sofa 9. Boxwood Topiary 10. Uttermost natural rope banana leaf coffee table 11. Blue Swivel Chair 12. Hampton Coffee Table Book 13. Design Hampton Book 14. Hampton Coffee Table Book 15. Decorative Ceramic Ginger Jar with Lid, Blue and White 16. Small Ginger Jar 17. 19.5 inch White Ginger Jar
10. Window Treatments
Privacy is key in any living room, so you must include the right window coverings. Sheer curtains and roman blinds let in lots of natural light while keeping prying eyes out.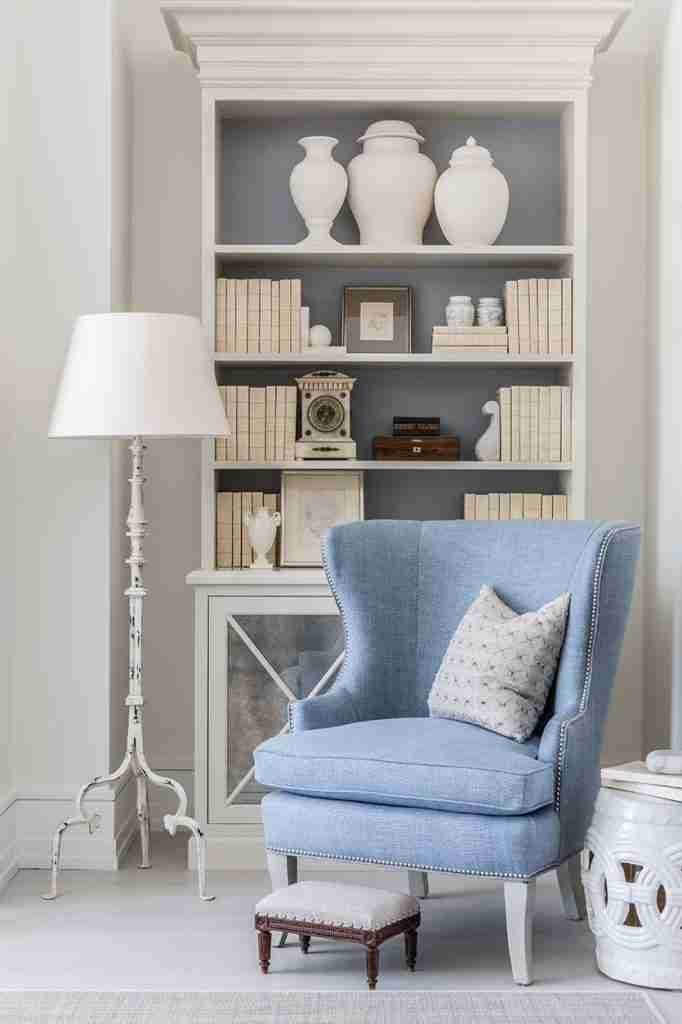 11. Hampton Style Furniture
When designing a Hampton styled living room, it's important to strike the right balance between classic forms and modern elements.
Large sofas, glass coffee tables, and side tables are all staples of the Hampton style, while black accents and vibrant colors can give the room a fresh approach.
Incorporate classic forms such as wingback chairs, pedestal tables, and traditional lighting fixtures to give a nod to the traditional Hampton style.
Mix and match furniture styles and materials to create a layered and interesting look. Pair a vintage armchair with a modern sofa and add an industrial-style floor lamp to create a unique and eclectic look.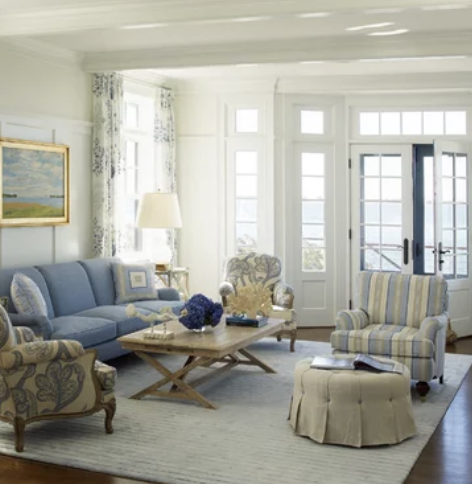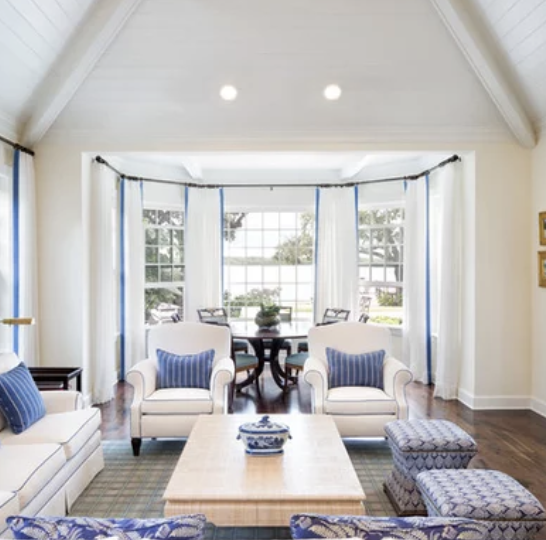 12. The Floors Are the Foundation
Timber floors, either stained a deep dark brown or in whitewashed mid tones, are favourites in Hampton style homes. Otherwise, go for natural stone layered with jute or cotton rugs, or sisal carpets for good looks and durability.
13. Built-In Window Seat
Creating a classic yet relaxed look is a key element of Hamptons style interiors. These homes come with window seats, perfect for a chilled out afternoon with a book or checking out the web.
Consider hiring a cabinetmaker to add a window seat to your home, complete with storage space underneath. For a finishing touch, choose indoor/outdoor fabric for the cushion covers.
If you have a magnificent view, then you will also like the idea of incorporating large windows and French doors into your living room design. Bay windows or French doors can provide stunning views of the surrounding area.
In conclusion, the Hampton styled living room is the perfect way to create a comfortable and stylish living space with a coastal theme. With natural materials, neutral colors, and plenty of light, you can create a space that feels like the perfect place to relax and unwind.
Whether you're designing an entire home or just a single room, the Hampton style is sure to impress.
14. Fresh Cut Flowers -Hydrangeas
When I think of the Hamptons style, the first thing that comes to mind are the vibrant and striking flowers that often border the gardens. While there are many beautiful options, like buxus and gardenia, for me, nothing captures the essence of Hamptons style quite like hydrangeas. These magnificent flowers are often cut from the boxed hedging and arranged in a relaxed and effortless-looking way indoors.
As an interior design enthusiast, I share Amy Lau's sentiment that hydrangeas are an essential element of the Hamptons look. They are a true classic that embodies the lush, billowing landscapes of the Hamptons in the summertime. With their bi-annual bloom and beautiful array of colors, including white, pink, blue, and purple, hydrangeas make for a stunning and understated floral addition to any Hamptons-style decor.
Photo from Sand and Sisal
15. Symmetry Design
Hamptons design is all about symmetry, which means you'll often find pairs of furniture pieces, like chairs and end tables, or opposing sofas.
In the living room, table lamps typically come in pairs, and you'll often see sconces placed on either side of a fireplace to create balance and harmony. This attention to detail and focus on symmetry is a defining feature of the Hamptons style.
16. Crisp White Walls
Hampton home design often incorporates crisp white walls, which help to create a bright and airy space. White walls are a hallmark of the Hamptons look, as they serve as a blank canvas for other design elements, such as natural wood accents, blue and white textiles, and pops of greenery.
White is the heart of Hampton style, and the crisp white walls and white furniture help to create an open and airy feel. Light turquoise and blue accents can add a pop of color to the room and create a cool and calming vibe.
The clean and minimalist aesthetic of white walls also complements the relaxed and casual vibe of a Hamptons-style home. Whether you opt for a matte or glossy finish, white walls are a timeless choice that can make any space feel more open and inviting.
Enjoy the process of bringing that coastal Hampton vibe into your home or to your garden (with hydrangea shrubs). I hope it brings you a peaceful oasis. If you want to paint your walls with more color, we have a curated list of the best timeless coastal paint colors you may want to consider.
Don't forget to consider a timeless exterior paint color!