Oh, the daunting task of choosing the perfect paint color for your kitchen! Trust me, I've been there too. But fear not, because a fresh coat of paint has the power to transform your culinary haven into a whole new world of aesthetic delight. Now, brace yourself for the ultimate question that always comes my way: "What color should I paint my kitchen?" Ah, the million-dollar query!
I will be focusing on the best wall colors that go with white cabinets.
White Kitchen Cabinets
White kitchen cabinets are a popular choice because white is a classic color that never goes out of style. It has a timeless appeal that can work with a variety of kitchen styles, from traditional to modern.
White cabinetry can help make a kitchen feel brighter and more open. This is especially important if you have a smaller kitchen or one with limited natural light.
The list of recommended colors come from many interior decorators and color specialist so let's get started.
Let's dive into the colorful adventure of finding your kitchen's soulmate shade. But hold on, there's a bunch of variables to consider on this exciting quest. So, without further ado, let me unveil the secrets of choosing the ideal paint color. Here's my personal list of must-know factors:
Five Things To Consider When Selecting A Paint Color For Your Kitchen
1. Determine The Undertone Of Your White Cabinets
White cabinets are incredibly versatile and can work well with a variety of other colors and design elements. It's important to note, however, that white cabinets can have different undertones, such as warm or cool. When choosing a wall color, consider the undertones of your cabinets and choose a wall color that complements them.
Refer to a color wheel to understand the relationship between colors. Identify the primary color of your cabinets (e.g., white), and then analyze its proximity on the color wheel to determine potential undertones. For example, if your cabinets lean towards a warmer, yellowish hue, the undertone may be warm or slightly golden.
2. LRV (Light Reflectance Value)
Every paint color has an LRV number. This number is on a scale between 0 (which is black) and 100 (which is white). The LRV number of a paint color lets you know how it compares to the darkness of pure black (LRV – 0) and the brightness of pure white (LRV – 100).
In other words, a paint color LRV states its DEPTH (i.e. off-white/light/medium/dark).
For Example:
Benjamin Moore Super White is a bright white with its LRV of 89.09. While it can look DARNED WHITE, especially in a well-lit room, it has a slightly cool blue undertone.
Benjamin Moore White Dove, is a soft white with a warm, but reasonably neutralized cream (yellow) undertone (southern exposure).
3. Consider The Direction The Windows Face- How much Natural Light?
How much natural light do you get in the kitchen? If you have a lot of natural light, you can choose a darker color without making the space feel too closed off. If you have limited natural light, choose a lighter color to help reflect light and make the space feel brighter.
Is your kitchen north facing? If so, a color such as a cool white will make your walls look a bit gray and dull. Choose a warmer color to counteract the north-facing light's dullness.
If your kitchen gets a good amount of warm southern light, you can pull off a cooler color. If you want your kitchen to feel cozy, then go with a warm paint color. The southern light will make it even cozier.
East and west facing kitchens will look the most inviting, with a slightly warm paint color, as the cooler tones may appear lifeless when the sun's rays aren't beaming in.
4. Personal Preference Of Style
Ultimately, the wall color should reflect your personal style and taste. Choose a color that you love and that makes you feel comfortable in your kitchen. Some people may like a soft pink for a subtle contrast if they have a beachy small kitchen for example. Others may prefer an olive green. Not my personal choice but that is what makes it fun.
What's your color palette for your home? Do you prefer a warm color with earthy tones or more of a classic, clean modern look? You will want to keep things consistent.
Does your home have a coastal vibe? If so, there are some wonderful proven coastal paint colors to consider. If you have a beach home, then a dreamy beach color would be fun.
Also, does your kitchen space blend in with other rooms in your home? If so, keep the color and tones in check.
5. Countertop Color Tone
The countertop hue is an important factor to consider when selecting a wall paint color for your kitchen because the two colors will be next to each other and will need to complement each other well.
The right combination of colors can create a cohesive and harmonious look in your kitchen, while the wrong combination can clash and create a disjointed look.
If your countertop has warm undertones, such as beige or gold, you'll want to choose a wall paint color that also has warm undertones as well.
If your countertop has cool undertones, such as gray or blue, you'll want to choose a wall paint color that also has cool undertones, such as a pale blue or cool gray.
Popular Shades to Match Cool White Cabinets
Here is the scoop for kitchen paint color ideas for cool white cabinets. Most cool white paint colors often have subtle blue or gray undertones. When choosing wall colors to complement these cabinets, you have a few options. You can opt for cool-toned walls that harmonize with the cabinets, or you can add a touch of warmth to your wall color to prevent the cool white from feeling too chilly or stark.
If your cabinets are a cool white, you can select from the following color groups: Cool Gray, Warm Gray (Greige), and Blues. If you prefer something slightly warmer, you can go for a beige shade, as long as it's not too warm. For a bolder choice, consider dark moody colors or even a navy hue. These colors will beautifully complement your cool white cabinets, giving your space a stylish and cohesive look.
Popular Shades To Match Warm White Cabinets
Warm white cabinets have creamy or yellow undertones.  With warm whites, you want to keep with the warmer tones.  The danger of using a blue-gray with warm white is that it will make your kitchen cabinets look yellow. Yuck! No one wants yellow cabinets!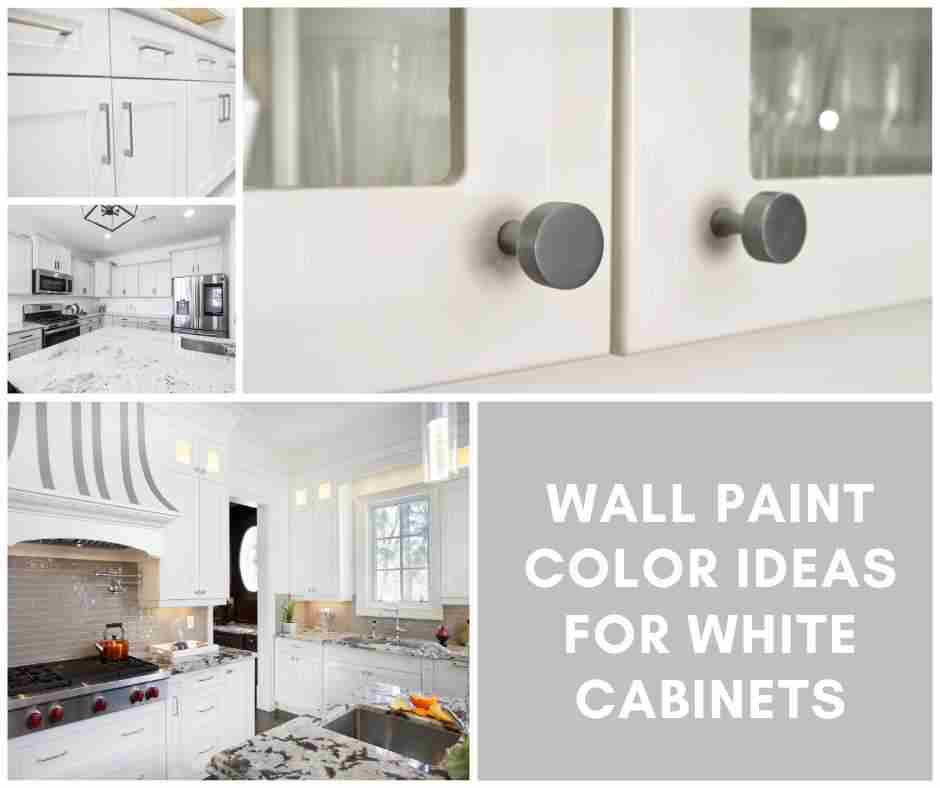 The Best Wall Paint Colors For Kitchens With White Cabinets
Most interior designers will usually recommend white warm tones or light gray paint colors for the kitchen walls. Gray is the preferred color for kitchen walls, as it has a bold and modern feel while still maintaining a fresh look. Its neutral color provides a perfect backdrop for you to add your own touch with colorful cabinets or kitchen accents.
1. Best Gray Paint Colors For Kitchens
A light gray that's almost blue, but not quite is a description of the best gray color tone for most kitchens.
a. Sherwin Williams Lazy Gray
SW Lazy Gray may look more or less blue or gray depending on the situation of the room. For example, lighting, decor colors, fixed elements, and so on.
If you want to know for sure how this beautiful cool-toned paint color will look in your home, you have to sample it. This is the only way you will get a 100% guarantee of how the color will perform.
DOES LAZY GRAY LOOK BLUE?
Yes SW Lazy gray has the potential to look blue. Sometimes, it may look almost like a blue paint color with gray in it, and in other cases, it may look like a gray paint color with some blue tones to it.
b. Agreeable Gray SW 7029, Sherwin-Williams
Chicago-based interior designer Alessia Loffredo of reDesign Home selected Agreeable Gray by Sherwin-Williams for the cabinetry in her client's light-filled kitchen. "We were looking for a light accent that would coordinate with the marble and limestone flooring, one that needed to perform rain or shine," she says. "Agreeable Gray checked all of the boxes for this space."
c. Benjamin Moore Gray Owl 2137-60
Interior designer Ariel Okin, based in New York City, endorses Benjamin Moore Gray Owl as she says "is a beautiful true gray through and through. It's not too green and not too blue, and it hits the right balance between warm and cool," she says. "I particularly like it in bedrooms for a clean and monochromatic palette of creams and grays."
d. Sherwin Williams Repose Gray
A superb choice for a kitchen with white cabinets. This warm gray offers a tranquil tone and excellent choice for any room. Agreeable Gray SW 7029 is a greige color can show warmth with brighter light conditions, it is usually on the cooler side. SW Repose Gray has a slight violet undertone.
2. Greige Kitchen Paint Colors-a popular choice
LIGHTER SHADES OF NEUTRAL TONES AND GREIGE COLORS
Would you like a kitchen that looks immaculate, feels invitingly warm, and is peaceful? A greige color may be exactly what your kitchen needs.
The warm, beige undertones in the greige walls will make the gray appear inviting.
The greige walls in your kitchen will radiate a comforting warmth, creating an inviting atmosphere for the heart of your home- perfect for relaxing and enjoying your culinary creations.
Slightly noticeable green undertone goes with a relatively wide variety of cream cabinets and trim. Impressively versatile. This light hue, is beautiful.
b. Benjamin Moore Bennington Gray HC-82
Don't be fooled by the "Gray" it's not gray at all. This color is part of the Historic Color collection. Bennington Gray is part of the HC collection. Steeped in tradition, the refined, elegant colors of the Historical Collection deliver timeless color that can be used in traditional as well as contemporary spaces.
c. Sherwin Williams Mega Greige 7031
This greige paint color (SW Mega Gray ) retains its character in bright sunlight. It coordinates well with nature-inspired hues and clean, crisp white kitchen cabinets. Mega Greige sits in between gray and beige, which also makes it a warm paint color not cool.
3. White Walls With White Cabinets
White Walls In A White Kitchen- Always A Great Option but it can be tricky. Selecting a white wall paint that complements your white cabinets can be challenging. It's important to determine the color of your cabinets, whether they have a cool, warm, or neutral tone. You can do this by identifying the paint color, if possible, or by observing the undertone.
One way to identify the undertone is to place a bright white paper next to the cabinet and compare the colors. If the cabinet appears yellowish, it's a warm white. If it looks blueish or similar to the paper, it's a cool white. The cabinet is neutral white tone with no yellow hue, it is will be a warm white.
What you need to know if you paint your kitchen walls and cabinets white
It's best to use the same shade of white to avoid creating a mismatched look. However, if your cabinets have a bright or cool white tone and you want to soften the appearance, you can opt for a warmer white on the walls without worrying about affecting the cabinets.
White walls are compatible with different shades of white, especially if the cabinet color have a warm white shade.
The all white paint shades creates a clean look in the kitchen. However, it's important to keep in mind that not all whites are created equal, and there are many shades of white to choose from.
Top White Wall Paint Color That Compliments White Cabinetry
4. Benjamin Moore Swiss Coffee
Benjamin Moore Swiss Coffee is a great white paint color that pairs well with a creamy kitchen cabinets. This popular creamy paint color is casual yet elegant and highly versatile.
This soft, off-white offers the ideal amount of warmth that adds a level of depth to a space. Swiss Coffee is a lovely neutral that allows you to decorate around easily.
5. Benjamin Moore White OC-151
Benjamin Moore White OC -151. is a classic white paint color that works an ideal wall canvas in nearly every room. White OC is a clean paint color for a white kitchen.
4. Dark Paint Hues For Kitchens
Darker wall colors can offer an acceptable alternative to lighter colors in certain situations. Dark paint hues offer a rich environment. While lighter colors like white, beige, and pale gray can create a bright feel in a room, darker colors can create a more dramatic and sophisticated look.
Create An Intimate Atmosphere
One advantage of darker wall colors is that they can help to create an intimate atmosphere in a room. Darker colors absorb more light than lighter colors, which can make a space feel smaller and more intimate. This can be effective in larger rooms, where the scale of the space can feel overwhelming.
Darker wall colors can also create a sense of depth and richness in a room. Rich shades like deep blue, emerald green, or dark gray can create a luxurious and sophisticated look that's perfect for formal spaces like dining rooms or living rooms.
Darker Color Adds A Striking Backdrop In A White Kitchen
Another advantage of darker wall colors is that they can provide a striking backdrop for artwork or decorative pieces. A dark accent wall can help to highlight a piece of artwork or a decorative object, drawing attention to its beauty and detail.
Adding color to a white is a great way to make the space more personal, like highlighting certain architectural features, setting up a kitchen island paint color as a focus, or tying in the same hue to other rooms, says Lucy Searle, Global Editor-in-Chief, Homes & Gardens.
However, it's important to note that darker wall colors can make a room feel smaller and more enclosed, which can be a disadvantage in smaller spaces. Additionally, darker colors can be more difficult to work with than lighter colors, as they can be tricky in coordinating with other elements in the room.
Blue Walls
Blue is a great color choice for kitchens with white cabinetry, as it can add a pop of color and create a fresh and calming atmosphere in the space. Here are some blue paint colors that would look great with white cabinetry:
Light Blue:
Light blue is a popular choice for kitchens, as it creates a calm atmosphere. Consider a pale blue with a cool undertone, such as Sherwin-Williams' Atmospheric, to create a serene and relaxing space.
Navy Blue:
Navy blue is a classic and timeless color that can add depth and richness to a kitchen. Consider a deep shade like Benjamin Moore's Hale Navy for a sophisticated and elegant look.
Teal:
Teal is a bold and vibrant color can add energy and excitement to a kitchen. Consider a bright shade like Behr's Blue Metal for a fun and playful look.
Turquoise:
Turquoise is a fresh and cheerful color that can add a pop of color to a white kitchen. Consider a bright and bold shade like Benjamin Moore's Clear Skies for a fun and beachy vibe.
Gray-Blue:
Gray-blue is a popular choice for kitchens, as it can add a touch of sophistication and elegance to the space. Consider a cool and calming shade like Sherwin-Williams' Upward for a modern and chic look.
Sherwin Williams Passive 7046
A cool toned gray like SW Passive 7046 looks amazing when paired with cooler whites and marble, lots of polished chrome, as well as other cooler colors like bright blue.
Benjamin Moore Van Deusen Blue HC-156
When selecting a blue paint hue for your kitchen with white cabinetry, it's important to consider the undertones of the blue color and how they will complement the white cabinetry. Additionally, you should consider the overall style and color scheme of your kitchen to ensure that the blue paint color you pick complements the existing design elements in the space.
Benjamin Moore Van Deusen Blue is stunning! Van Deusen Blue with its tiny hint of gray-green, pairs beautifully with paler blues, deeper blues, and many shades of greens, taupes, and creamy yellows.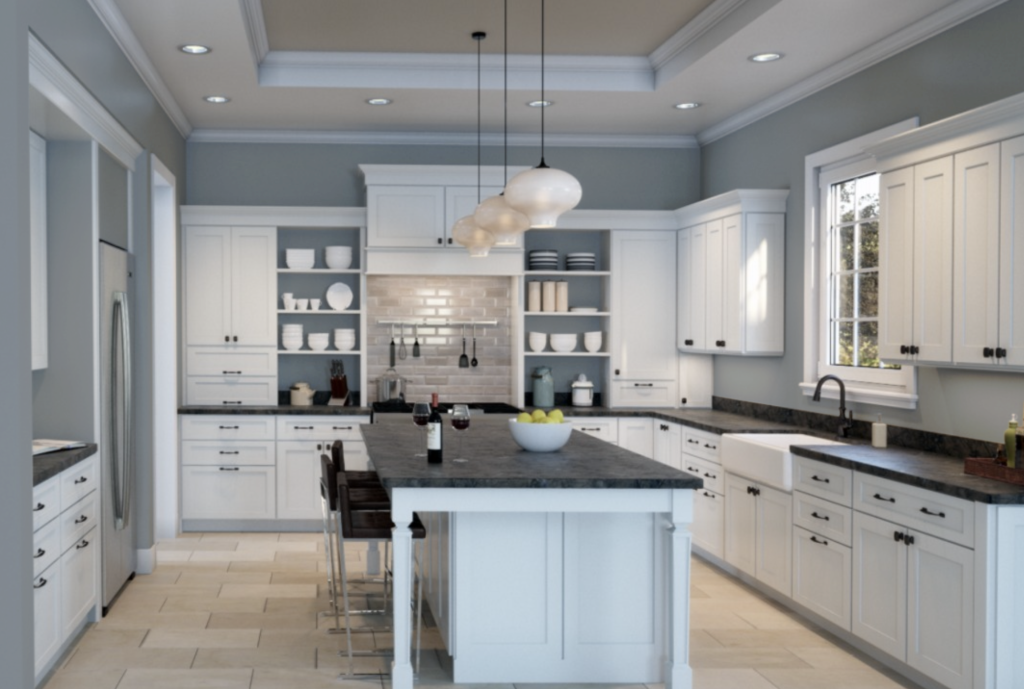 Let it Rain SW 9152 by Sherwin-Williams
This color that blends invigorating blue with calming gray to produce a restful and restorative atmosphere. This shade is ideal for harmonizing with wooden floors and cabinets, and it accentuates blues and grays in stonework and marble. Let it Rain SW 9152 harmonizes with wooden floors and cabinets, making it an excellent choice for your interior design project.
The fusion of blue and gray tones in Let it Rain SW 9152 generates a unique hue that is both energizing and soothing. This color can help establish a peaceful ambiance in any room. It also complements various materials, including wood, stone, and marble.
If you're searching for a color that imparts a welcoming and calming feel, Sherwin-Williams Let it Rain SW 9152 might be the perfect option for your next home decor venture.
5. Bright Kitchen Wall Colors
Bright wall paint colors can be great for kitchens for several reasons:
a. Bright colors like yellow, red, and orange can infuse a kitchen with energy and personality, creating a lively ambiance that's ideal for cooking, entertaining, and spending time with loved ones. Besides these benefits, there are several other reasons to consider incorporating bright colors into your kitchen design.
B. Bright colors reflect more light than darker colors, which can help to make a kitchen feel brighter and more spacious. This can be especially beneficial for smaller kitchens or kitchens with limited natural light.
C. Bright wall colors can create contrast with white cabinetry, countertops, and appliances, adding depth and interest to the space. When paired with neutral or white cabinetry, these colors can create a vibrant and eye-catching look that's both fun and sophisticated.
D. In addition, bright colors can inspire creativity and experimentation in the kitchen, making cooking and entertaining more enjoyable. They can create an inviting and inspiring environment that encourages you to try new recipes and techniques.
E. Lastly, bright colors can serve as a focal point in the kitchen, drawing the eye and adding interest to the space. For example, a brightly colored accent wall can provide a stunning backdrop for artwork or decorative objects, enhancing the overall aesthetic appeal of the room.
Overall, incorporating bright colors into your kitchen design can be a fantastic way to infuse your space with energy, personality, and creativity. With so many benefits, it's no wonder that bright colors are a popular choice for modern kitchens.
Here are a few bright colors: different colors or shades you might want to consider.
· Sherwin Williams Silken Peacock
Best Paint Colors For Small Kitchens With White Cabinets
When working with white cabinets in a tiny kitchen stay away from dark wall colors. You will have the advantage of a neutral base that pairs well with a wide range of paint colors with white colored cabinetry. Here are some of the best paint colors that complement white cabinets and work beautifully in small kitchens:
Soft Gray: Light shades of gray can create a modern and elegant look, while still maintaining a sense of openness in the space. This shade is a great paint color for small kitchens.
Pale Blue: Soft blues can add a touch of tranquility and freshness to your kitchen, making it feel inviting and airy.
Mint Green: A light mint green can bring a subtle pop of color to the kitchen without overwhelming the space.
Light Beige or Greige: These warm neutral tones can add a cozy and comforting feel to your small kitchen.
Soft Yellow: A pale, creamy yellow can introduce a warm and sunny ambiance, brightening up the space.
Light Taupe: Taupe hues with a hint of gray or beige can add depth and sophistication to your kitchen.
Pale Green: Light green shades, like sage or seafoam green, can create a refreshing and organic atmosphere.
Pale Pink: For a touch of softness and femininity, a pale pink can be a charming choice.