There are many reasons why we are drawn to the beach. The dreamy beach colors and vibe is a big reason. We are sharing the top eighteen dreamy beach inspired paint colors for you to choose from.
We all have a "blue mind that is a mildly meditative state characterized by calm, peacefulness, unity, and a sense of general happiness and satisfaction with life in the moment." According to Wallace, this is triggered when we're in or near water.

Marine biologist Wallace J. Nichols
Beach Colors Make Us Feel Happy and Relaxed
Beachy colors make us feel calm, relaxed and happy. Just as if we were sitting on a bright coral beach towel watching the dark blue ocean crash upon the warm white sandy beach. By painting your home with these calming beachy tones, you can achieve the feeling like you are on vacation but in your own home.
It doesn't matter if you live in a warm sunny climate or near the coastline, there are endless ways to incorporate a coastal happy feeling throughout your home.
You do not need to have a beach house to paint your home with coastal beachy hues. Learn more about the best timeless coastal paint colors here.
Coastal Beachy Paint Hues Works For Any Climate
I live in the Pacific Northwest near Seattle Washington where we crave a warm sunny beachy weather all year around. I designed my home to resemeble something like you would see in the Hamptons.
I used a coastal color palette throughout my home and it makes us happy every single day. The interior paint colors in our home are warm whites and light blue gray that pairs well with natural seagrass and other neutral colors.
It can be overwhelming to decide between the seemingly endless color options out there! From calm coastal paint colors to beachy paint colors, from kitchens and bedrooms to living room walls, I hope this overview will help.
There is a reason the "Coastal Grandmother" aesthetic is so popular these days.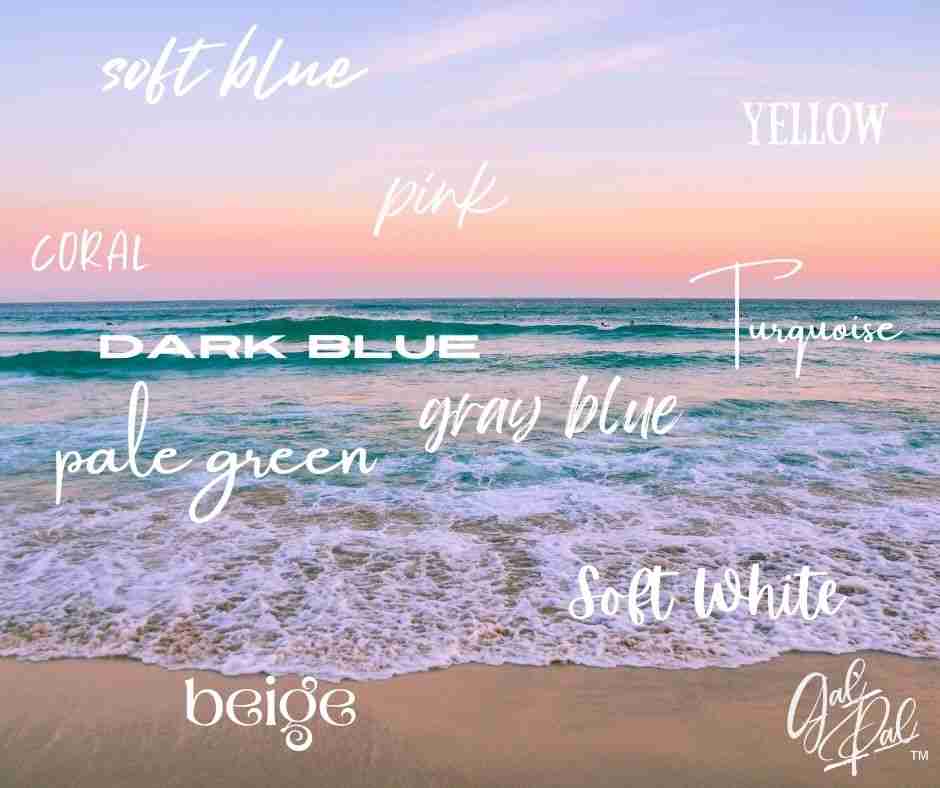 Best Beach Paint Colors Overview
The following paint colors represent a very popular beach color palette. The calm coastal paint colors represent what you may think of when you close your eyes and think about a perfect day at the beach. The goal is to share proven paint colors that will provide a soothing backdrop in a beach color scheme.
The Beach Paint Collection Overview
Keep in mind there are a wide variety of shades to work with. We are sharing a few of top designer's favorites here.
The mood is beachy and happy
The paint colors can be used on furniture, exterior doors, interior wall colors, accent walls and furniture pieces.
The colors pair well with each other
The Beachy Vibe Palette
A. Soft Whites
White may seem like a an easy choice only to find out that the selections are endless. You can either go with a cool, bright white, a warm-toned soft white. Look for a white neutral that pairs well with other color variations But there are some hues that designers turn to time and time again.
Think of the white sea foam and pearly shell white tone.
1. Benjamin Moore- White Dove 03-17
One of my favorites is Benjamin Moore's White Dove. We used it for our trim work and cabinetry in our own home. It's just "white" enough for that clean look but easy on the eyes.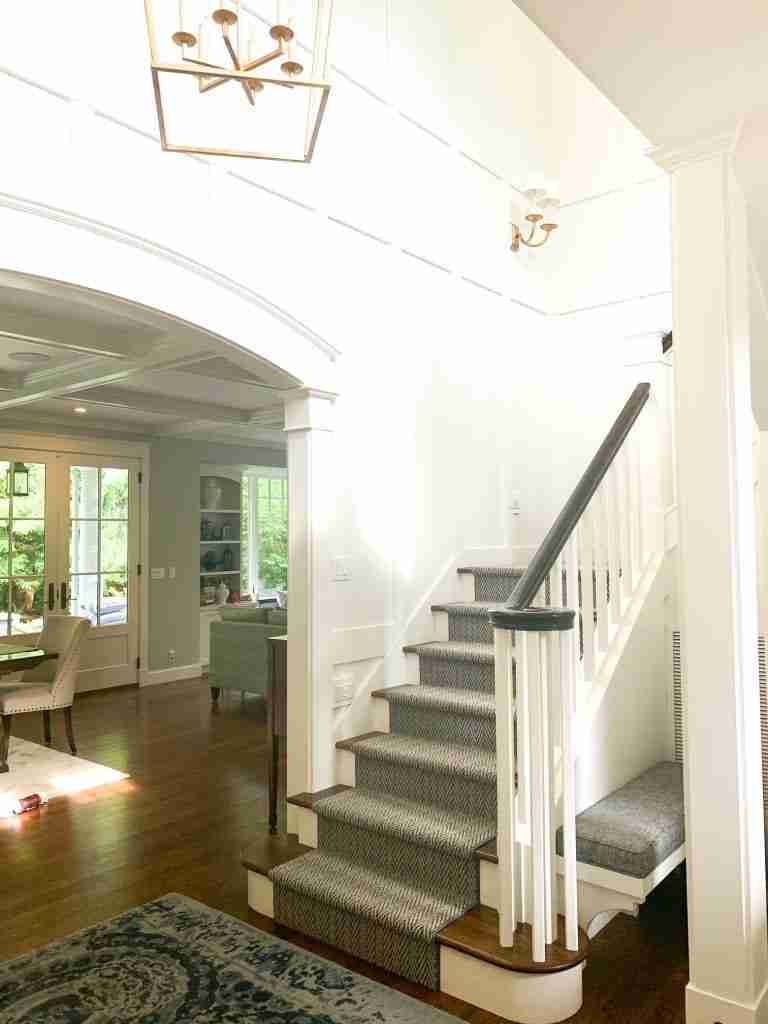 2. Farrow and Ball – All White
Farrow and Ball's All White All White is exactly what it says. There is no other pigment in this white . It pairs seamlessly with Skimming Stone and Strong White for a warm scheme with a slight edge. For a clean look try pairing it with St Giles Blue or another bold color.
B. Warm Sand Beige Paint Hues
The following beachy paint colors resemble a sandy beach, shells and beach pebbles. If you are looking for a neutral palette, the following shades will blend well into any color scheme.
3. Benjamin Moore Edgecomb Gray
Edgecomb Gray is a warm toned gray beige (greige). Edgecomb Gray will lean slightly cooler and more gray in a north facing room, while in a south facing room Edgecomb Gray will lean more towards beige, appearing slightly warmer.
4. Sherwin Williams Accessible Beige
A warm sandy beige paint color that pairs well with white and dark blues.
5. Benjamin Moore Skipping Stone
Skipping Stone is a ideal neutral paint color that will really warm up your space. It has the look of sand and is a great backdrop for other coastal colors.
This would be a great color to use on interior walls especially with white trim. It's a warm-toned paint color that looks stunning when paired with cool-toned accents.
C. Ocean Blues & Greens
The color blue has been psychologically linked to calmness and serenity, which is exactly what most people want to feel in their homes. For example, light blues and green tones might turn your bathroom or bedroom into an oasis, while a bold teal or inky navy can add a touch of drama to a living room or entryway.
The following coastal palette works well for nearly any room in your home.
6. Benjamin Moore- Silver Cloud
Benjamin Moore's Silver cloud is a soft saturated color that brings spaces to life for those looking to illuminate their world with pure, extraordinary color. We used this color on our walls paired with Benjamin Moore White Dove. It's a gorgeous color and we get compliments on it all the time.
Keep in mind the hue changes color like most paints throughout the day, depending on the level of light. This color makes you think of an blue spa paint color scheme- calm and quiet.
A soft muted blue color that is ideal for bedrooms and nurseries. Benjamin Moore –Sweet dreams 847 . This color is similar to a seaglass green.
8. Benjamin Moore's Iceberg 2122
Benjamin Moore's Iceberg (2122-50) is a breezy beachy soft blue. This muted blue is soft enough for a bathroom or bedroom but with enough blue to add color and depth for a office as well.
9. Benjamin Moore Spring Sky
Benjamin Moore's Spring Sky is a happy shade of blue with a tint of green. The office below is painted with the lovely shade and depending on the light in the room, the Spring Sky lightens up or becomes more bright.
10. Benjamin Moore Nantucket Fog
Nantucket Fog is one of my favorite muted blue colors. Just as the name applies, the hue is similar to a foggy New England morning along the coast. This color works wonderfully with beiges, grays, and light blue hues. Nantucket Fog is a traditional beachy shade that is perfect for nearly any room in your home.
11. Benjamin Moore Coventry Gray HC-169
Benjamin Moore's Coventry Gray A refined, elegant gray color of the Historical Collection that delivers timeless color that can be used in traditional as well as contemporary spaces. If you are going for warm gray color scheme, you will love this color.
12. Sherwin Williams Meander Blue
Meander Blue is a slightly brighter blue-green paint color that feels almost tropical. Think of the soft beach glass shades.
A bold stand alone for a room such as a small bathroom, or a sunny guest room.It begs for some crisp white beadboard or white wicker furniture to accent it on the walls.
11. Benjamin Moore Luxe AF 550
This is a gorgeous rich blue gray paint color. It pairs well with white trim as shown in the photo below.
12. Benjamin Moore Hale Navy
A timeless classic, this deeply saturated shade of navy blue evokes rich maritime traditions and storied exploits at sea.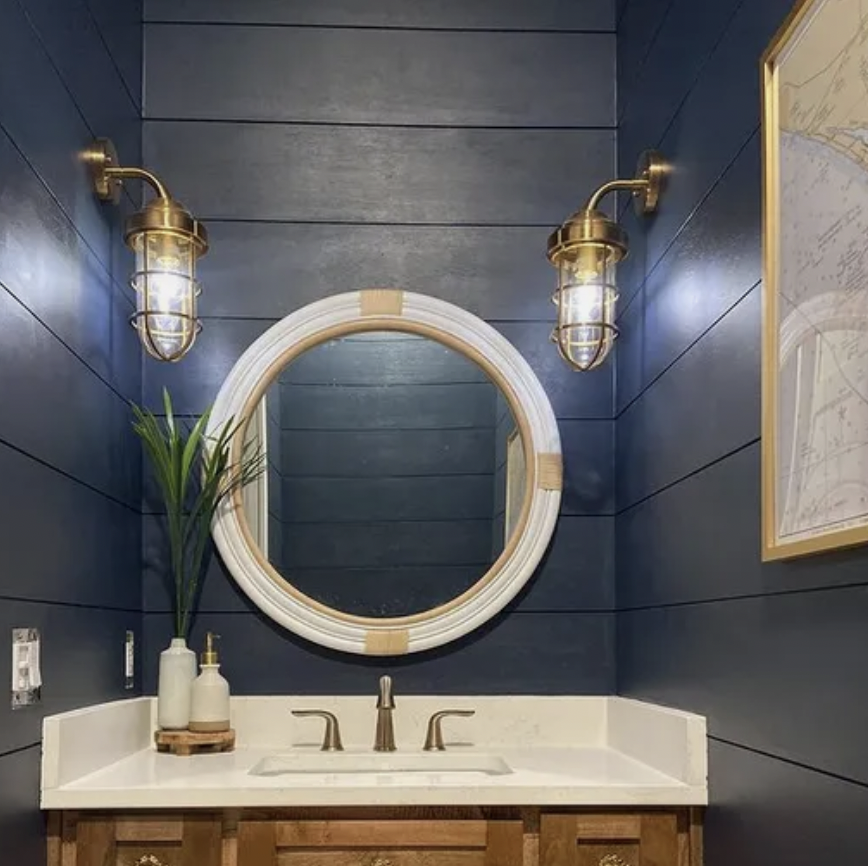 13. Farrow and Ball Palm
Palm is part of the Farrow and Ball California paint collection. This soft muted green paint color is ideal for painted furniture and a small bathroom. It pairs well with soft white and coral.
14. Benjamin Moore Par Four
Benjamin Moore's Par Four is part of the Classic Color Collection. This soft green has a bit of gray so it's not too green but rather a muted beacy soft green. Par Four (470) is pale green, but depending on the light in the room it can appear almost gray or blue. It pairs well with a peachy pink and soft white.
The soft green color shade is one of the top paint color hues of 2022.
D. Coral & Pink Sunset Shades
Considered a lucky color for many centuries, the Victorians used coral jewelry as a protective talisman. Other cultures, including the Chinese, thought coral to promote longevity and prosperity.
You can see coral and pink shades all around you in beachfront vistas and coral reefs. Coral is also a popular shade of rose, the color of a fresh peach, or the setting sun. Pink and orange shades are popular sunset hues.. no wonder we love the colors.
15. Benjamin Moore Passion Fruit-2171
Exotic peachy paint color. This distinctive purple-pink shade delights the senses and tastefully brightens any decor. This makes an ideal bright accent color.
16. Farrow and Ball Dusty Pink
Farrow and Ball's dusty pink is the ideal soft blush pink that is actually a nice neutral hue that pairs nicely with a soft white rather than a bright white. Perfect beachy pink paint color for a bathroom or bedroom
17. Sherwin Williams 7678 Cottage Cream
Cottage Cream is a an ideal soft sunny yellow. This calming paint shade is subdued enough to be considered a beige, but has enough yellow in it to look like a color when it is on the wall.
Cottage Cream brings a bit of sunny brightness to any coastal beachy home theme. without being too prominent.
18. Benjamin Moore Suntan Yellow
Benjamin Moore Suntan Yellow is such a pretty yellow. Works for an exterior door, furniture of an interior wall paired with white and soft deep blues.
If you are looking for more exterior paint choices, check out the article- How to choose the best home exterior paint colors here.
80 SHARES Share on Facebook Tweet Save Share Share Tis the season for giving, and what better way to spread joy than with carefully curated gifts for every aspect of life? We've scoured Amazon's vast marketplace to bring you a handpicked selection of presents for her, him, and the home. With the convenience of Amazon,…