I have various types of drapes in my home depending on the need and design. From custom made to pre-packaged standard drapes there are so many options on the market it can be overwhelming.
There is no doubt that hand made drapes or curtains are always my first choice for that cohesive look and more reasons I have outlined below.
I wanted to to give you the scoop on how and why to consider buying custom made drapes over store bought. And… My little secret on where to buy custom drapes. Hand made drapes can actually be affordable friends!!! You just gotta know where to buy them.
Here is the deal ladies… You don't need an interior designer to order custom drapes. If you are working with a pro seamstress with design experience, you are good to go. I have the gal for you!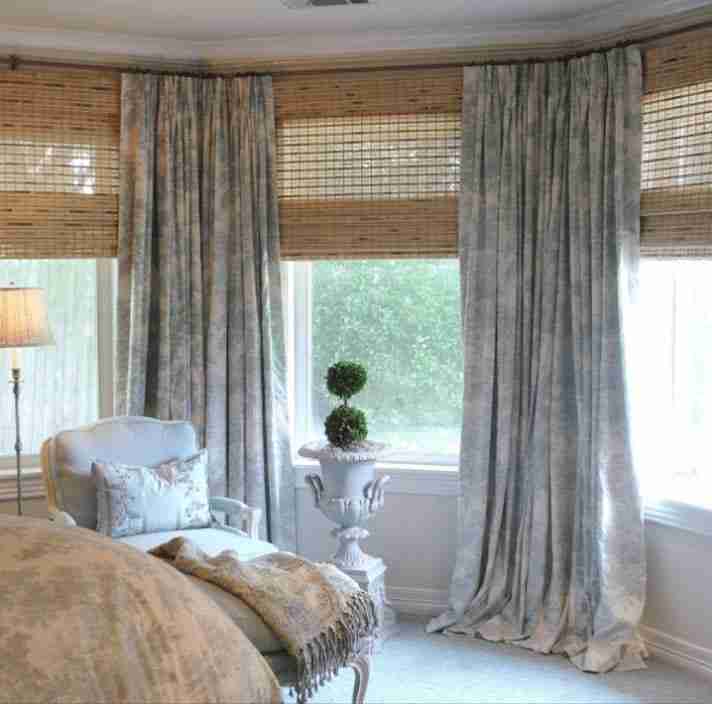 Drapery adds elegance and sophistication to a room. Layered panels frame a window and add texture and warmth to make a room feel cozy and finished.
The Difference Between Custom and Off-The Shelf Drapes
When I was planning on adding window coverings to my guest room, I had a good idea about the look I was going for but, the options can get very confusing quickly. Based on my ceiling height and, curtain rod placement, I knew that standard panel sizes weren't going to work.
Not to mention, I really wanted the drapes to be special and unique, not something you see everywhere.
A well-made window covering is like a perfectly fitted couture dress.
You can usually tell the difference between high-quality drapes and less expensive options. The quality of the fabric, craftsmanship and how the fabric drapes and fall to the ground are good indicators.
Think of a well-made window covering like a perfectly fitted couture dress (embellishments and all). The type of drapes you use to frame a window, can transform an entire room.
The drapes below were custom designed and made by AD Couture Home (I discovered them on Etsy!!) for my guest room. See the picture below of my white linen drapes with the white and black geometric ribbon trim. LOVING IT!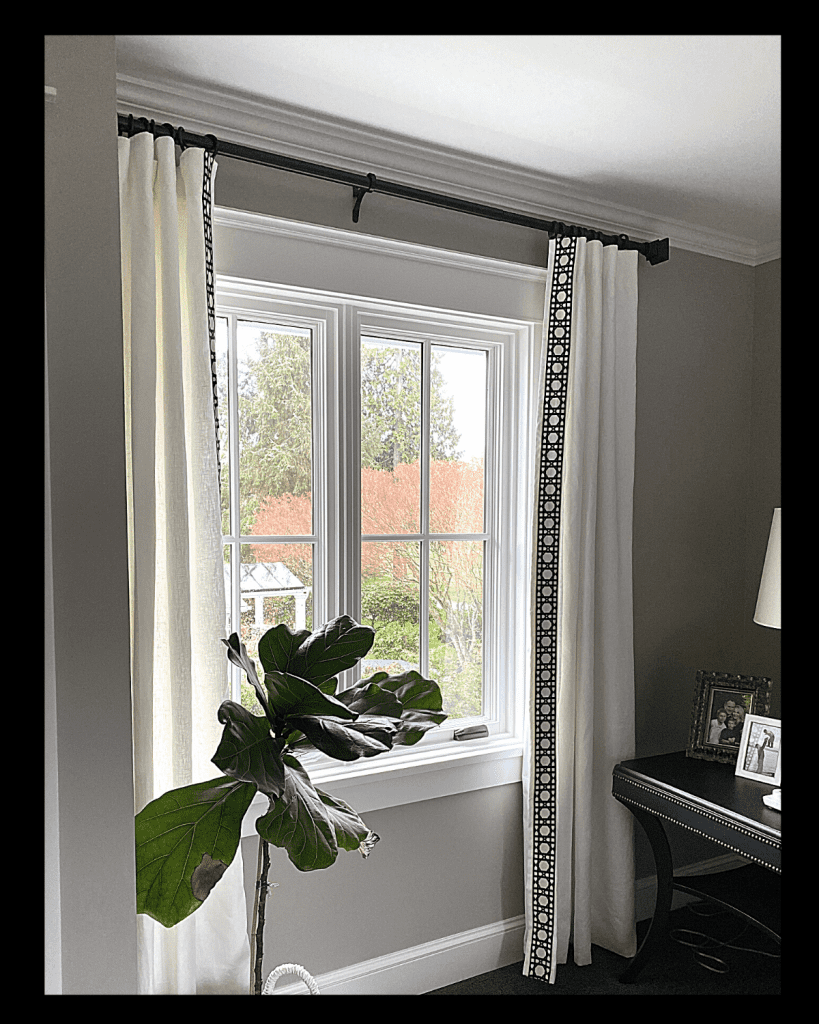 There is nothing wrong with standard window treatments. I installed darling stripped linen drapes from Pottery Barn in my younger son's room and another set of drapes from Pottery Barn in my older son's room.
In our master bedroom, we have custom white linen drapes from Restoration Hardware. The line fabric is lovely, very substantial and gorgeous but not inexpensive!!! Very expensive in fact. The key is that the drapes don't compete with your outdoor landscape that you want to enjoy.
For instance, I wouldn't want drapes in a room where our large Vanilla Strawberry Hydrangea is planted. I want to enjoy my view but when it comes to privacy, that is a whole other conversation.
I'm a sucker for elegant window treatments. The cafe curtains above were hand made by my sweet and talented friend Lenae. These beauties hang in my boys bathroom. The boys love how the window treatments offer privacy and style and, they are not too girly.
Custom window treatments offer many benefits such as exact dimensions for your window size. Off the shelf drapes only come in several size options in most cases.
The Benefit To Custom Draperies:
The ideal fabric and pattern custom drapes can bring
Custom Style: Do you want full drapes that puddle on the floor or sleep clean, modern lines?
Sizing- when you measure correctly, your custom drapes will be perfect in size. Each window is always very different, so the benefit of custom drapes is that you don't have to worry about standard sizes. Box stores sell window treatments that come in standard lengths and because length is essential to keep in mind when considering choosing curtains. I decided to go with custom drapes because the standard box store drapes/curtains didn't work in my house.
High quality- custom drapes are very durable based on the high-quality fabric and professional craftsmanship.
Ability to add embellishments such as ribbon trim like I used in my guest bedroom
There is so much to consider when planning any type of window coverings for a room such as fabric, lining, length, purpose and design not to mention cost.
Custom panels come in endless design options, from material to header style.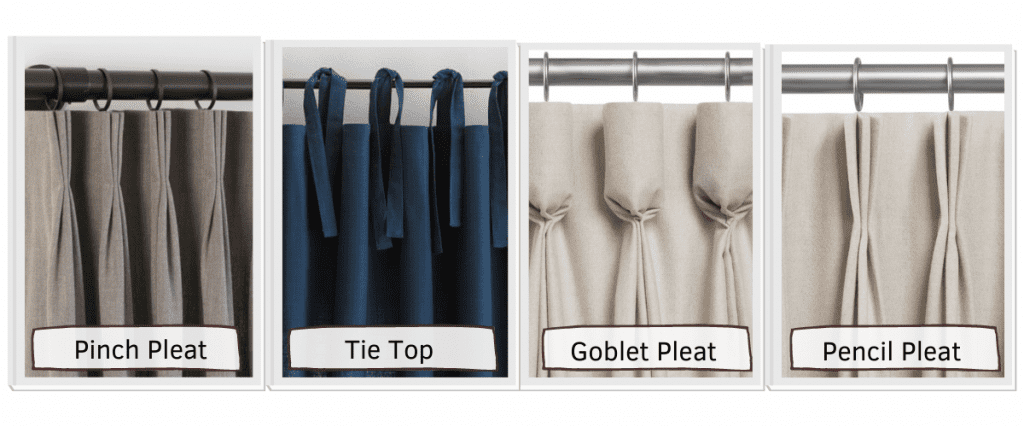 With these options, though, comes a considerable price difference from off-the-shelf curtain panels. Read this post for more information.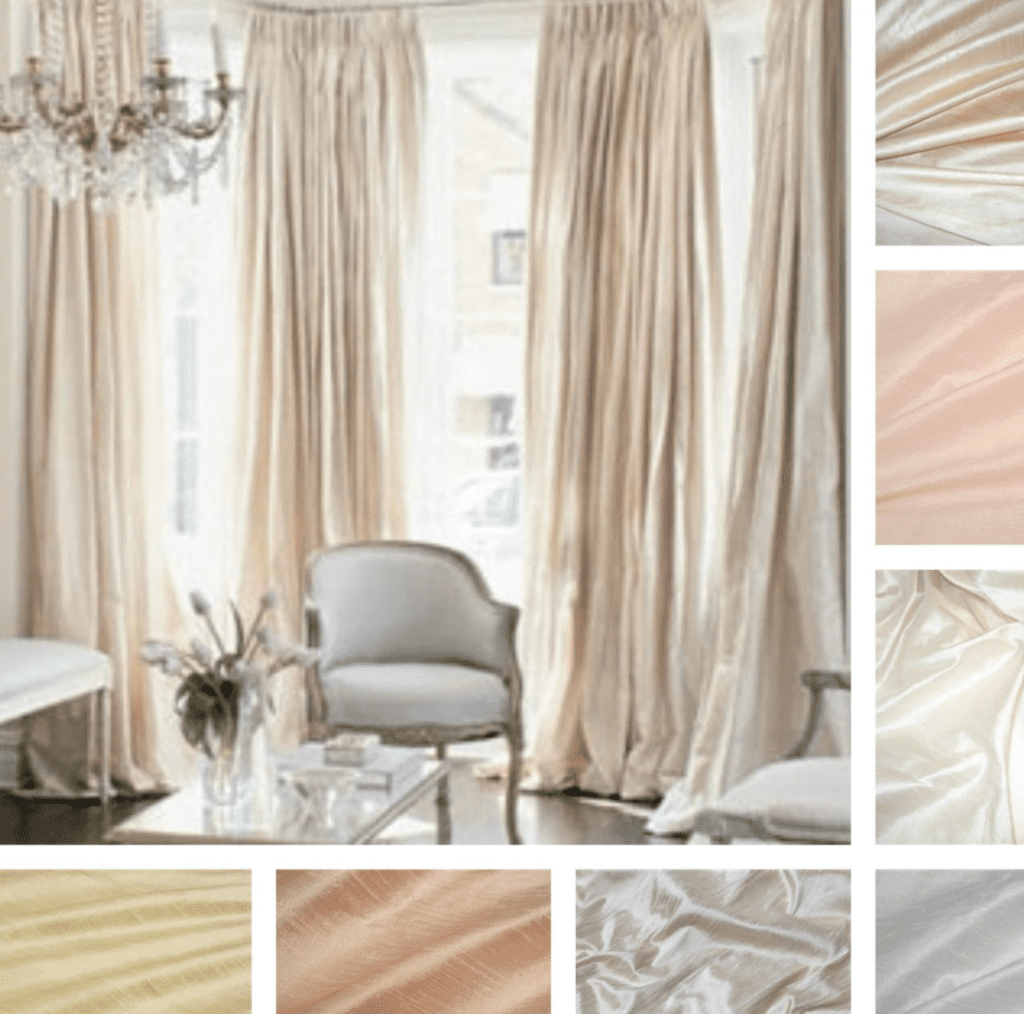 The best thing about custom drapes is that you can design drapes that will compliment your room's architecture and frame a view, a chance to match your upholstery color and manage the natural light via your windows.
After looking for the ideal drapes and window coverings in our newly remodeled home, I quickly realized that I would have as many drapes made by an expert as possible, so I could match the decor and architecture of the entire room.
For our guest room, I went with custom drapes by ADCouture Home. I am extremely pleased with how they turned out along with a custom throw pillow made to match the drapes, so elegant. See below.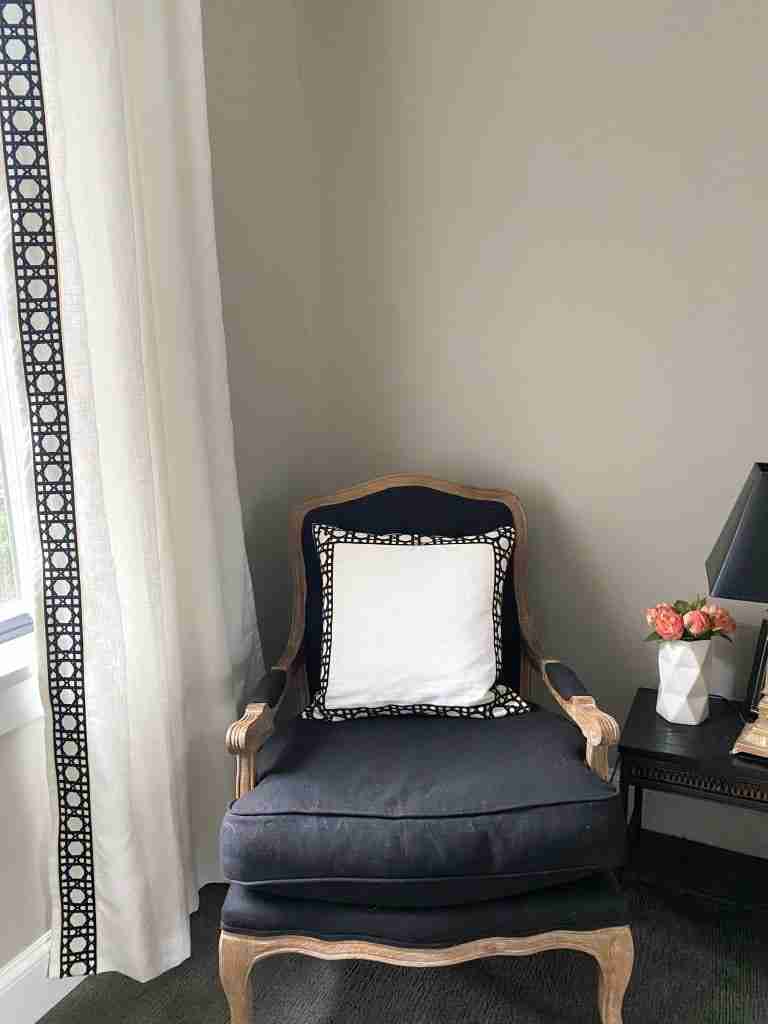 Affordable Hand Made Custom Drapes Can Be Affordable!
Ordering custom drapes don't have to be really expensive. When planning my window coverings for my guest bedroom, I worked with Amanda Allard with AD Couture Home.
Amanda started her business in 2008 on Etsy. At that time, she was the first custom drape company on Etsy.
In speaking with Amanda she says, "one of the biggest struggles for customers is knowing how to measure and size drapes."
I found that Amanda provides exceptional customer service, and she exceeded my expectations in assisting with the grueling process of knowing what size drapes, fabrics, and style I was trying to achieve. She says most of her clients need guidance.
Amanda says,
"Customers often send us pictures of a room and need assistance with picking colors and fabrics to go with the decor, and we help them with the design piece. Our customers' goal is to love their drapes and for high-quality, high-quality expectations from ordering custom. "
AD Couture works with Interior designers all over the country to assist with fabrics and drape designs for a particular room and even offers a designer discount.
In fact, AD Couture's Home Designs were featured in three Love it or List it episodes.
Our most popular items lately have been the designer Thibaut drapes, our silk dupioni drapes, and pillows. We have recently started selling designer Thibaut and Schumacher fabrics and wallpapers.
AD Couture Home mentions that many wonder why some drapes look grande and others look cheap?
Many factors will affect the look of drapes from the height, width, length, style, fabric, and even the lining used in a drape.If you have a beautiful home you most likely want your drapes to look just as fabulous.
If you are seeking a unique set of custom drapes, reach out to Amanda at AD Couture Home. For more information about how to measure and prepare to buy drapes check out the post here.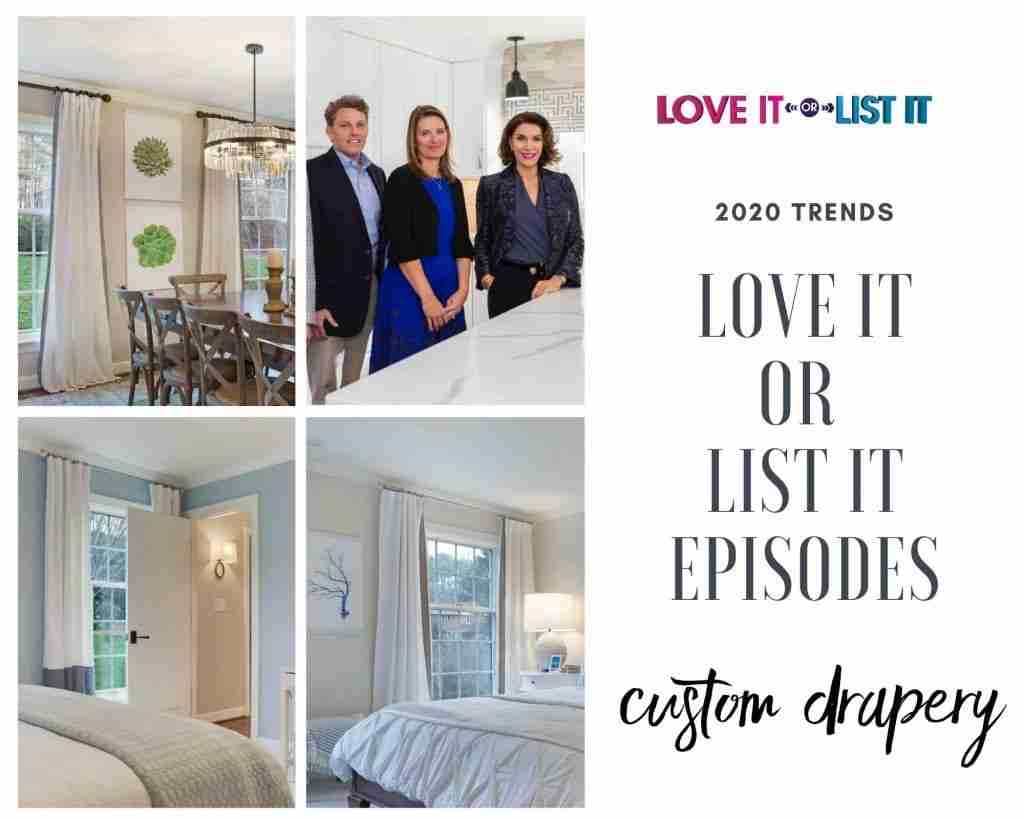 AD Courture Home Featured three times on Love It Or List It