One of my friends told me recently that I have that "Coastal Grandma" design styled home. It was a bit of a head scratcher, as I wasn't sure if I should take offense or consider it a compliment. I had to google it to find out.
Have you heard of the new trendy design aesthetic "coastal grandmother? If not, you'll be surprised by the trending design style that pays tribute to the understated, effortless coolness of the "Coastal Grandma." The fact that 'GRANDMA" is used in this term, gave me the impression much different from I expected.
I must admit that I envisioned a typical old school grandma dressed in a big, flowing lace dress sitting in a beach cottage with cheesy coastal decor around. I was so wrong, girlfriends! You see, the '"coastal grandmother' trend is more about the aspirational coastal lifestyle than anything else.
Nancy Meyer's Movie "Something's Gotta Give"
The well-known movie "Something's Gotta Give" is used to describe the Coastal Grandmas aesthetic based on Diane Keaton's character's attire and lifestyle living in the memorable beach home.
I'll never forget longing for Diane Keaton's character 's coastal home in the movie. I recall wanting to dress in Diane Keaton's character linens with the classic silhouettes. So relaxed but not-overly preppy attire. It was the beautiful home featured in the movie that captured my heart.
One of my Gal Pals told me the other night that she remembers stopping the movie scene by scene, just to admire the prestigious Hampton home design and decor in the film.
What Is "Coastal Grandmother" and Why It's So Popular?
The term "Coastal Grandmother" became popular on TikTok by tiktoker lex nicoleta and has left viewers with a bit of confusion and lots of inspiration. The description was coined the name by Nicoleta, a coastal grandmother is anyone who "loves Nancy Meyers movies, coastal vibes, recipes and cooking, Ina Garten and cozy interiors."
Here is the deal though…You don't have to be a TikTok user to appreciate the coastal grandmother vibe. Home designers like Serena and Lily and Cabana Life are capitalizing on the aesthetic trend. You will see it everywhere.
You Don't Need To Be A Grandmother To Rock The Style
Trust me, you don't have to be a grandma, or anywhere close to it, to achieve this title. In fact, you can be any age and live practically anywhere to channel your inner coastal grandmother and that's the good news.
Coastal grandmother is an aspirational lifestyle seen many Nancy Meyer's movies. A high brow classic but yet comfortable esthetic. Basically, coastal gran is a enjoying your best life by the ocean sipping on Sauvignon blanc curled up in your overstuffed white couch.
My friend was right on point. The "coastal grandma" trend is totally my style. The interior design has a Hampton vibe. Now that I think about it, the home in Something's Gotta Give is what inspired me to design my home with a casual, elegant style.
Think Diane Keaton In "Something's Gotta Give"
What Is The Coastal Grandmother Lifestyle?
Before you rock the style you need to grasp the lifestyle aesthetic.
Picture this: You're relaxing on the patio of your beach home, enjoying the cool, salty breeze while your blackberry pie bakes in the oven. You spent the early morning clipping white hydrangeas to fill the vase on your kitchen table .
Later, you may settle in to read your favorite book for over an hour after a long walk on the beach. Before you forget, you'll head to the local farmers' market to stock your tote bag with fresh fruit and veggies for your next several meals. You then end the afternoon enjoying a glass of wine with your best friend, who happens to be your neighbor.
The lifestyle focuses on emulating a life well lived. Living with crisp, clean interiors, beachy colors infused with fresh flowers and stripes rather than bold prints.
I now understand how women of any age are thriving on this classy beachy lifestyle aesthetic .
What Is A Coastal Grandmother Home Design Style?
So how do you manifest the coastal grandma look in your own home without the Hamptons beach house? One of the key factors in embodying this coveted theme is your choice of home decor pieces. Casual elegance is what you need to keep in mind when selecting cozy and clean decor pieces that can transform your room into a beach home oasis.
The home design style incorporates a coastal paint color hues. and textured nubby fabrics. The furnishings are timeless and will never go out of style. Blue and white ginger jars and linen drapes fit the style like the photo shown below.
The classic home design style and landscape may include crushed oyster shell winding pathways as seen all over the East Coast.
For instance, flowers on the kitchen windowsill, bowls of fruit, plenty of books, cozy slip-covered furniture, bowl of lemons, casually thrown elegant pillows, fresh-cut flowers, plenty of books, casually thrown pillows, and an abundance of natural light.
See The Top 18 Dreamy Beach Inspired Paint Colors here.
The Coastal Grandmother Home Design Style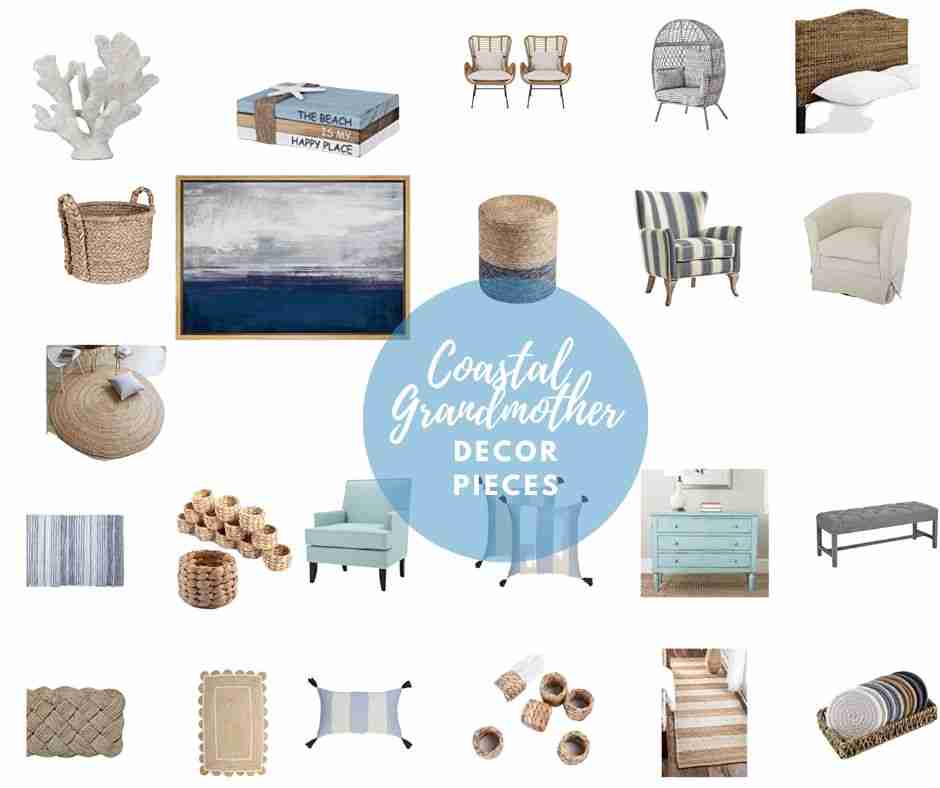 What Is The "Coastal Grandmother" Wardrobe Essentials?
If you love the idea of always looking effortlessly put together, this fashion style may be up your alley.
The "coastal grandmother" fashion aesthetic appeals to many women now more than ever. We have all been accustomed to wearing more comfortable clothes during the pandemic. So consider that cozy wardrobe you love and then take it up a notch. No sweats! Consider wearing a neutral color that is interchangeable for one.
The essential wardrobe pieces may include comfy cashmere or cotton sweaters, a button down white shirt, linen dress and tops with cargo pants (casual wide legged trousers) or jeans (not tight and skinny). Always add a bucket hat or straw hat. A cashmere pashmina takes any outfit to a new level.
Stick with a neutral color palette that may include creams, beige, blues, soft greens and pinks.
Why Women Thrive On This Style
So why do so many women thrive on this coastal grandmother style? Because it means that you can look effortlessly stylish. You know, the type of women who always looks put together without trying too hard.
Who doesn't want that look? Southern Living Magazine says "the Coastal Grandmother is also the best hostess (while never breaking a sweat,) and appreciate the finer things (yet still feel approachable,)" I love that so much.
Coastal grandmothers wear luxury apparel such as cashmere and linen. They love to garden, take leisurely walks on the beach when it's slightly windy, and sip white wine while reading on their wraparound front porch.
Celebrity book lover Jenna Bush Hager described it as a "breezy beige feel" on The Today Show, and celebrity book-loving icon Oprah is known for this style as well.
Are You A "Coastal Grandmother"?
If you resonate with the majority of these questions- You may want to own the style.
Open a bottle of wine at 4 pm during warm months?
Take long walks on the beach (either solo or with your beloved dog) ?
Wear a signature stack of gold jewelry?
You love to wear beachy colors in the summer such as white, tan and shades of blue, pink and green
You enjoy having friends over for tea or wine in the afternoon
On a warm sunny day you show up to every occasion in a bucket hat or fedora
You enjoy the finer things in life
You look forward to going to local farmers' markets
You appreciate fresh cut flowers from the market of your own garden
You adore summer days where you can wear an untucked soft button down shirt
It's easy to envision yourself settling into a white Adirondack or lounge chair positioned in an area with a view of the beach? A place where you could curl up and sip your morning coffee. Or sitting on a lovely front relaxing with a good book on a summer day.
12.Can you picture yourself dressed in linen pants at a garden party? The hostess is serving fresh oysters accompanied by a chilled bottle of sauvignon blanc on a warm night?
13..You crave to make fresh lemonade in a glass pitcher with lemons from a bowl on your counter, so it has time to set.14.Study Ina Garten cookbook and prepare some fresh pasta with vegetables and herbs you collected throughout the day.
The Grandmilleninnials
It is so interesting to see that grandmillennials have an affinity for design trends considered by mainstream culture to be 'stuffy' or 'outdated'—Laura Ashley prints, ruffles, embroidered linens," These grandmilleniannilas respect the traditional elegance of their grandmother's china and chinoiserie pieces.
These grandmillennials are loving on the "coastal grandmother" vibe.
There is no doubt that one glance at Instagram account of design publicist and grandmillennial Austin Mill makes it apparent that entertaining is one of his greatest passions. Grandmillennials love to entertain that would earn a stamp of approval from any coastal grandmother advocate.