A room transformation using wall art is not as difficult as it may sound. In fact, I am sharing my home decorating secret source for art prints, wallpaper and wall murals that will blow your mind.
One of the easiest and most affordable ways to give your home a total makeover is by adding wallpaper, wall murals, prints, or canvas prints that fit your personality.
Home Decorating With Wall Art
Whether you're looking for something subtle or an eye-catching statement piece, wallpapers and wall murals are the perfect way to add a bit of pizzazz to any room in your home. This is especially true when the wall art reflects your interests and dreams.
Here's a guide on how to pick the ideal wall art for your home. It's amazing how wall art can warm up a room. It's what I appreciate most about Scandinavian interior design.
Add Warmth and Comfort To Your Walls With Scandi Wall Art
Hygge sets Scandinavian home decor apart from other styles. That is, to create an environment that encourages feelings of warmth, contentment, and coziness. Although the word comes from Denmark, many Nordic homes have the same comforting essence without being overly ornate.
I recently came across a genius company called PhotoWall in Sweden. I was so impressed with the quality and the vast variety of wallpaper, wall murals, and prints that fit just about any personality and style. It opens the door for anyone to add color and interest to any room.
Digital printing technology enables them to print just about anything for anyone in the world. You gotta love technology.
How To Add Interest And Color To Your Room
Wall art, murals, and wallpaper are often used in Scandinavian interior design to add color and interest to a room. This is true for nearly every type of design style. Interior designers are loving the opportunity to add color and interest with either your own photography, design or a well known artist- all at affordable prices. I know right?
Different Types Of Affordable Wall Art
Wall Murals
Wall murals are large, often custom-designed images or graphics that are painted or printed directly onto a wall. They can create a focal point in a room, or to add a specific theme or feeling to a space.
For example, a wall mural of a forest might be used in a waiting room to create a calming, nature-inspired atmosphere. PhotoWall can create a wall mural from artwork or a photo you supply to them. How cool is that? So if you can create it digitally, they can print it.
Wall Murals For Children's Rooms
I love the idea of adding fun images and designs to a kid's room. Back in the day when my boys were young, the only way to add interest to the wall in a nursery or kid's bedroom was with old fashion paint. Then came wall decals, but now the options are huge.
Drawing boring old designs on the walls of your kids' rooms is a bit like, well, drawing boring old designs on the walls; why get creative with interior design when there are amazing wall murals available?
If you really want to add a unique, eye-catching touch to any room in the house, then it's time to explore the world of children's wall murals.
Perfect for both those looking for something bright and colorful and those wanting a more subtle but striking look, there's no limit to what you can do with a great wall mural– this could be the best 'do-over' job your home has ever seen. So dust off your painting equipment and get ready to show off that inner artist!
Wallpaper
Wallpaper made from a variety of materials, including paper, vinyl, and fabric. Wallpaper can add color, pattern, and texture to a space. It can also create a specific theme or feeling in a room, such as a vintage or retro look.
Interior designers like to us wallpaper on an accent wall which is a wall that is given a special treatment different from other walls in the room. This is a great way to add interest to a room without overwhelming it with a bold pattern or color.
Both wall murals and wallpaper can add interest and personality to a room, create a specific theme or atmosphere, and make a space feel more cohesive and polished.
Wallpaper vs. Wall Murals
So what's the difference between wallpaper and wall murals? Wallpaper is typically produced in multiple rolls that can be hung on a large area, while wall murals are printed on one large sheet (or several depending on the size) that cover an entire wall.
Both are great options when it comes to transforming your home, but depending on your style and needs, opt for one over the other.
Prints and Posters
Adorning your walls with art is easy when there are thousands of motifs in so many shapes and sizes from a company like PhotoWall.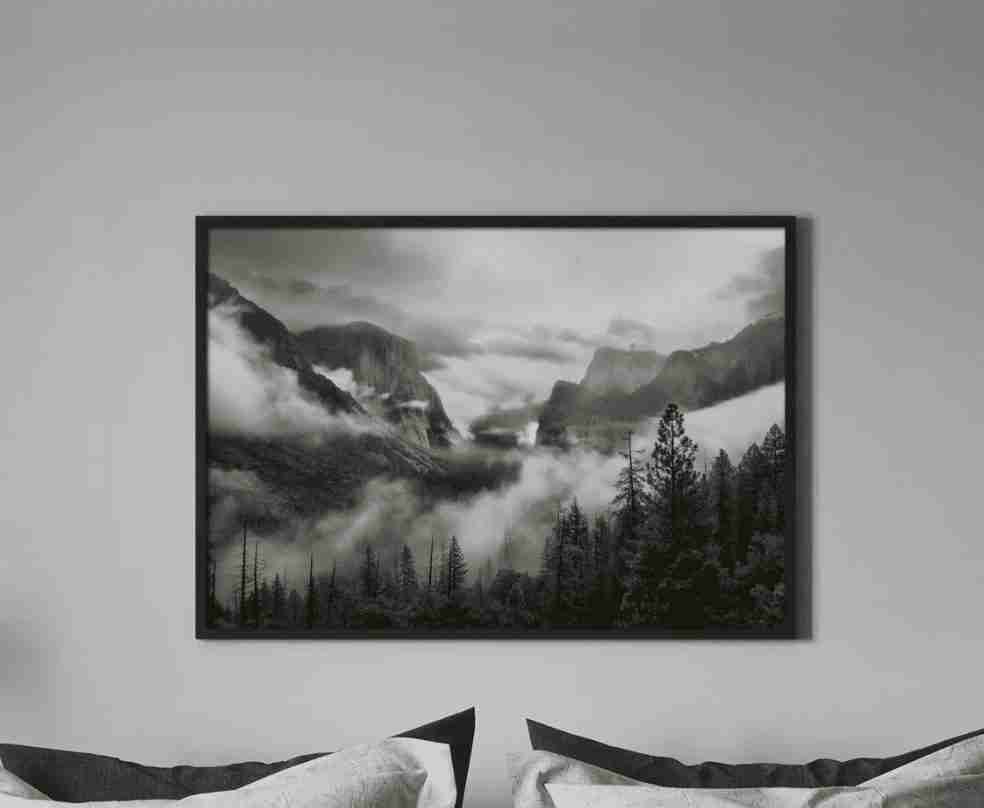 When my son moved into his first home, he wanted me to help him find affordable artwork to liven up his home. I went directly to PhotoWall where he could choose any style he wanted. Both prints he choose were printed on high quality thick paper that will not fade in sunlight. A frame with glass was also shipped with the prints. Super impressive.
Canvas Prints
Printing art on a durable canvas that is mounted and stretched on a wood frame. Canvas prints are a beautiful wall art option that does not require a wood frame or glass.
How To Choose A Wall Art Style
When selecting wallpaper wall murals or prints for your home, start by thinking about what look you want to create. Do you want something elegant? Or whimsical? Are you looking for something modern and chic? Mid-Century modern perhaps? Looking to achieve a coastal Hampton vibe? Or rustic and cozy?
Whatever look you're going for, there's sure to be wall art there that fits the bill. And don't forget–if you really want to make a statement, try using multiple colors or patterns!
How To Choose Wall Art Colors & Patterns?
Once you know what type of style you want, it's time to choose colors and patterns that match your vision. If you go with wallpaper, consider picking out coordinating colors that will bring out the best in each room without being too overwhelming.
If opting for a wall mural instead, pick an interesting pattern or photograph that will draw attention without clashing with your furniture or other decor pieces. The possibilities are endless – just have fun with it!
Types of Popular Patterns
Simple, geometric patterns are common in Scandinavian wall art and textiles, as well as scenes from nature, such as landscapes, forests, and animals. Murals and wallpapers with large, bold patterns can also be used as a statement piece in a room.
For wall art, murals and wallpaper, it is best to use them in a way that it enhances the overall design of the room, such that it becomes a subtle statement piece rather than being too loud. The overall aim is to create a calm and soothing environment that feels warm and welcoming.
To ReCap:
Why settle for plain walls when there are so many creative ways to spruce up your space with wallpaper and wall murals? Not only do these stylish designs add personality and character to any room in your home, they can also help tie together all of those little details that make each room unique.
Do what you can to add texture, color and interest to a room with wall art. Get creative. I have even embellished a canvas print with paint. It was a fun project.
So why not take advantage of this opportunity to give your house some much needed love–after all, it doesn't take much effort (or money!) but makes all the difference! With all these tips at hand, now all there's left is finding the right design to transform your space into something special!
Frequently Asked Questions About Wall Art
Q: What Type Of Paper Does Companies like PhotoWall use for wallpaper, murals and prints?
A: Both standard and premium-quality wallpaper material is durable, wipeable and environmentally friendly. Restaurant owners, interior designers and parents of small children prefer our premium quality because it is more resistant to scrapes and suitable for cleaning products.
Q: What Sizes Do Wall Murals and Printed Posters Generally Come In?
A: You can choose the shape and size of your poster based on what fits best on your wall. All our posters are available in different sizes up to 40 inches in width and height, and both poster hangers and frames are sized according to the poster's format.
Q. What To Look For In A Company That Digitally Prints Posters?
A. Look to buy only posters printed on high-quality, matte, durable FSC-certified paper . Make sure that the printing technology is about to print museum quality posters that can print in bright colors and deep black tones. The paper should be age and UV resistant.
Q. How Do Install a Wall Mural?
A. Check out the instruction that comes with the mural wallpaper that you purchased. Remember that different murals have different installation methods. Though, installing mural wallpaper is very much similar to installing wallpaper.
When installing a wall mural, make sure your walls are cleaned and dry and any imperfections filled in. Once you're ready to hang, cut along the clear lines to create your panels.
Arrange the mural wallpaper pieces in order in front of the wall where they will be installed. The colors of the mural wallpaper should match up at the seams before they are installed on the wall.
To properly install the mural wallpaper, decide first where you feel it would be easier to begin installing the mural wallpaper panels. Some prefer to start from the bottom left corner while others prefer to work from center panels working their way out. Some mural wallpaper have instructions on which part to start, especially for homeowners who will install it for the first time.
It is highly recommended that installing the mural wallpaper be installed by at least to people. Therefore, ask a friend or a family member to spend a few hours with you and assist you in installing it.
Saturating the mural wallpaper – If you have determined which panel to start, then loosely roll the panel with the printed side facing in and the bottom panel wound inside. Be sure that the top ledge is exposed. Submerge the rolled panel in water for about 10-15 seconds so that the adhesive will be activated.
Apply the panel on the wall – Gently unfold the top half of the mural wallpaper and leave the bottom half of the panel booked. Install the exposed portion and once this is correctly done, do the same process to the other half of the panel. With the use of damp sponge or smoothing brush, stroke the panel downward and outward. Avoid applying too much pressure as it may cause damage to the mural wallpaper.
Finishing the project – with the use of sponge, push out any excess paste or moisture. Do not forget to trim off excess material with the use of sharp razor blade.
Q: How Do I Measure My Wall?
 A:  Walls are not always perfectly straight, so it's important to measure your wall in several places. Always use the longest measurement for width and height when placing your order. Some recommend that you add 2.5-4 inches to your measurements to provide a margin of error for assembly.