How I Embellished A Canvas Print – Fun Art HackHello Girlfriends!
If you you like painted canvas, you may love this art hack idea. I wanted to share with you how I embellished a large canvas print and turned it into a piece of artwork with depth and texture.  It's amazing what a little paint can do. Embellish an inexpensive canvas print and create a masterpiece you will want to display, with this fun art hack. No experience necessary.
We have been working hard to finish decorating our home. I was searching for a piece of art for a particular wall in the guest room and ran across a large print I genuinely admired. I really didn't want to invest in an expensive piece of art, and this piece was very inexpensive.  I was looking for a painting that would go in my Hampton inspired home with coastal paint colors.   
With that said, I found what I thought was a perfect canvas print.  When it arrived, I quickly opened the box and was terribly disappointed as I noted that the print on-line looked more like something you would see in an art gallery but not in person; the print was flat, a little shiny. Dare I say it looked cheap? The design was gorgeous however. I felt stupid for actually thinking the canvas would be perfect.
After some thought, I decided to get creative and embellish the print to add texture and more interest. The lines were great, so I knew I didn't need to go crazy. As I crafted this thought, I began to get super excited about this art project.
EMBELLISHED ART
The word "embellish" as defined by Webster is "to make beautiful by ornamentation, to adorn or to add fanciful details to."  When we're talking about art on canvas, embellishing refers to painting over areas of the image to enhance color and/or to add brush strokes to the finished work.
I must admit, i saw this as a fun way to entertain myself. I am not an artist but I have always enjoyed playing with paint and canvas. I thought the worst thing that could happen is I would have to throw out the canvas.
The beauty of embellishing an abstract piece of art is that there are lots of movement with this type of method of painting. Abstract art is not the type of art that will tell you a story as much as it will encourage you to use your imagination. Thank goodness! This allows for lots of creative mess-ups by me!
The canvas on the left is the print without paint. On the right (first image), is the canvas that has been embellished. It's very hard to tell how flat the print is on the left unless you see it in person. This was the issue when I purchased the print on-line. As you can see, I added the black and more white to the canvas. I liked the gold on the print but the gold was more yellow than I liked. I bought some metallic gold and added a little of paint to the canvas where the gold was to enhance it.
If you are in need of artwork, consider buying an inexpensive canvas artwork that you can paint over and embellish it to your liking. Its a bonus if you find a framed piece of artwork. If you don't like the painting, then use one color to paint over the entire piece of art and then have fun recreating a design of your choice.  That's the beauty of canvas. Whatever you do, find or create a piece of art that makes you happy. I was seeking a calming piece of art for the bedroom.  Art that inspires you to be more mindful. Creating a mindful home includes surrounding yourself with the things that bring you joy.  Artwork is something you look at everyday, why not create something you love and can be proud of.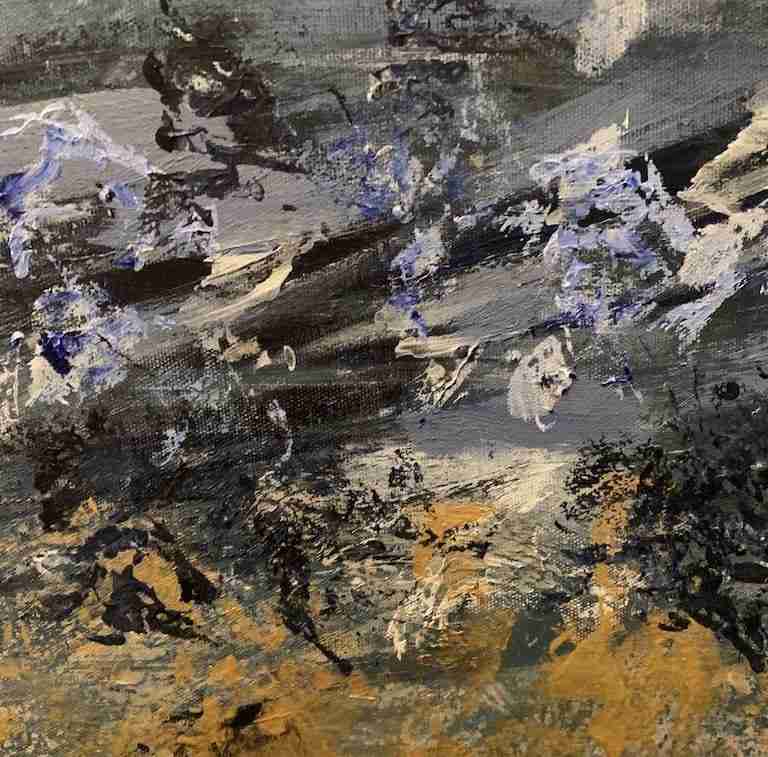 BECAUSE YOU LIKE  PARTS THE PRINT BUT WANT TO ADD SOMETHING. Maybe a canvas print isn't bad overall but you you don't like the flat shiny  cheesy finish on it, or wish it had a bit more black, to match your decor etc. It's amazing what a little bit of paint and texture can do! Plus… it's really fun!
Let's Paint- Here Is What You'll Need
Acrylic Paint
Decide if you want to keep the same color shades the art piece already has. If you do, it makes it simple and the end result will most likely look more professional. I kept to the same color palette of black, blue and white.
Oil paint doesn't change much when dry, but acrylics will end up slightly darker than they look while you're painting. Take this into account from the beginning so that the finished piece isn't darker than you want it to be. To test out colors, simply paint swatches on scrap paper and let dry before moving onto the canvas.
Artist-grade acrylic paints offer the  ability for quick clean up, and they dry much faster (minutes to hours instead of days), plus they are affordable, so for the amateur artist acrylic paint is a good place to start. Golden or Liquitex are affordable brands that are considered artist grade – I have bought some generic acrylics and sometimes they do not have the same consistency or coverage as the better ones.
2. Paint Brushes
a. A square, flexible ends and can hold a lot of paint. When used flat, they can make long strokes and are well suited to blending and painting in large areas. The tip and sides can also be used for more delicate lines and small touches.
b. Round and pointed brushes brushes have a large belly that tapers to a fine point. They're capable of bold strokes that can cover large areas, yet they can also render fine lines and details.
Synthetic bristles, is what is recommended for this type of painting. They are less expensive and  come in a range of stiff and soft varieties (usually made from nylon or polyester) that quite successfully mimic the feel of natural-hair bristles. These brushes  are easy to clean with water.

3. Crumpled Paper
In order to add an interesting element instead of a brush stroke, I used crumpled paper and dipped it into the paint and then gently pressed the paper on the canvas to create this look. I used both newspaper and pages from a magazine
Since I didn't have an easel, I propped the canvas up against the wall and placed the canvas on top on a drop cloth. Pick a place where you can let the paint dry without handling the painting for 24 hours.
4. Paper plate or Blank Small Canvas- To mix the paint
You will need something to mix the paint on. I went to the dollar store and picked up 8 5×7 plain canvas pieces. Paper plates work great too. You will mix the paint colors to your liking before you apply the paint to the artwork.
Painting Techniques
Before I get into the paint techniques I used to embellished the canvas print, please understand I am no artist. I have painted before but by no means, would I ever claim to have artistic painting talent. I would say that my level of talent is close to grade school level. Seriously!
The techniques I used to paint on the canvas print included dry brushing. This is a method of applying color that only partially covers a previously dried layer of paint. Add very little paint to your brush and apply it with very quick, directional strokes. This method tends to work best when applying light paint over dark areas/dried paint. It softens the look of brush strokes.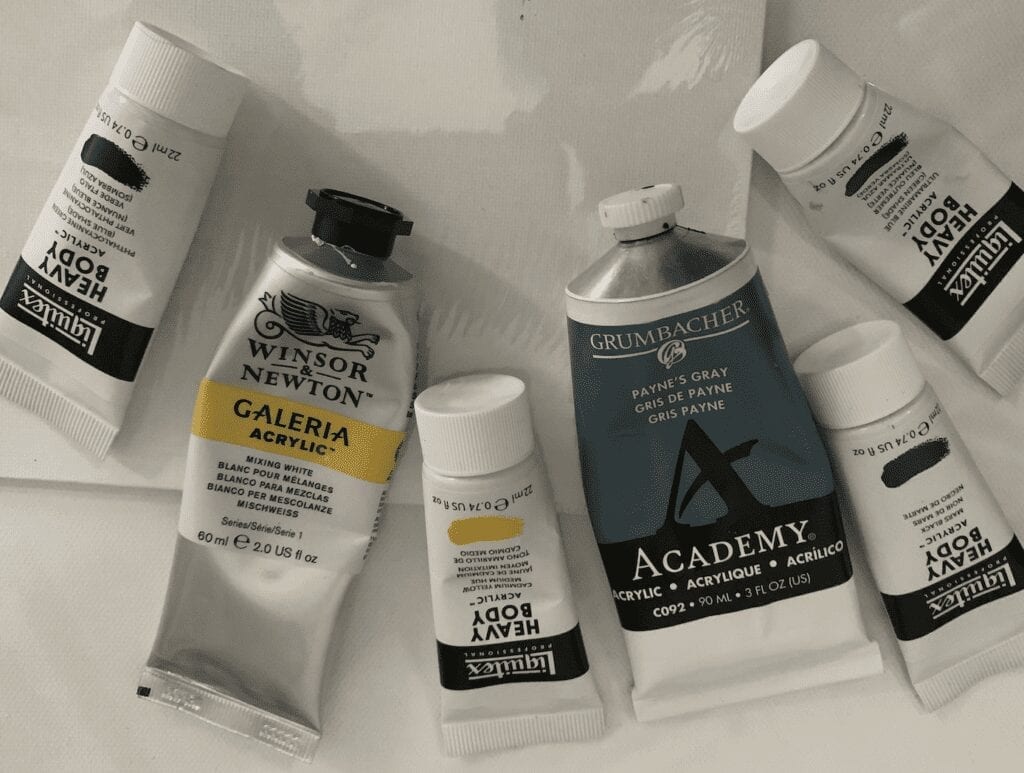 Experiment and use various size brushes. One kind of painting I really like is the impasto technique. It has lots of texture. A trademark of impasto style painting is seeing brush strokes creating texture in thick paint. Have fun using soft and stiff bristle brushes to see their varying results Palette knives, which come many sizes and shapes, are the most convenient way to smear on paint, similar to icing a cake, or blot chunks of paint onto the canvas surface for bright blasts of color. As I stated above, I used crumpled paper dipped in paint.
Since I didn't have an easel, I propped the canvas up against the wall and placed the canvas on top on a drop cloth. Find a place where you can let the paint dry without handling the painting for 24 hours.
I encourage you to add artwork to your home that you love.  Decorate  with treasures that make you think or remind you of a place or time or person that is meaningful to you! Artwork is a perfect way to add life, curves and lines to make your house interesting. If you feel like being creative, trust your artistic creative self and paint on canvas. I must admit that there are many pieces of artwork  right off the shelf from Homegoods that I would hang in my home.  If you like an inexpensive art piece, but feel it needs to be doctored up, then go for it. It may end up being a piece of art you enjoy more than any others.
If you decide to have fun embellishing a print on canvas, please send me your work. I would love to see it!
Cheers,