If you are looking for a fun, unique party theme, for adults or teens, a pool party theme may be the ideal choice. Not any pool party. A Palm Springs pool party- retro style! No pool required!
Palm Springs is a city in California that has become famous for its desert climate and beautiful scenery. It is also known for its many parties, which often include lots of food and drink. This article will give you some great ideas on how to decorate your home for a Palm Springs party.
Pool themes work perfectly for a kids' party, bachelorette and birthday party themes.
The good news is that you don't have to book the pool area at The Parker Hotel (or any other hip hotel) as an event venue. You don't have to be rich and famous to throw a killer Palm Springs pool party. You don't even need a private pool to host a fun pool party.
Is there anything better than being able to transport your party guests to a beautiful, warm location anytime of year? This theme can be used anytime of year.
Planning The Party
The first thing you need to do when planning a Palm Springs pool party is to decide what kind of party you want. Do you want a casual gathering with friends and family? Or would you prefer a more formal affair with food and drinks served by wait staff? Once you have decided what type of party you want, you will need to determine who will attend. Will it be just adults? Or will children be invited as well?
How To Transform Your Venue Into A Memorable Event
When you pair a blue water backdrop with fun Palm Springs retro decor, it's amazing how you can transform an area into a funky lounge area surrounded by palm trees, white lights and even a poolside cabana. Your party venue can be an outdoor oasis, indoor or outdoor with or without a pool.
A poolside theme can be enhanced with creative refreshments (like craft cocktails) and other fun party favors and costumes. Consider a 70's pool party theme or a retro party theme like the one below.
Background On The 8th Grade Graduation Party
I am sharing how I worked with a team of talented parents who transformed a generic school venue (in a typical middle school) into a Palm Springs Pool Party.
This party theme is so fun and can be used for any age group. The kids loved it. If we can transform a school into a poolside party, you can create this party theme just about anywhere! Truly!
The retro style pool party was one part of a huge 8th grade graduation party for two hundred and thirty 8th grade students.We only had a $200 budget and six weeks to plan the transformation.
The Palm Springs Retro Pool Party Theme
The goal of the Palm Springs Pool Party area was to provide a fun area to serve refreshments to the teenagers for the party. The same idea stands true if you serve cocktails for adults.
The Retro Pool Party Vibe
To achieve the look of a pool party theme, we wanted our guests (teenagers) to feel like they were standing poolside, surrounded by palm trees sipping on a fresh drink, listening to live music on a balmy night.
Our Palm Springs party was inspired by our love of summer, a splash of water, palm trees and flamingos! We wanted to create a bright and fun party and chose a bold color pallet of green, yellow and white (cabana) tangerine, brilliant pink, blue water and dazzling white.
If you are looking for a fun party theme for adults or teens, this party theme is so fun.
How To Set A Palm Springs Pool Party Scene:
Fun decorations and party vibe ideas- see below
1. Create A Mood Board For the Party
What colors and aesthetic do you want? Check out our mood board above. This was the look we were going for. See the mode board above with the color scheme and vibe we were going for. The mood board should also include your party decoration ideas that fit the color scheme.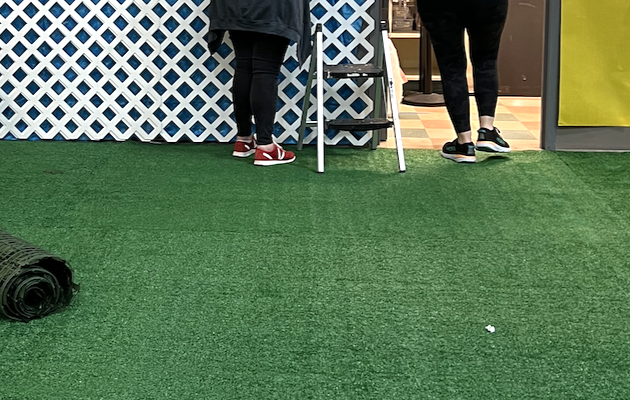 2. The Floor- Pool Deck
Use inexpensive turf for the floor material. Tape the turf down so nobody trips in the corners. Just like any outdoor living space, you want to create an inviting party vibe that feels like you are standing or sitting next to a pool. The pool deck esthetic can be decorated with turf or just an outdoor patio area to achieve the same look.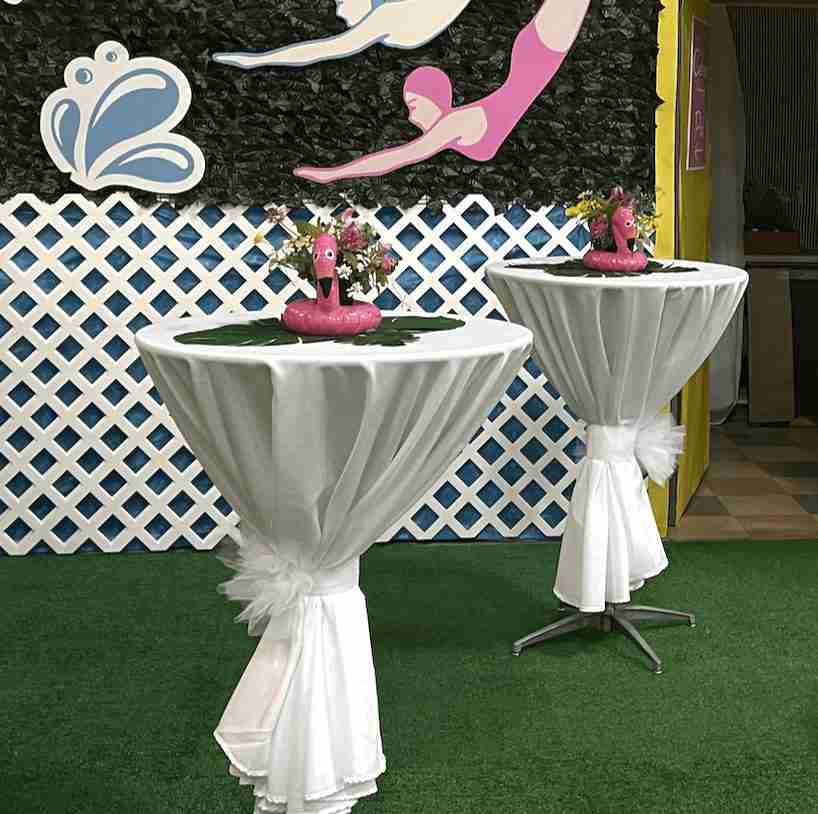 3. Table Centerpiece and Decorations
We had five round standing cocktail tables draped with a white tablecloth. We tied a white tulle around the tablecloth skirt. You could use any fabric you wanted depending on your color scheme.
We decorated the tabletops with palm leaves (party supplies) topped with small pink flamingo (miniature pool floats). Inside the middle of the flamingo, we placed a floral design with flowers with vibrant hues.
Nothing says it's party time more than a flamingo! Flamingos suggest a fun party vibe with bright colors are the name of the game for this theme.

The bright pink color gives the decor a fun pop of color. It's easy to find flamingo decorations, from the plastic lawn ornaments to neon flamingo signs etc. Flamingo lights are also a fun idea to add a punch of pink to the party. Keep in mind a flamingo theme alone is an excellent idea.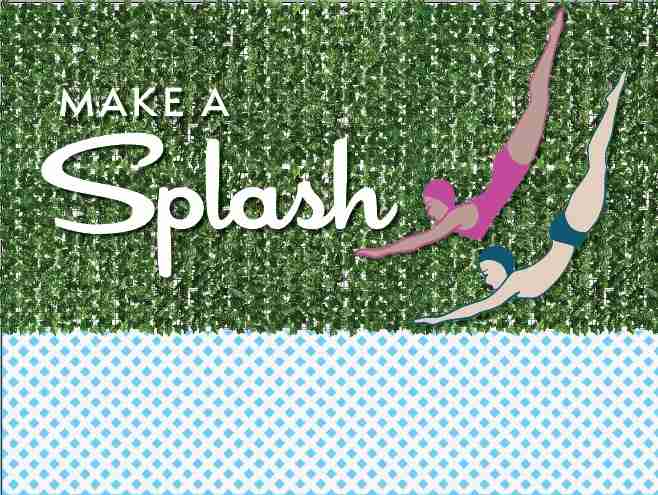 4. The Photo Wall Backdrop
You don't need a photo booth if you have a fun backdrop. We designed the photo backdrop with the retro graphics and divers as seen above. Design the scale of the backdrop before you order or print anything.
The Party Backdrop Wall
The wall was covered with two green leaf screens (8×10 feet) secured to the wall with paint tape and command strips. Two plastic white trellis were situated on the bottom of the wall. We draped a plastic tablecloth with a remarkably realistic water print behind the trellis. The intention was to create a blue pool background was behind the lattice trellis.
Water lights and miniature up-lights at the bottom of the trellis (fixated on the water image behind the trellis) so the water looked like it was splashing around.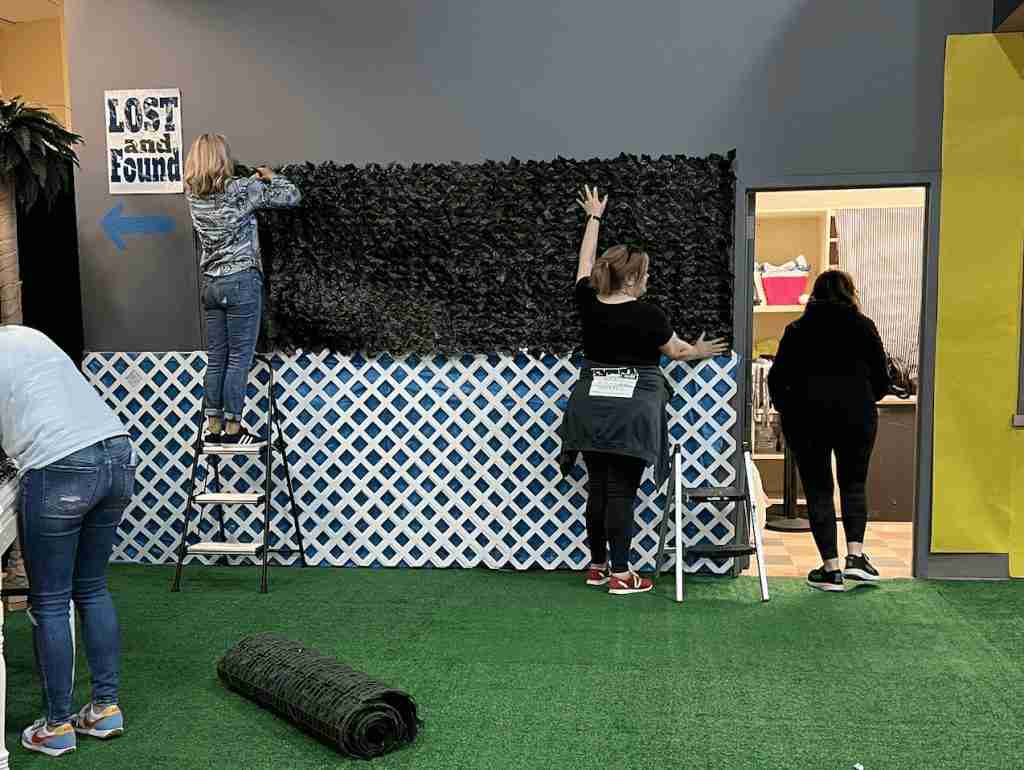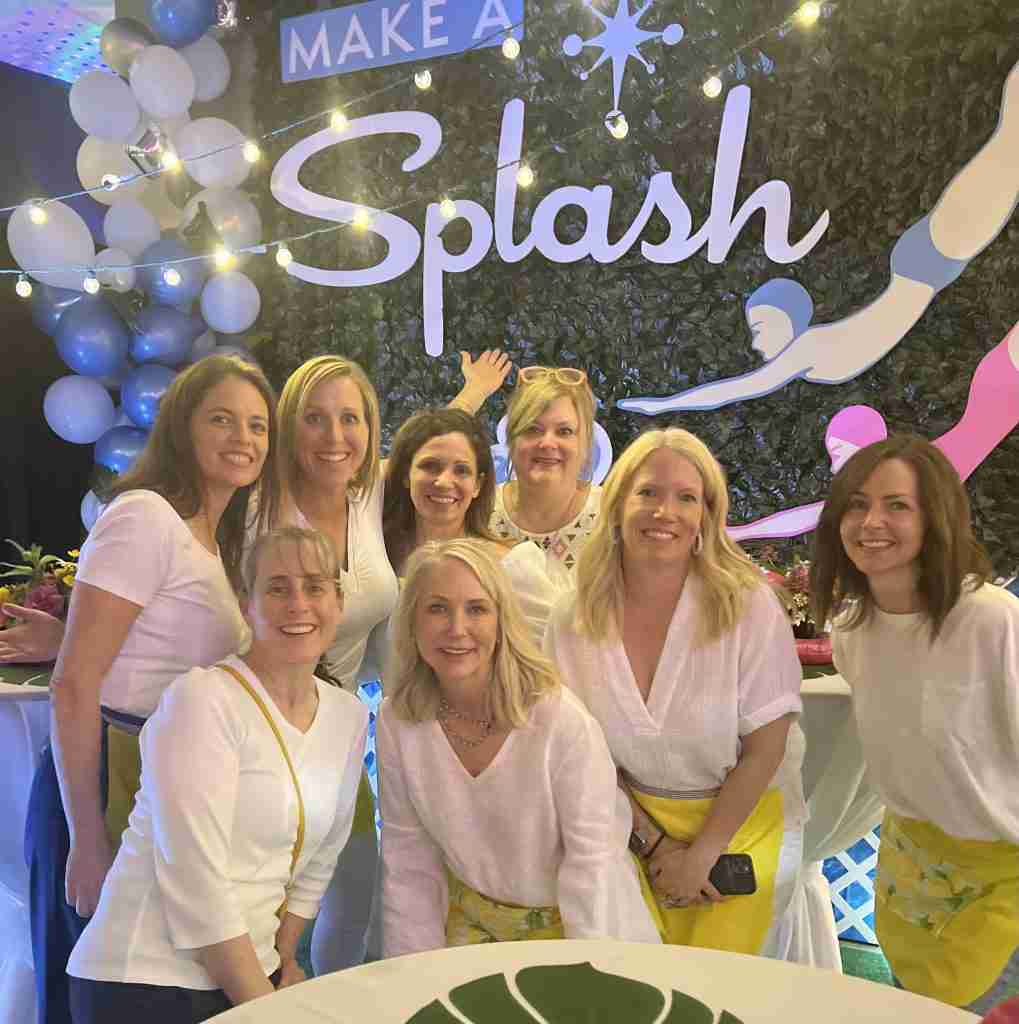 On top of the green leave backdrop, we designed a cutout design of two retro swimmers (boy and girl) plunging into the pool (both 5 feet tall). Next to the divers were the words: Make A Splash- in a retro text font.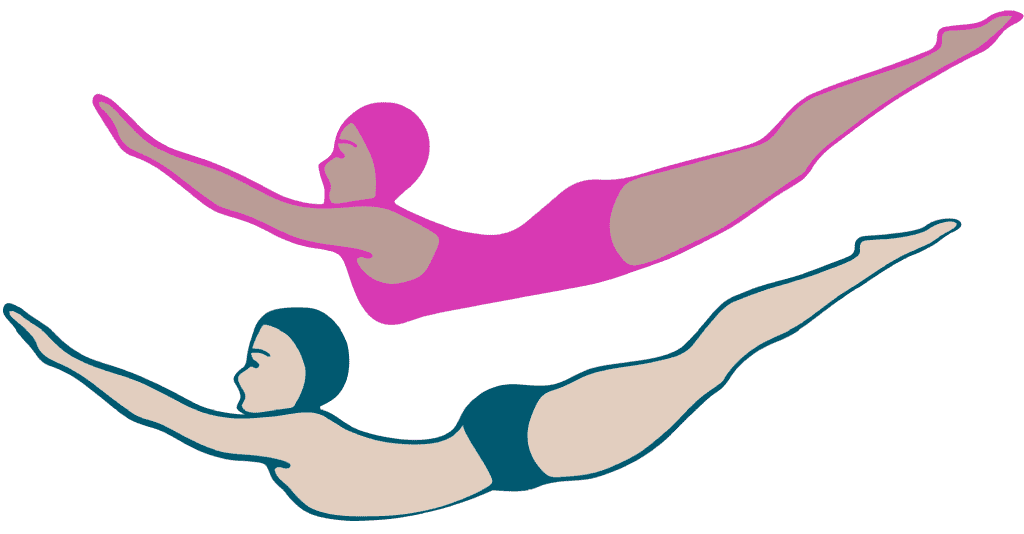 The Retro Lettering and Divers
In order to save money, one parent had access to a large-scale printer where she printed and cut out the life-sized images for us. She backed each letter and the swimmers with a light -weight styrofoam backing.
To complete the backdrop, we added a layered balloon garland in diverse shades of blue and white.
5. The Pool-side Cabana
A pool cabana is a permanent or temporary covered structure located beside or near a swimming pool. If you are going for a retro classic look, a yellow and white stripe is a great choice.
The drinks were served from the Cabana . To achieve this look, white and yellow striped fabric was used to create an awning. The yellow stripes were hand painted onto stiff white cotton fabric instead of having to purchase expensive fabric. Cut the fabric with a scalloped design. The best pool parties have a cabana, don't they?
The refreshments were served from an open window decked-out with white and yellow daisies.
6. The Drinks- Happy Hour!
This is where is gets fun. For adult beverages, you could serve any type of craft cocktail you might offer for any summer party. For kids, we served a fruit punch in these unique sealed pouches with the straws attached. We printed the "Make A Splash" design on labels that were placed on each individual pouch.
Consider using fun straws. Consider pineapple straws for a pina colada or bright flamingo toothpicks or straws for some fun cocktail.
7. Refreshment or Ice Cream Cart
We placed otter pops in a yeti cooler that was on top of a white cart- that resembled an ice cream cart. A white and yellow enormous umbrella was placed in the center of the cart. Yellow and white striped cabana towels were rolled up in a basket and placed next to a pink flamingo battery operated neon sign.
An ice cream cart would be fun too.
8. Palm Trees- What's a Palm Springs Pool Party without palm trees?
You can make tall palm trees by using a tall stiff pole of some kind. We used a metal pole but you can also visit a carpet store and ask for their carpet rolls . These poles will become the trunk of your palm trees.
Next, you can wrap the pole in burlap or add brown paper. Wrap the fabric (or use brown paper) around each pole. Scrunch it to give the look of the palm tree base. We layered rope around burlap to give the pole an authentic look and feel.
Please note that there is burlap printed duct tape that makes taping either paper or burlap look seamless.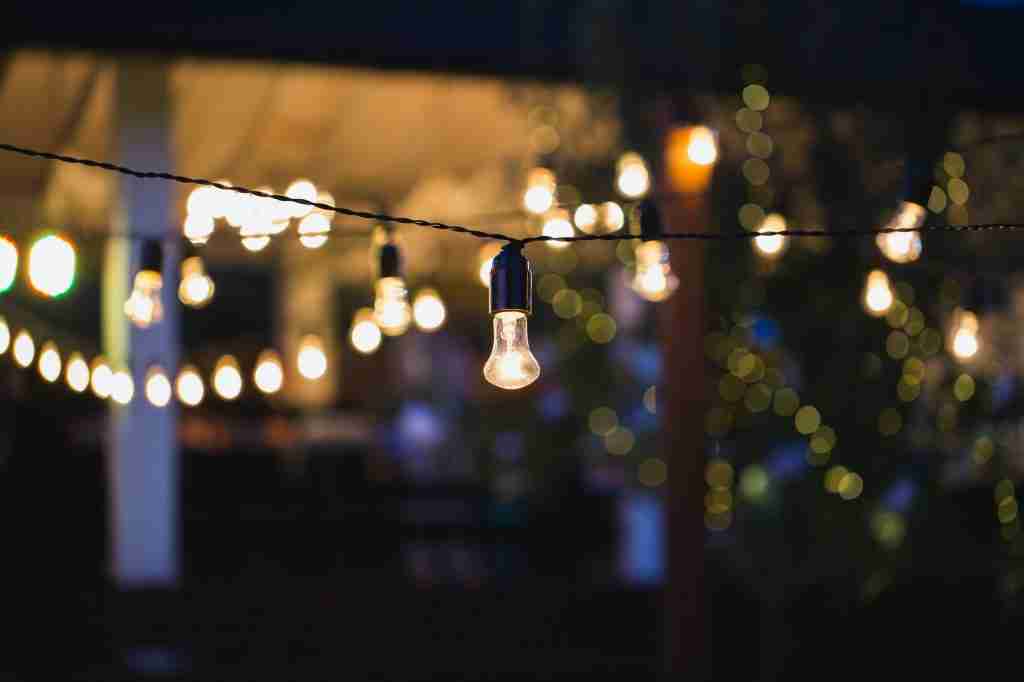 9. Go Retro with Vintage Styled Lighting & Candles
The lighting always sets the mood. We hung stings of old fashion light bulb lights above the party area to give it the outdoor patio vabe we were going for.
f you love vintage style, then you should definitely consider adding candles into the mix. They add an extra touch of elegance to any room. You can find them at thrift stores, flea markets, yard sales, and antique shops.
10. Seating Area
Consider retro chairs from the mid-century modern era and or lounge chairs so people can relax and hang out.
Fun Accessory Decorations
Other decor ideas:
Bucket of inexpensive flip flops. There's nothing worse than putting wet feet into sneakers because you forgot your flip-flops. Have a few extra pairs of cheap flip-flops for people who don't want to walk around with bare feet or in wet shoes. You can usually find flip flops at the dollar store. If you don't want to worry about size or expense, you could also consider buying packs of foam pedicure flip flops.
DIY Retro Poolside Sandals: Make yourself a pair (or two, or three) to match your cover-up and swim cap.
Rolled Towels– Roll cabana striped towels and use them to add to your pool atmosphere
Lounge Chairs – If you have inexpensive lounge chairs, place them around the pool deck area.
A Palm Springs Pool Party theme is ideal for a girls' night out, bachelorette bash, birthday party or teen party, like our 8th grade graduation party.,