There is nothing more inviting than a well-dressed bed composed of various layers of bedding such as high-quality sheets, coverlets, fluffy duvet, duvet covers, and soft luxurious pillows dressed in lovely shams and pillowcases.
You don't need a magazine-worthy bed …Just an inviting bed that you (or your guests) can't wait to nest in. Getting a good night's sleep is essential, and a well-made bed offers a better night's sleep. You don't need a magazine-worthy bed …Just an inviting bed that you (or your guests) can't wait to nest in.
Making your bed everyday makes for a mindful home and a fresh clean beautifully made bed is a treat.
The Secret To Making An Elegant Layered Bed
It's easy to go crazy with patterns and colors when you are styling a bed. It all depends on who's bed it is that you're styling. Kids beds are very different than a guest bed or a bed in the master bedroom.
A. Color Of The Bedding
When dressing a bed it is important to settle on a color scheme, starting with the bedsheets. Simple, white is always a safe bet- the perfect neutral base, much like a crisp white shirt. One thing that everyone appreciates when they climb into a cozy bed is that the bed is well-made and the sheets are fresh. Nothing screams fresh more than white bedding. There is a reason hotels use white sheets.
Tie the bed in with the rest of the bedroom by selecting cushions and throws. What is the headboard color? Keep that in mind as well.
B. Flat Sheet -Right Side Down
Make the bed with the flat sheet right side down, and plenty of room at the top to fold over your blanket or quilt. You will want the pretty side of the sheet to be folded over so you can see it. If you put the sheets on right side up, you won't appreciate the pretty edging of your sheets.
C. Euro Square Pillows
Use a pair of large Euro square pillows to add height to the bed and layer in pattern or texture. You can layer Euro pillows many ways as seen below. For a King Size Bed- you will need three Euro Pillows. Queen size bed only two. A good rule of thumb: Match your Euro shams to your duvet or quilt.
Layered Bed Pillows- Explore how to layer bed pillows
Option #1- My standard style is large Euro shams in the back next to the headboard followed by sleeping pillows then a pretty oversized lumbar pillow. You can also use two square pillows.
Option #2– Go big with Euro shams then pillow shams followed by a nice throw pillows in the middle.
Option #3– If you are going for a clean and simple look, stack two sleeping pillows on top of each other . Make the stack nice and neat. Then add Euro pillows in front of the stack followed by either two pillows or one lumbar pillow.
Use pillow shams instead of pillowcases to give a more finished look to standard pillows. Match these to your sheets, or use them to layer in another color or pattern. Use king–size shams + pillows for a king bed.
Some of my most favorite pillows are the Crown Linen throw pillows as seen below.
E. The Coverlet
The coverlet is what most people forget to add for that luxe layered look. See below how how to style with a coverlet.
Coverlets are fun to use to layer on a bed. Typically, coverlets are woven with a heavy weight textured fabric that can be used in warm weather climates instead of a duvet. During colder months a coverlet makes the ideal layered piece for the bed. The extra layer of warmth is a nice comfort piece.
In terms of styling, a coverlet adds a nice layering piece because it is light weight. More info here on the seven ways to style a bed with a coverlet.
F. Bed Scarf of Quilted Coverlet- Foot Of Bed
Finish your bed off with an elegant draping of a bed scarf or a neatly folded at the foot of the bed.
Ten (10) Bedding Essentials You Need To Make An Elegant Layered Comfy Bed
#1 Mattress Pad Protector
The bottom layer is the mattress pad. It's a good idea to use a high-quality mattress pad. Mattress pads serve a range of functions, but they're designed primarily to protect the surface of a mattress from stains and general wear and tear. If you use a good mattress protector, it keeps the dust mites out. Target has a great one here.
#2 Fitted Sheet
The fitted sheet is the first layer of the bed that will go over the top of the mattress pad. Luxury sheets are never a bad idea. In fact, they make all the difference in the world. I love our white bamboo sheets so much I never replace them. I just wash them and put them right back on our bed again. I finally just bought a matching set from BedVoyage. I mean it when I say that these are the best sheets we have ever slept on! It's how they drape over your body and feel like cashmere.
Did you know that many bedding brands are not made from natural materials? I don't know about you, but I don't want any of my family members sleeping on fabrics that off-gas toxins. When you sleep, your pores open up, so your sheets must be natural and toxic-free. All new mothers and babies should be using organic bedding like the BedVoyage bamboo sheets, towels, and blankets. BedVoyage has now created eco-friends comforting crib sheets and towels.
Invest in natural fiber sheets that deflect bacteria and provide luscious draping that feels like heaven every time you roll over.
#3 Flat Sheet
Next is the flat sheet (unless you like to sleep in a Euro-made bed with no flat sheet and just a duvet). Lay it on the bed upside down and pull it as far up to the top of the bed as you can. Then when you fold it over the duvet, you will see the pretty edge of the sheet.
The flat sheet can hang over the sides of the bed or can be tucked in for a tight, polished look. I like to fold the corners of the flat sheet in what they call a military corner or hospital corners . To achieve this, tuck the bottom edge of the sheet under the mattress. Then fold the extra cloth from the corner up onto the bed. Tuck in the triangular-shaped portion of the sheet under your mattress. Then fold the part of the sheet that you laid on your bed under the mattress. The corner of your bed should resemble a wrapped package.
#4 The Coverlet- what most people forget!
A coverlet is a top layer dressing for your bed. It's a lighter weight than a duvet or comforter and isn't quite as long as an old-fashioned bedspread. Some people refer to a coverlet as a quilt but there are some differences. a quilt: it's a blanket comprising two layers of woven fabric with a layer of batting in between.
A coverlet is then layered over the top sheet, but it can also be used in various ways we will outline below. A coverlet is a bedcover, but it's not your old fashion bedspread. It is decorative but also functional. Using a coverlet is ideal for the colder months in particular. I like to use a solid color and not a busy pattern.
#5 Duvet/Comforter
Depending on the weight, there are many choices to add that extra layer of comfort. Using a down duvet insert will help you create that fluffy, cloudlike bed, and the down alternative insert offers a hypoallergenic alternative for allergy sufferers. I like the duvet cover from The Company Store.
Protect and style your duvet by using a duvet cover in your choice of material and color. A cover helps extend the life of your duvet and lets you change your bedding style with the season (or for any other reason). Learn more about what to look for in a duvet cover here.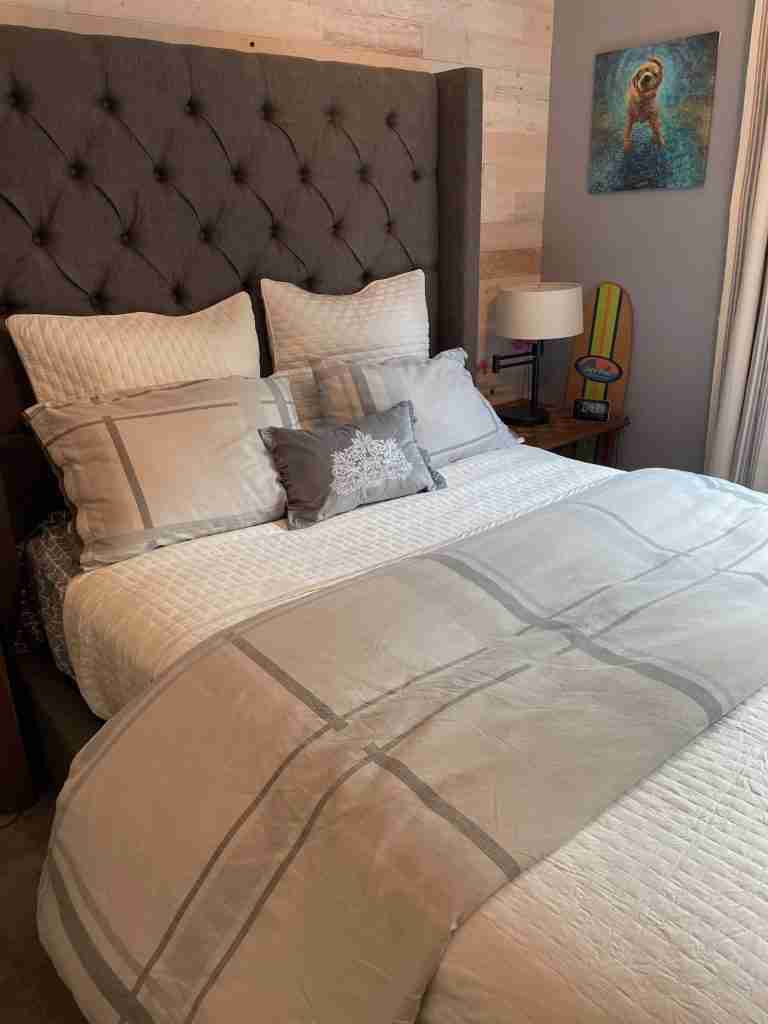 In terms of color, I always go with a white duvet cover in the master bedroom. I keep it clean and straightforward for that beautiful bed. If you like your duvet to be extra fluffy, consider buying a duvet cover one size down from the bed size.
A reversible duvet cover is best way to go with a pretty design on the underside or two different shades that complements that of the upper side, it allows for more visual layering of your bedlinen.
#5 Sleeping Pillows
The next layer is the pillows. I love pillows more than my hubby. He doesn't get why we have to have so many, but when you layer pillows on any bed, it creates that elegant look. Typically, we match our standard pillowcases to the sheets and the euro shams to the quilt or duvet cover.
#6 Euro Shams
Add coordinating euro shams to the back of the headboard that matches the duvet at the end of the bed. Euro shams offer that finished look at the top of your bed.
For a king and queen-sized bed, use 3 euro shams. And for a twin-sized bed, use 1-3 shams. These are my typical euro sham fillers, and they really are soft yet fill out the sham, so it doesn't look to lose.
If you're going for a modern look, stack your pillows vertically with the largest one at the bottom of the pile.
This is next, where I layer in my sleeping pillows. They are standard sham size, and generally, because I use all white sheets, they fit perfectly into the bed color scheme and pillow combos.
My favorite standard pillow fills are these ones. They are soft yet hypoallergenic and not full of feathers poking into your head when you are sleeping.
#7 Decorative Throw Pillows + Lumbar Pillow
Now is the fun part of layering in your decorative pillows. Throw pillows are where contrast thrives. It's fun to show your personality with decorative throw pillows. Take a look around your house. You may have some cute pillows around your home that may play well into your bedroom theme. I happen to love the Crown Linen decorative pillows. Bed Voyage is offer 50% off all decorative pillows with
Use coupon code: 50% off Decorative Pillows! With GalPal50 here.
There are many ways to arrange bed pillows and decorative shams. I prefer to stand my bed pillows up against the bed and stand the pillow shams or euros in front of them.
#8 Throw Blankets
The last thing I add is a lightweight throw blanket for a stylish bed.
Having a blanket at the end of the bed makes it is easy to grab and curl up in a reading chair with or pull over the top of you while laying in bed.
# 9 Bed Skirt Or Not?
Not every bed needs a bed skirt but if yours is a mattress atop a foundation with an exposed metal frame, then skirt will give your bed a polished look. Under the bed is a great place to store out-of-season clothing, sporting goods, or other bulky items so a bed skirt provides a nice cover.
#10 Headboard
Don't forget about headboards when it comes to styling your bed. A headboard is a great way to add an extra layer of coziness and interest. Here are some simple, elegant options.