An elegant bed ensemble is made is many layers of bedding. The secret to a cozy elegant bed is lots of layers. Texture is key to creating a comfortable and inviting bed you will want to snuggle up in. Layer different textures such as a quilted coverlet. It's the one layer that most people forget to add. When you add an elegant coverlet layer- you take your bed to whole new level.
In order to illustrate this, we are sharing seven simple ways to elevate your bedding style by layering a high-quality coverlet on any type of bed using the same BedVoyage quilted coverlet because it feels like cashmere and offers a gorgeous silky sheen that pairs well with any bedding. Learn more about why bamboo is better than cotton.
It's a personal preference on how to style a bed, so we wanted to share several bed coverings that offer a traditional to a modern look. Layers of soft cozy fabrics make for the type of bed anyone wants to settle into.
What Is A Coverlet Anyway?
What's A Coverlet? A coverlet is a top layer dressing for your bed. It's lighter than a duvet or comforter and isn't quite as long as an old-fashioned bedspread. Some people refer to a coverlet as a quilt, but there are some differences. A quilt: it's a blanket comprising two layers of woven fabric with a layer of batting in between.
Coverlets are fun to use to layer on a bed. Typically, coverlets are woven with a heavy-weight textured fabric that can be used in warm weather climates instead of a duvet. During colder months, a coverlet makes the ideal layered piece for the bed. The extra layer of warmth is a nice comfort piece.
The Ideal Layering Piece For Your Bed
In terms of styling, a coverlet adds an excellent layering piece. We love the BedVoyage coverlet on everything, because it is a good all-season weight. The 100% rayon from bamboo material serves as a perfect, breathable layering piece all year long to give the bed a well-designed, thoughtful look. Bamboo Quilted Coverlets are a beautifully elegant way to dress-up your bedroom decor. It is as soft as cashmere….. I am NOT kidding!
With a cashmere-like feel, this hypoallergenic coverlet will keep you warm without overheating. Tuck in or leave loose and let it drape over the sides of the bed.
Why Bamboo?
Why bamboo? The highest quality, 100% organically grown bamboo, provides a natural vegan cooling fabric, temperature adjusting for better sleep. The reason why I love this coverlet is because it's hypoallergenic and silky soft. Bamboo fabric is also naturally resistant to bacteria. I know right?
In effort to show you how many ways you can layer a bed with a coverlet, we used the same ivory color coverlet from Bed Voyage to illustrate the different looks you can achieve with the same bedding piece.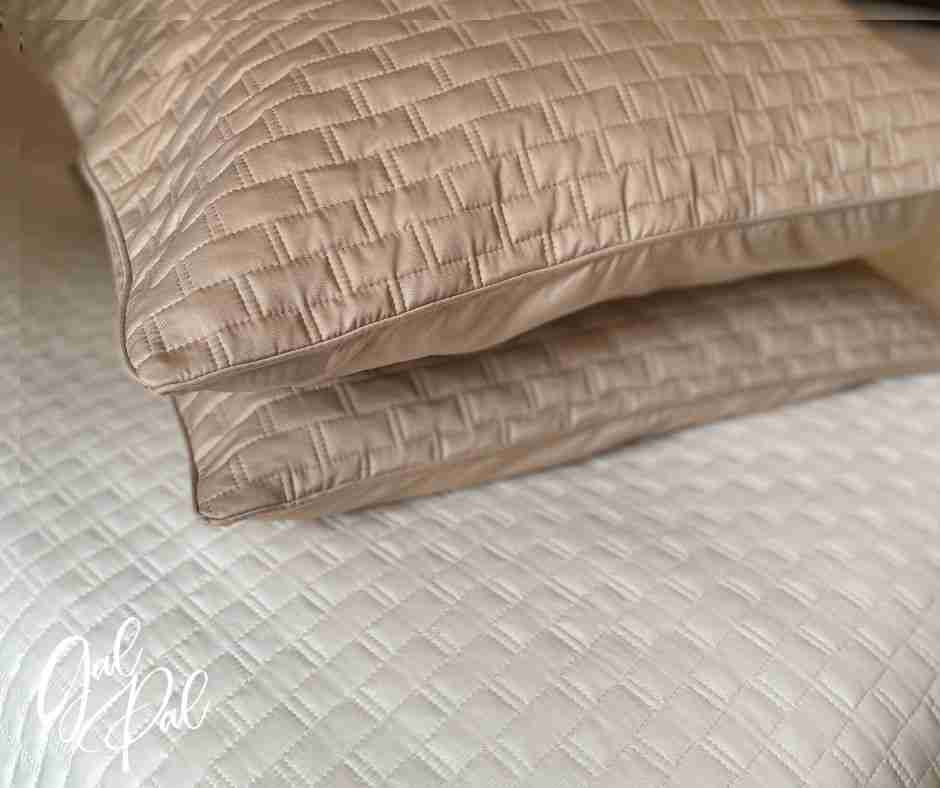 Here are the steps to achieve a layered masterpiece of your sweet dreams.
Seven (7) Ways To Style An Elegant Bed With A Coveret
There are so many ways to style a bed with a coverlet. This is why a high-quality coverlet is an excellent investment. I like to keep an extra coverlet in my linen closet for guests, my son's sleep overs and as an extra large blanket to snuggle up with on a cold winter night.
You will find coverlets in all sorts of colors, patterns, fabrics, and styles, so it usually finds one that suits your style. I personally like to use a solid color coverlet in white or ivory (like the BedVoyage one shown below), because it goes with any color or season of style.
1. Style #1- Foot Of The Bed
The easiest way to style a bed with a coverlet is to fold it and place it at the foot of the bed like a bed scarf. It adds texture and convivence for house guests that may want another layer on a cold night. I always find it's a nice finishing touch to add a folded coverlet, bed scarf or blanket to any bed. It gives that nice finished touch.
If the duvet is extra fluffy, layering the coverlet at the base of the bed tames the extra fluff. Ashley with House Candy Staging staged the above bed by placing the coverlet at the base of the bed and adding matching cream shams in front of the sleeping pillows for a bold look.
2. Style #2- Layer Over The Top Sheet
My favorite way to use a coverlet is to layer the coverlet directly over your top sheet, with no added or duvet.or blanket This is a classic, clean look and ideally suited for summer's heat. For a bit of extra color, you may choose to add a bed scarf or a folded blanket to the foot of the bed when it's not in use.
My talented friend Lenae came up with the idea of using matching sheets and Euro pillow cases. We had fun styling the bed various ways. So easy with a cream colored coverlet.
To get this look, place the top sheet on the bed with the pretty edge down so that when you pull back the sheet over the coverlet, the correct side of the flat sheet will showcase nicely. The photo above is shown with the cream BedVoyage coverlet and the beige Euro shams that match the sheet.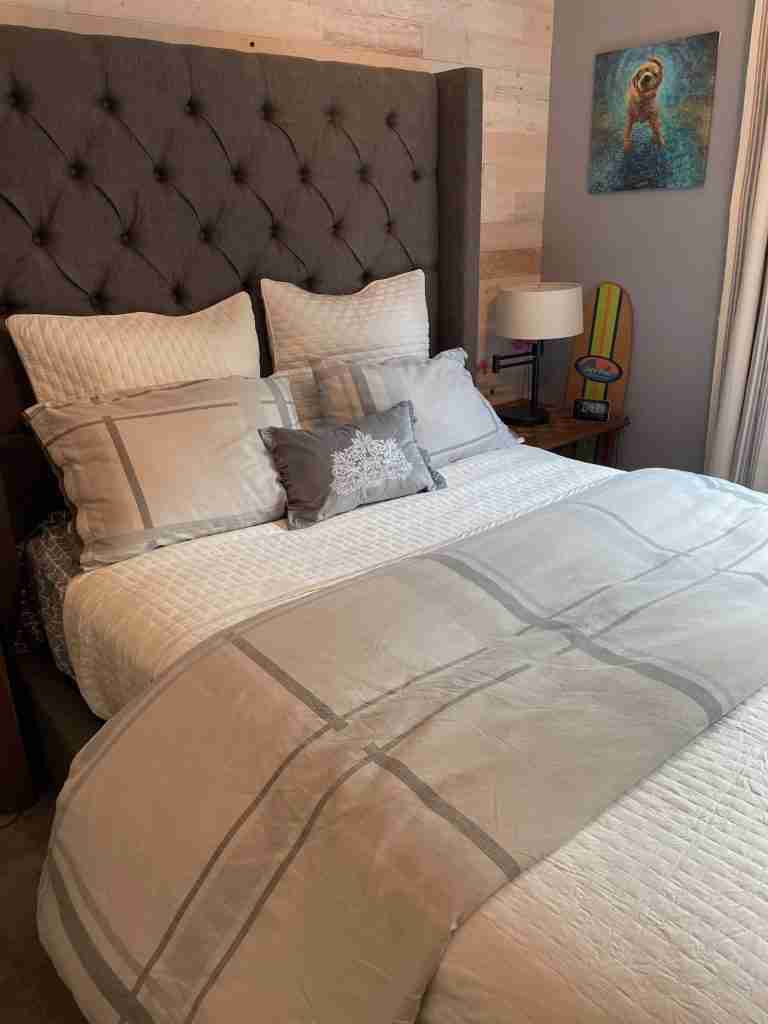 Use a pair of large Euro square pillows to add height to the bed and layer in pattern or texture on a queen sized bed like the one above. A good rule of thumb: Match your Euro shams to your duvet or quilt. Use three Euro square pillows for a king bed and two for a queen bed.
a. Match your sleeping pillows to your sheets, or use shams that match the coverlet. Place the Euro shams next to the headboard then add sleeping pillows followed by throw pillows.
b. Consider pulling the coverlet all the way to the top of the bed under the pillows.
b. Another option is to fold the top sheet over the folded coverlet as seen the photo above.
The coverlet works well on a bed in a cozy log home like the one below. A white or cream coverlet makes any bed look inviting and clean. The quilted look of this coverlet adds just right amount of texture and pairs well with a well pressed flat sheet
3. Style #3- Tuck Coverlet In- For A Modern Look
. If you have an upholstered bed with rails tucking the coverlet under the mattress offers a modern look.
There are two type of looks below to consider. Either fold the top sheet over the coverlet or pull the top sheet to the top of the mattress then simply fold the coverlet over once for a finished look.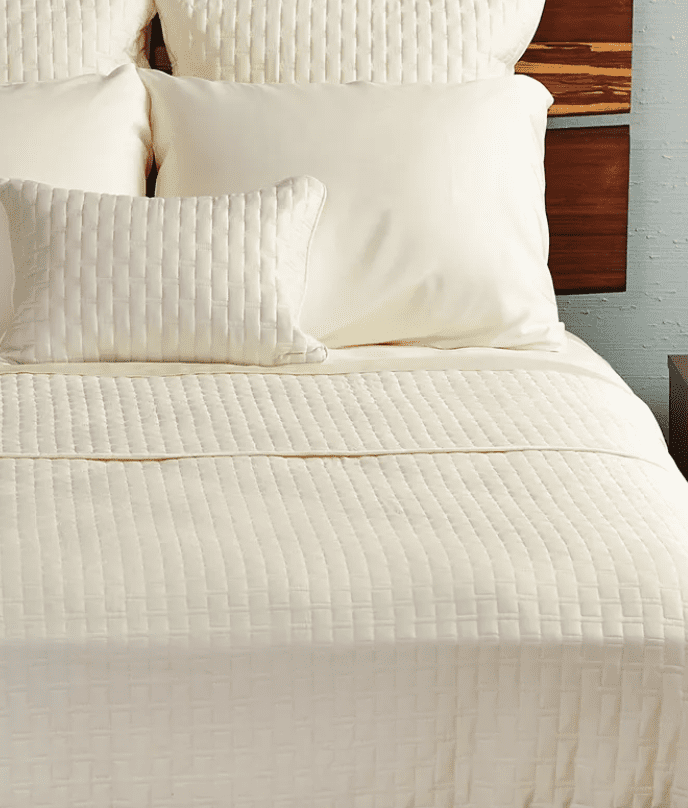 If you don't want to tuck all four corners of the coverlet under then let it just drape over the sides of the bed. You can either pull the coverlet all the way to the top of the bed or gently fold it over right in front of the stack of pillows.
The Modern Styled Bed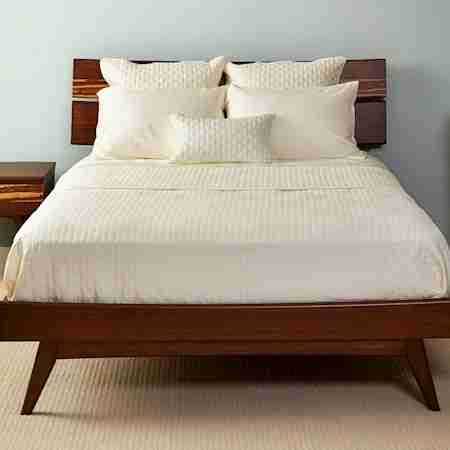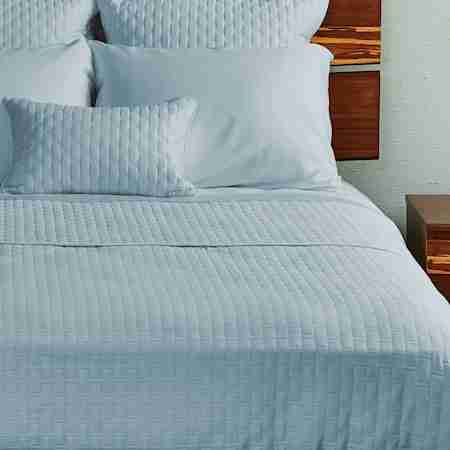 How Make A Hospital Corner On A Bed- With A Coverlet:
Learn how to wrap your bed like a pro with hospital corners to boot!
Stand at foot of bed and spread the coverlet over the bed.
At foot of bed, tuck end of the coverlet between mattress and box springs. Ensure coverlet lays smoothly.
Make a hospital corner on one side of mattress at foot of bed. Grab and lift the draping cover from the side about 16 inches from foot of bed.
Tuck in triangle-shaped lower drape between mattress and box springs.
Hold the corner in place with your free hand and fold the top drape over. You want the fold on the top drape to form a 45-degree angle. Repeat on opposite corner of mattress.
Tuck in sheet on both sides of the bed.
Put pillow in case and back on head of bed. Smooth everything down.
4. Style #4 -Add Duvet/Comforter Loosely Across The Middle Of The Bed Over Coverlet
Make the bed with the fitted and flat sheet. Next layer the coverlet on top of the top sheet. In the photo above, I pulled the coverlet to the top of the mattress before adding the pillows.
Next place the fluffy duvet cover in the middle of the bed. This is a fun designer trick to make the bed look full and cozy. Learn more about how to buy the right duvet cover here.
5. Style #5-Fold The Coverlet Across The Duvet-Made Bed
Triple fold a coverlet and lay it across the duvet-made bed. The quilted coverlet from BedVoyage provides texture to the bed and dresses it up. It looks wonderful with a colorful duvet or a clean solid color as well.
Read more DIY blog posts such as our gardening design ideas for hydrangeas, boxwoods, hardscapes and more. In addition, my design and decor inspiration for Hampton style homes. Including our own home tour.