In June of last year, my son's school executed an school tradition that blew my socks off. It was an 8th grade graduation party put on by the parents. Over 300 kids attended! Check out the YouTube videos for the party themes below.
After so much time spent dealing with covid, these older kids deserved only good vibes. We only had six weeks to plan this event, so the parent volunteer group In the past, the parents had six months to plan this massive party.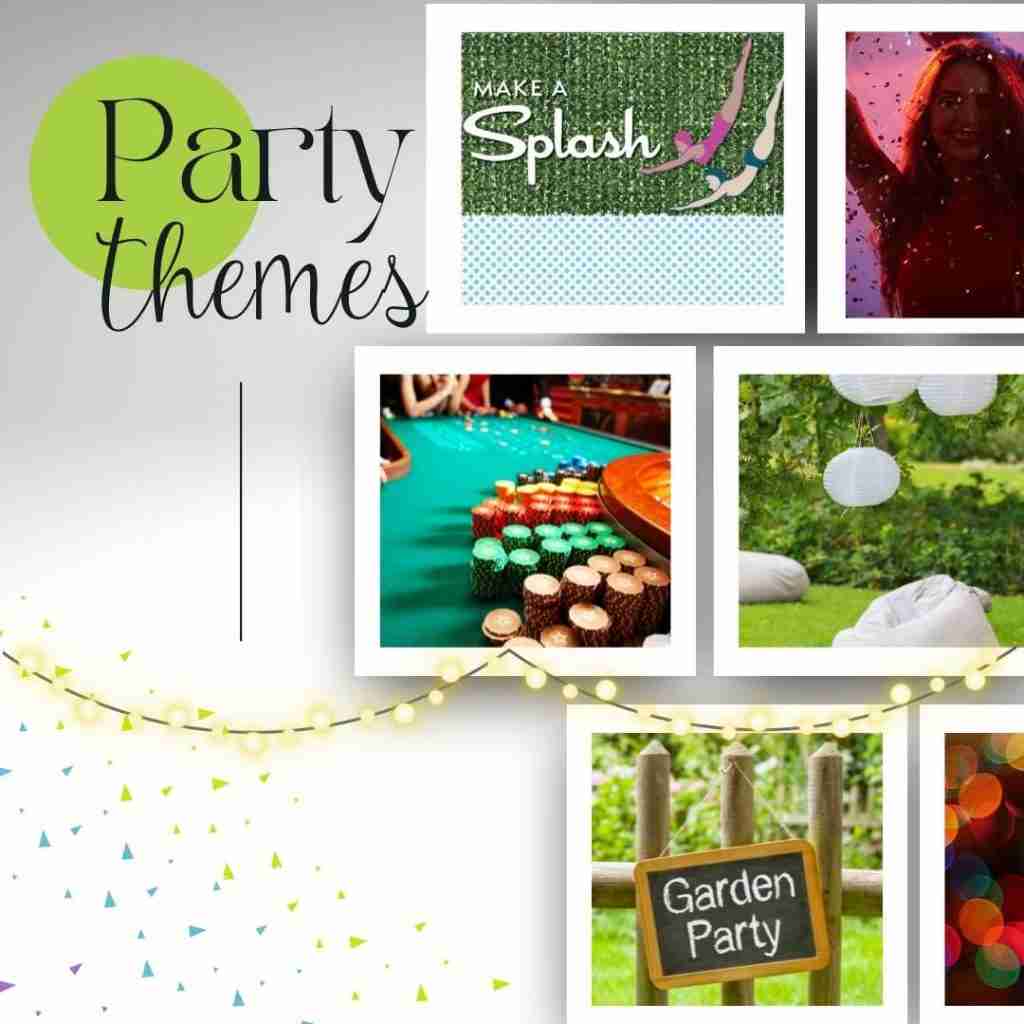 The overall theme was "Good Vibes Only," so each party sector came up with a theme that aligned with the overall party theme. Just like planning any party, there is so much to take into consideration. Such as budget, venue, food, beverages and, of course, the theme of the party.
The 8th grade banquet party integrated 12 party themes overall under the same umbrella theme of "good vibes". You could use any of these fun parties for adults or teens. I am sharing tons of ideas in this one post in hopes it will inspire you with some creative juice. A good theme is the foundation you need to start your party planning.
No matter what the theme is consider making A Good First Impression for your guests.
Enter The Party With A Great 1st Impression
No matter which theme you choose make sure that the entry into the party is awesome! The entryway will be the first thing your guest sees. This is your first blank canvas. As the kids gathered in front of the school, we greeted them with a massive 2026 sign (graduating class year) where they could take photos.
The 8th graders were dressed in semi-formal attire (or how they wished) as they checked into the event. They were handed fun glasses as they made their way into the magical party areas.
Each area is well divided, which is difficult to do in a huge open space. The party themes are listed below. I hope these party themes and decorations with inspire you to throw your own themed party that your guests will remember for years to come.
Fun Party Themes For Adults and Kids of All Ages
1. 70's Retro Vibe-
The entry space was filled with a retro positive energy. From old vinyl records hanging from the ceiling, 70s, lots of 70s flowers and other fun 70s decor. How to throw a 70's themed party, see more here.
It's hard to imagine that 70s inspired items are coming back into fashion, especially the apparel colors and styles. It's a ideal time to throw a retro 70s throwback party. This would make a cool birthday party theme for adults, teenagers, and even kids. Below, find the grooviest 70s party planning tips.
The Decor Is Everything
Look for tablecloths that have bold 70s prints (flowers were popular). For your party food, set your sights on bright 70s serving dishes and trays. Finally, use a vintage punch bowl to serve boozy or non-alcoholic cocktails made with a punch recipe from the 1970s. Perfect for 70s party planning!
There are plethora of historic celebrities and cultural aspects of the 70s that are ideal for a 70s-themed party, such as vinyl records, Star Wars, disco balls and all the iconic 70s apparel such as bell-bottom pants and wide collared shirts. Have your guests dress the part with this classic party theme.
For the 8th grade party, the decoration team went with all things 70s with a beachy theme.
2. White Party Theme
Dramatic Little White Lights created the unique space. The long hallway that separated opened up to the large auditorium.
The Decorating Elements For A White Party Theme:
Black butcher paper was taped to the brick walls from ceiling to floor. Then white lights were strung close together on top of the black paper on both sides of the hallway.
They secured butcher paper cut in a scalloped pattern from one side of the hallway to the other to help cover up the ugly, distracting area above.
It was so impressive to walk through the hallway with the curtains of white lights twinkling as you approached the large room and decorated the balloon arch.
Lighting Sets The Mood
Creative lighting can be extremely helpful in designing your space. White party themes are very much on trend and are a super chic option for many party themes. For instance, white party themes are being embraced as engagement and wedding party themes.
Don't forget the ceiling decor! In a large room, having décor hanging from the rafters is the perfect way to top off any large event space! All that head room in your large venue can captivate guests. Consider using disco balls and colorful paper globes.
Ceiling decoration can make a vast difference in the decor and overall appearance of any event. Why to stay with the drab, unsightly walls and ceilings when you can give those lackluster roofs a glamorous makeover with mesmeric ceiling decoration that will not only highlight your ceiling decor but will also complement well with the theme of your event?
The Party Attire: Everyone Dresses in White
White themes are also popular for baptisms, Christenings and first communions. All white theme party options are also so fun for birthday parties and other celebrations where people are choosing white as their main color theme.
4. Retro Beach Theme
A retro beach theme is a fun idea for any summer party. The color scheme is wide open. Just add some iconic elements and fun games that rock the 70s vibe. Throw in yard games like horseshoes for a guaranteed good time.
The Decorating Elements Of A Retro Beach Theme:
Set the stage with bright colors . For the 8th grade banquet, the long stage was decorated with a gorgeous sunset backdrop done with layers of lightweight fabric. The stage was then decorated with palm trees, Chinese lanterns that glowed and a fun retro 'groovy' Volkswagen van made from wood and painted with pinks and blues with peace signs and love graphics all over it. The lower part of the stage was filled with bright paper flowers- some handmade other from Etsy.
The stage was right in front of the large dance floor where the teens kicked it up and enjoyed the live Dj's tunes.
5. Make A Splash- Retro Palm Springs Pool Party
This area was fun to decorate. The goal was to come up with a fun area where the kids could grab a refreshment and mingle. We decided on making the area a pool party and added a Palm Springs classic retro theme.
The floor was artificial grass- the pool deck. We added five standing round cocktail tables where kids could stand around. The tables were decorated with white tablecloths with the skirts belted with white tulle bows.
The tabletops were decorated with palm leaves topped with small pink flamingo blow-ups pool toys. Inside the middle of the flamingo was a darling flower arrangement.
The Featured Wall Design
The back wall was amazing! The wall was covered with two green leaf screens that measured 8×10 feet. Two white trellises (4 ft x 8 ft) were placed on the bottom of the wall on top of a plastic tablecloth with a very realistic water print. The idea was to make it look like a pool was behind the trellis.
We placed water lights and small up lights at the bottom of the trellis, so the water looked like it was splashing around.
On top of the green leave backdrop, we designed a cutout design of two retro swimmers diving into the pool (both approx 5 feet long). Next to the divers were the words: Make A Splash- in a retro text font.
In order to save money, one parent had access to a large-scale printer where she printed and cut out the large images for us. She then backed each letter and the swimmers with a lightweight styrofoam backing.
The drinks were served from the Cabana with a white and yellow striped awning that was hand made. They served the drinks from an open window decorated with white and yellow daisies.
Otter pops were placed in a yeti cooler that was on top of a white cart- that resembled an ice cream cart with a white and yellow colossal umbrella that matched the cabana awning.
6. Candyland Party Theme
What kid doesn't like candy? This is always a fun theme and works great for Christmas time too.
Awaken your inner child with this fun theme. Create life sized candies in many colors. Talented parents like my friend Marie made handmade all the candy decorations from various materials including pool noodles, paper etc.
A large balloon arch stretched over the candy-colored path winds right into the large space decorated in bright, fun colors. Enormous pieces of candy and lollypops (made from various materials) wrapped in cellophane throughout. Large blow-up donuts stood next to a donut board where kids could grab any donut they wanted. Such a fun design.
Want to offer a dessert table at the party? Check out this article for more ideas.
7. Casino Night Theme
Why do a casino night party theme? Believe it or not, casino themes are fun for teens and adults. The casino general theme is more versatile than you might think. It's a great option for teens, bachelor parties, and charity fundraisers. A casino theme is a perfect theme for any school party. In fact, the kids bombarded the gambling tables. Casino night themes are always a prominent theme because it keeps the teens busy with board games and other card and dice games.
You can recreate that classic casino atmosphere and bring everyone together for an evening of games to celebrate a special moment or raise money for a good cause.
When you're ready to stage the ultimate Vegas-like experience, the decorating ideas below may come in handy.
The Decorating Elements For A Casino Night Party Theme
The decorating committee for the Casino room went with a Vegas party theme to complement the casino atmosphere. It was a fun way of layering vegas themed decorations and costumes to the mix.
This large space took hours and hours to transform. They had to hide the enormous windows by taping large pieces of paper from floor to ceiling. A welcome to Vegas plastic sign covered a large space. My favorite was the handmade chandeliers constructed from hulu hoops and silver shimmering foiled garland!
Casino Table Games
What's a casino night without table games? Some of the most-loved table games include blackjack, roulette, craps, and baccarat. Set up a range of table games for your guests to enjoy, and have a quick and easy start sheet handy so they can learn the basics before they play.
Rented gambling tables and chairs made the scene poppin. The kids had a blast playing card games and rolling the dice. All the dealers were parents dressed up in Vegas themed costumes, including Elvis.
Casino Night Party Favors
Don't forget about your party favors! Send your guests home with a memento from your event that they can use repeatedly. Consider poker chips or personalized playing cards.
Consider laying a red carpet to add a touch of class to the party.
8. Tiki Party Party Theme
A Tiki party is always a good idea! Create a Tiki bar and perhaps align it with a luau. Tiki -inspired parties are
When it comes to shindigs, there's nothing like a good backyard luau. These tiki-inspired parties are easy to throw and a blast to attend.
A tiki hut can be an excellent way to add character to any tropical themed shindig.
The ambiance of a Tiki party is key. Picture yourself on a tropical beach or location. Add lots of tropical flowers and white lights. Serve tropical drinks and hand out leis to the guests. Fun! If you are looking for a festive cocktail for your Tiki Party, champagne margarita.
Here is a guide on building a Tiki Bar with a thatched Roof. Click Here
The Decorating Elements Of A Tiki Party Theme
This darling display was perfect for photos. The tiki hut was handmade by some talented parents. The dock off the hut was clever.
The dock was built right off the Tiki Hut. The wood poles were wrapped in rope lights to resemble wood pilings. I
9. Enchanted Garden Theme
An enchanted garden theme is ideal for girls of any age. Little girl's birthday parties or a wedding shower or bachelorette party.
For the 8th grade party, the girls' bathroom was transformed into a gorgeous, enchanted garden. It's the first time I didn't want to leave a bathroom.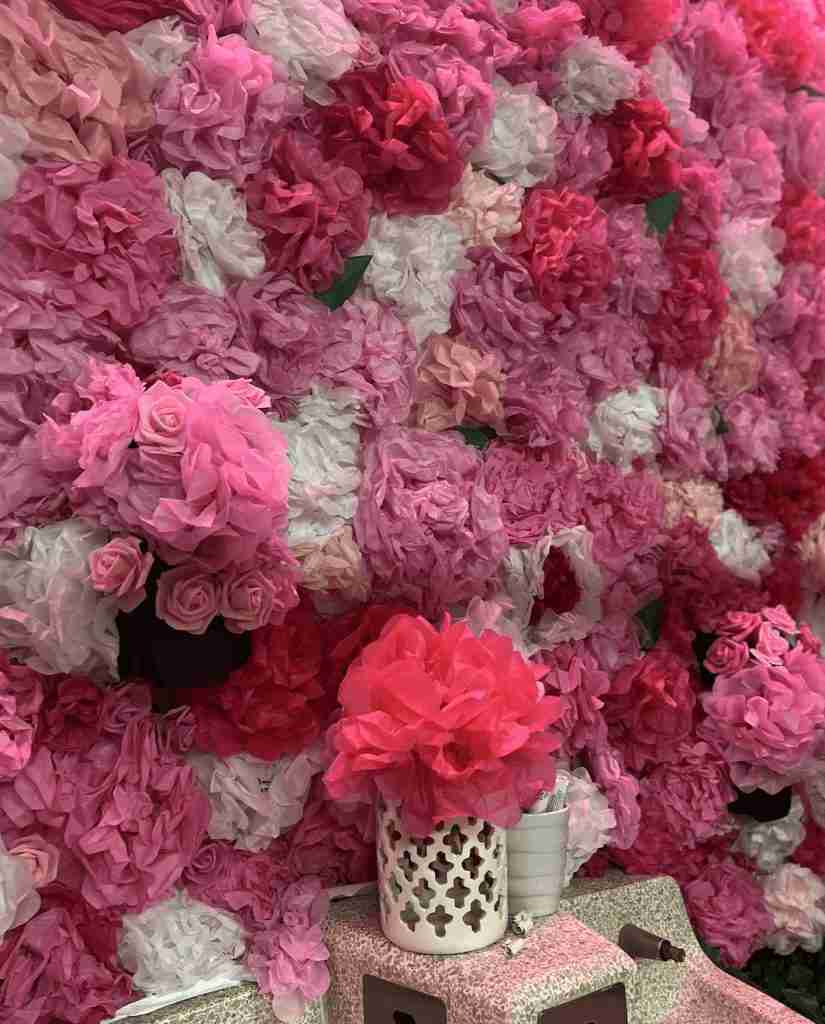 The Decorating Elements Of A Enchanted Garden Theme
Here is some fun ideas on transforming any room or venue.
For example, if you can transform a girl's school bathroom then you can make any room magical. The parents did just that. In the bathroom they lined all the walls with green tissue paper for a gorgeous backdrop. Pink wisteria flowers hung from the ceiling as you entered the room.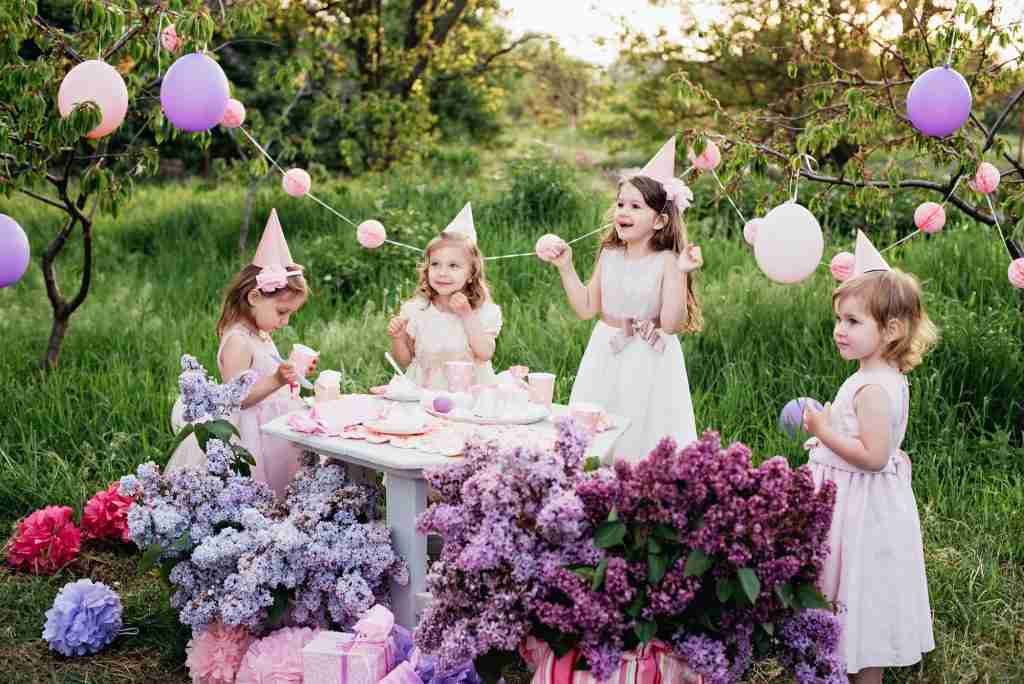 The far wall of the bathroom was filled with bright pink and white paper tissue flowers. The sink wall was lined with tropical printed wallpaper. Each stall door was decorated with a white trellis and the pink tissue flowers layered with several graduating year-2-0-2-6 Each stall had one number.
Have fun with the details of the party planning. Get creative with the napkins for example.
10. Epic Digital Party Game Theme
Digital game themes are a fun party theme for boys- no matter what age. For a child's birthday party, decorate an area with the video game he/she enjoys the most. Younger kids especially love this theme. For my son, I had a game truck park in front of our home so the kids could hang out there and play video games outside of all the other yard games we set up.
Check out the glow in the dark decor that the decorating committee came up with below. This idea alone would be fun for a child's birthday party. You could even use the glow in the dark as a theme itself- as a creative party theme.
The Decorating Elements Of A Digital Party Theme
The group of talented parents took on the project of transforming the boys bathroom into an epic digital game room.
The boys bathroom was another mind blower! As you walked to the bathroom, you walked through a dark hallway made by attaching wood stakes to the school railings. Black plastic tarp was used to cover over 15 feet of the hallway. On top of the black tarp was designs made out of glow in the dark tape. Black lights brought this space to life.
Inside the boys' bathroom, the parents, decorated every wall with video game graphics. The urinals were also magically transformed. The bathroom stall was my favorite. As you opened the door, it welcomed you with a cool digital vibe.
Other Party Elements:
Photo Booth- A blow up photo booth was set up. Photo booths can be added to any special occasion.
Hawaiian Ice Truck
Game Truck