I have close pals turning 60 this year so I thought I would share some popular birthday party themes for milestone birthdays. Check out the unforgettable 60th birthday party ideas that will make your milestone celebration truly special. From themed parties to meaningful gatherings, explore creative ways to honor this important occasion.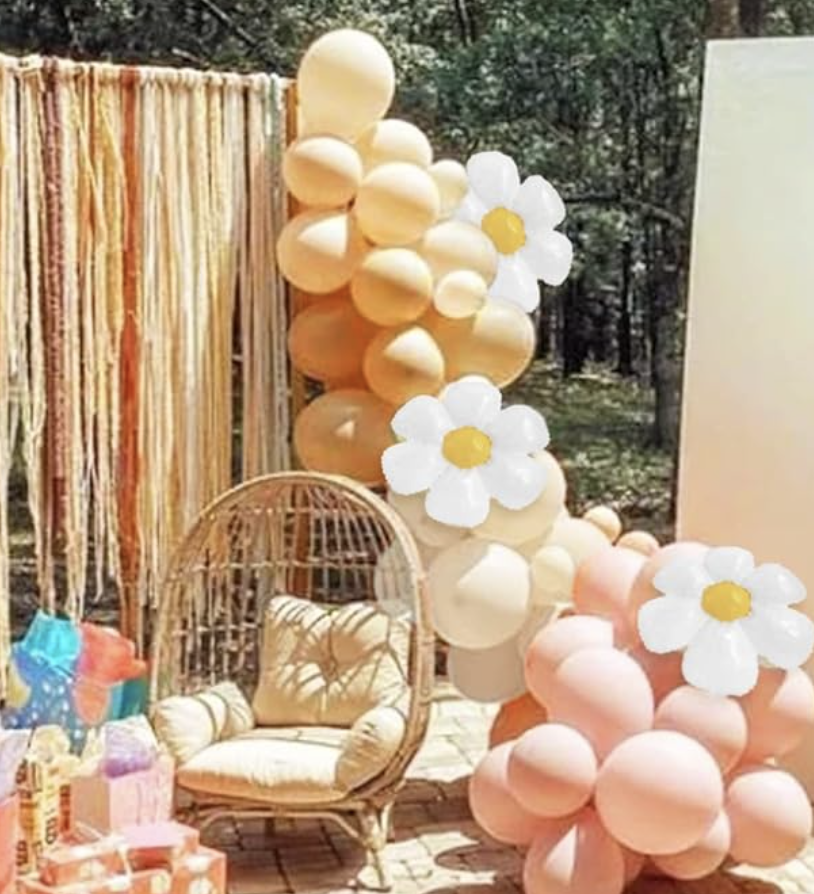 Boho Groovy Balloon Decor
Unique, Exclusive & Beautiful Retro Colors: Professionally designed and color tested to ensure a beautiful display at your celebration. Amazon $20.00
So how do you celebrate? I have some ideas for you if you are looking for fun ways to celebrate a gal pal's 60th's birthday. Recommended party favors and decorations on Amazon can be found here. These are affiliate links to help make your shopping easier.
Reaching the age of 60 is a milestone that deserves to be celebrated in a big way. Whether you're planning a surprise party for the guest of honor or helping them organize their own special day, there's no shortage of unique and exciting 60th birthday themes and ideas to make this occasion truly memorable.
1. A Diamond Jubilee Celebration
A 60th birthday is often referred to as a "diamond jubilee." What better way to honor the birthday person than with a diamond-themed party? Deck out the venue with sparkling decorations, and encourage guests to wear their finest diamond-studded attire. This theme adds a touch of elegance to the celebration.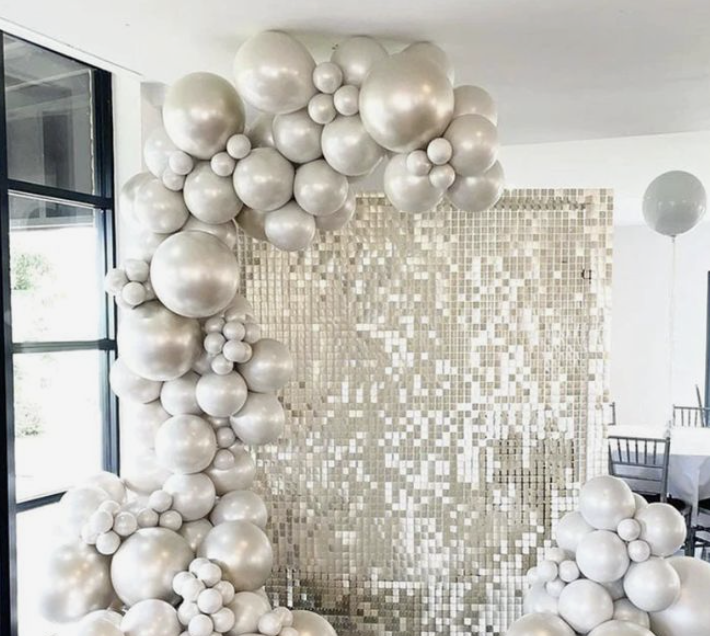 Diamond Jubilee Party Ideas- shine bright like a diamond
Invitations: Start by sending out elegant invitations that reflect the theme of diamonds and luxury. Consider using silver or white as the primary colors, and add diamond-themed embellishments or patterns.
Venue: Choose a sophisticated and upscale venue for the celebration, such as a classy restaurant, a ballroom, or a banquet hall. The ambiance should be glamorous and fitting for the occasion.
Diamond Decor: Decorate the venue with diamond-themed decor, such as glittering centerpieces, crystal chandeliers, and diamond-shaped balloons. Silver and white color schemes with touches of sparkle can create a luxurious atmosphere.
Red Carpet Entrance: Roll out a red carpet at the entrance of the venue to make the guest of honor and attendees feel like celebrities. Add stanchions with velvet ropes for an extra touch of elegance.
Diamond Jubilee Cake: Order a stunning diamond-themed cake as the centerpiece of the dessert table. It could be designed to resemble a sparkling diamond or feature edible diamonds as decorations.
Formal Dress Code: Encourage guests to dress in formal attire to match the elegance of the event. The birthday person can choose their favorite color as the theme for guests' attire.
Diamond Jewelry: As a gift, consider giving the guest of honor a piece of diamond jewelry, like a necklace, bracelet, or earrings, to mark the occasion.
Live Entertainment: Hire a live band, orchestra, or a DJ to provide musical entertainment. Consider including a dance floor to get everyone moving and grooving.
Photo Booth: Set up a photo booth with props and backdrops related to diamonds and luxury. Guests can take pictures as keepsakes from the celebration.
Diamond-Themed Games: Organize games or activities related to diamonds, like a "diamond hunt" scavenger hunt or a trivia game about famous diamonds.
Toasts and Speeches: Invite close friends and family members to give heartfelt toasts and speeches, sharing stories and well-wishes for the birthday person.
Diamond Jubilee Keepsake: Create a personalized keepsake, such as a photo album or a scrapbook, filled with pictures and memories from the past 60 years. Present it to the guest of honor during the celebration.
2. Retro 60's Themed Bash
Take a trip down memory lane by throwing a disco-themed party. Hang disco balls and set up lava lamps for that authentic '70s vibe. Encourage guests to wear their grooviest outfits and hire a live band or DJ to keep the dance floor alive with classic disco hits.
I had to friend's turn 60 and so we celebrated with nine holes of golf in our retro outfits followed by a party with the ladies' closest friends. The party was at our golf club and they decked the room out in a groovy way. I handmade flower child crowns for both birthday girls.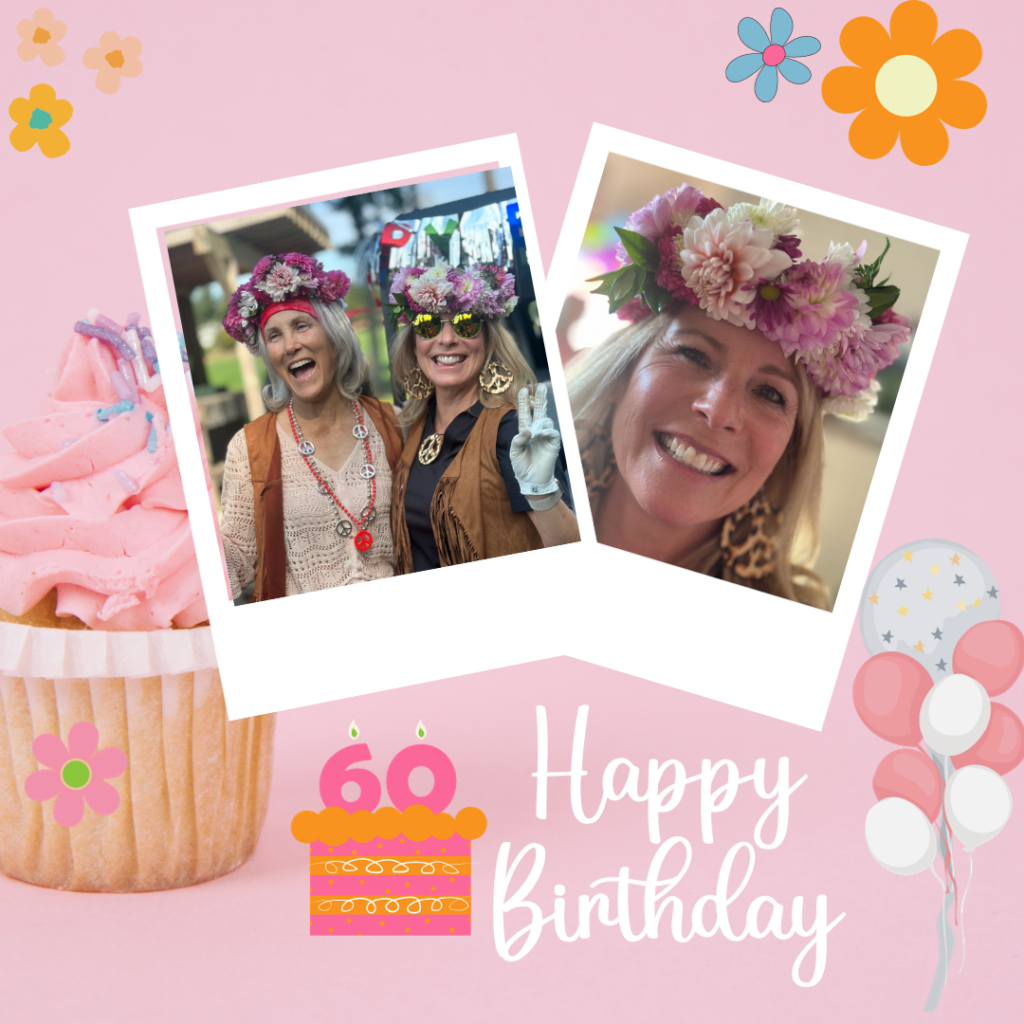 Here are some ideas for a 60's themed birthday party:
Transport your guests back to the swinging 60s, you'll want to deck out your party space with decorations that capture the spirit and style of that era. Here are some ideas for decorations to use for a 60s-themed birthday party: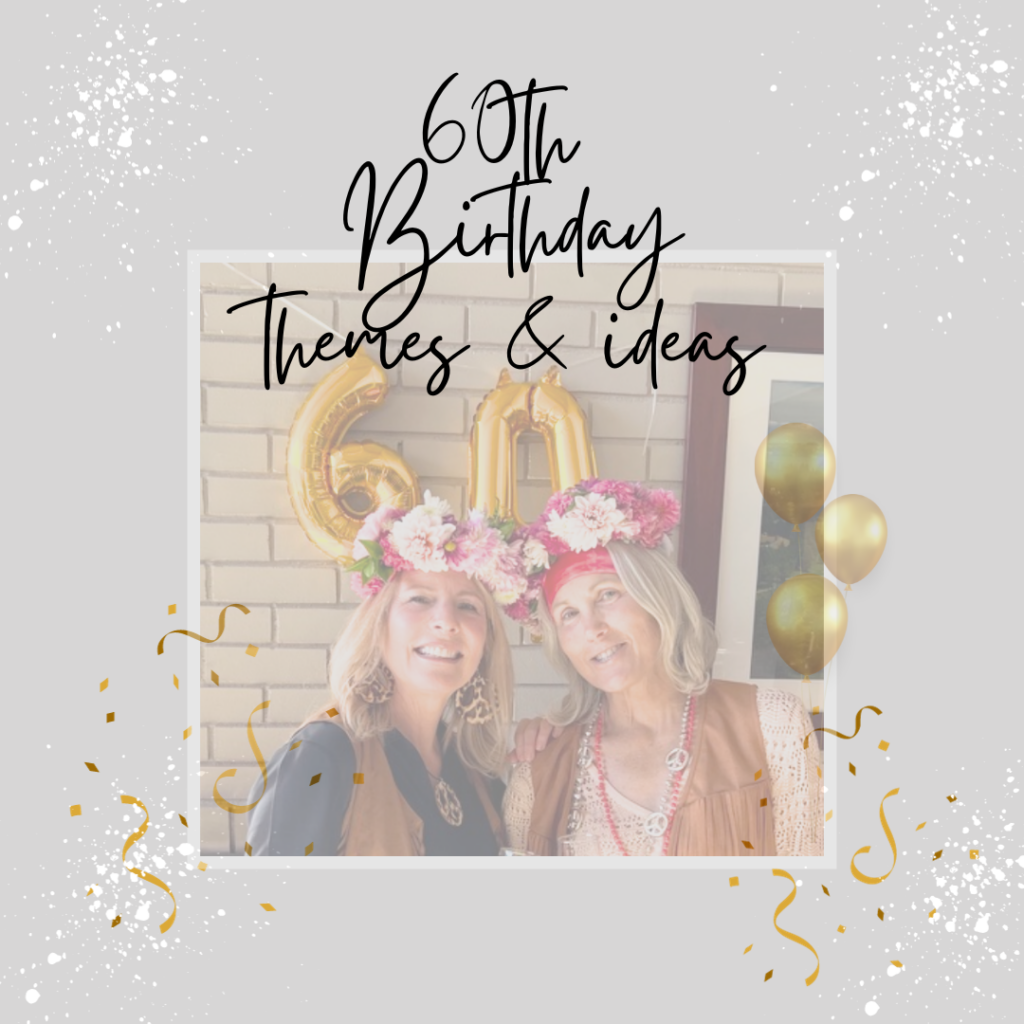 Tie-Dye Everything: Tie-dye was a quintessential fashion trend of the 60s. Incorporate tie-dye patterns into tablecloths, banners, and even clothing for your guests. You can also set up a tie-dye station for guests to create their own tie-dye shirts as party favors.
Retro Colors: The 60s are known for their vibrant and bold colors. Decorate with bright hues like orange, lime green, hot pink, and electric blue. Consider using colored tableware, balloons, and streamers in these shades.
Peace Signs and Smiley Faces: Peace signs and smiley faces are iconic symbols of the 60s. Use peace sign and smiley face decorations on banners, posters, and table centerpieces.
Lava Lamps: Lava lamps were a popular decorative item in the 60s and can add a fun, psychedelic vibe to your party. Place them around the party space for an authentic touch.
Flower Crowns: Easy to make friends. See the crowns I made below.
Vinyl Records: Incorporate vinyl records into your decor by hanging them on the walls, using them as table centerpieces, or creating a backdrop with them. You can also play music from the 60s on a record player for added authenticity.
Hippie-Inspired Elements: Embrace the hippie culture of the 60s by using elements like beaded curtains, fringe, and tapestries. Hang beaded curtains at doorways and windows for a retro feel.
Classic Posters: Find posters of iconic 60s musicians, movies, and cultural figures to adorn the walls. These posters will serve as both decorations and conversation starters.
Vintage Furniture: If possible, use retro furniture or furniture covers that mimic 60s styles. Think bean bag chairs, low-slung sofas, and shag carpeting.
Encourage 60s-inspired attire and set up a costume corner with accessories..
Hippie Van Photo Booth: Create a photo booth area with a backdrop featuring a psychedelic hippie van. Provide props like round sunglasses, peace signs, and flower crowns for guests to use in their photos.
Vintage Memorabilia: Decorate with vintage items from the 60s, such as old magazines, record players, or even an old rotary phone as a conversation piece.
Groovy Lighting: Hang colorful paper lanterns, string lights, or disco balls to set the mood and create a fun, retro atmosphere.
60s-themed Posters and Art: Incorporate famous 60s artwork and posters, such as Andy Warhol's pop art or Woodstock festival posters, into your decor.
Hippie Flowers: Place vases of brightly colored flowers, particularly daisies and sunflowers, around the party space for a touch of flower power.
Vintage TV Shows and Movies: Play classic 60s TV shows or movies on a screen or projector to add to the nostalgia.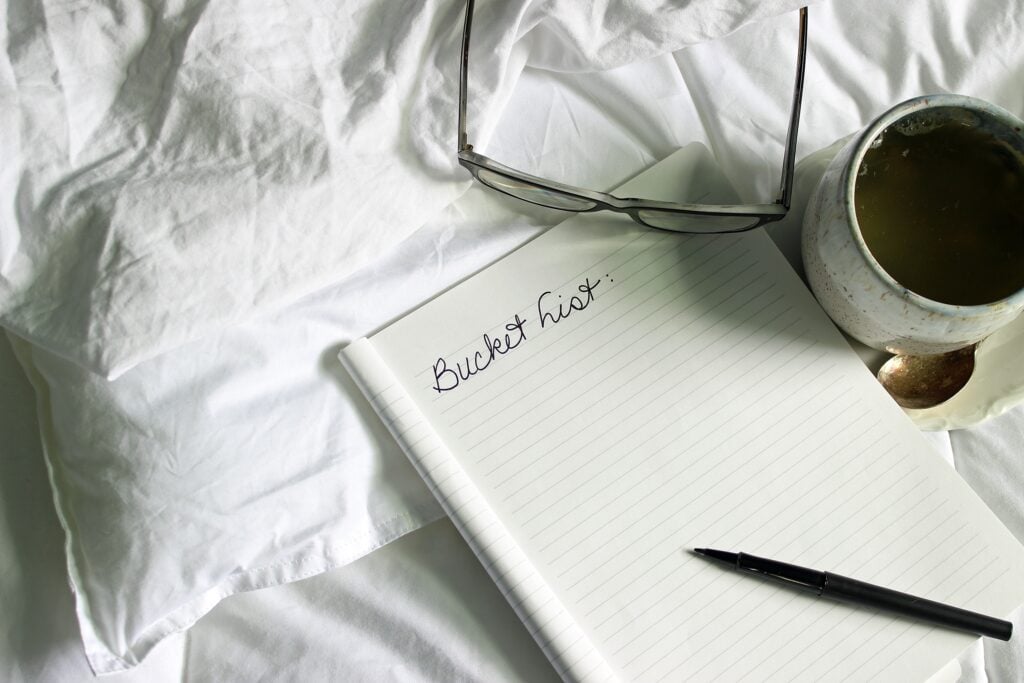 3. The Ultimate Bucket List Party
Help the birthday person check off some items from their bucket list by organizing a day filled with adventurous activities. From skydiving to hot air ballooning, this is a fantastic way to create special moments and unforgettable memories. I love the idea of planning a bucket list trip with your besties.
Consider an Outdoor Adventure. For the adventurous birthday boy or girl, plan an outdoor activity like a hike, kayaking, or a camping trip. Surrounding oneself with nature and loved ones is a perfect way to celebrate this new decade.
Here are more ideas for a bucket list type of themed party:
Bucket List Vision Board: Set up a station with magazines, markers, scissors, and boards where guests can create vision boards that represent their dreams and goals. This activity can serve as a conversation starter and a reminder of the importance of setting and pursuing dreams.
Guest of Honor's Bucket List: Make a list of the guest of honor's lifelong dreams and aspirations. During the party, surprise them by fulfilling one of these dreams. It could be something as simple as taking a hot-air balloon ride, learning a new skill, or meeting a personal hero.
Interactive Adventure Map: Set up a world map where guests can pin their dream destinations and experiences they want to check off their own bucket lists. This can serve as both a decoration and an interactive element.
Themed Decorations: Incorporate decor elements that represent the concept of a bucket list. For example, use decorative buckets as centerpieces, and hang signs or banners with inspiring quotes about dreams and goals.
Bucket List Bingo: Create bingo cards with different bucket list items instead of numbers. As guests interact and share their dreams, they can mark off items on their cards for a chance to win prizes.
Personalized "Bucket List" Favors: Give guests small "bucket list" journals or notebooks where they can jot down their dreams and plans. You can also provide personalized pens or pencils as party favors.
Adventure-Themed Cuisine: Serve a menu inspired by the guest of honor's favorite destinations or dream travel spots. Each dish can be accompanied by a description of its connection to a place on their bucket list.
Dream Wall: Set up a designated area where guests can write down their dreams and aspirations on small cards and attach them to a "dream wall." It's a visual representation of shared goals and dreams.
Inspirational Playlist: Create a playlist featuring songs that inspire and motivate. Play this music throughout the party to set the right mood and encourage positive conversations.
Bucket List Photo Booth: Set up a photo booth with props related to different bucket list items, such as travel accessories, adventure gear, or dream destinations. Guests can take photos as a keepsake.
Bucket List Challenge: Organize a fun challenge or game related to bucket list items, like a mini obstacle course, a trivia quiz, or a creative activity that encourages participants to step out of their comfort zones.
Dream Book: As a keepsake for the guest of honor, compile a "Dream Book" filled with messages, well-wishes, and advice from party attendees, encouraging them to continue pursuing their dreams
4. Peace and Love Picnic
If the birthday person is a fan of the '60s and '70s, consider a peace and love picnic. Set up picnic tables with bright colors, peace signs, and smiley faces. Play their favorite songs from that era and enjoy delicious food in a relaxed outdoor setting.
Retro Picnic Party Ideas:
Vintage Blankets: Arrange vintage-style picnic blankets on the ground for seating. Look for blankets with bold, bright patterns, or flower power designs.
Flower Power Centerpieces: Create centerpieces with vibrant and colorful flowers like daisies, sunflowers, and wildflowers, all synonymous with the 60s and 70s. Place them in retro vases or mason jars for a rustic touch.
Retro Tableware: Opt for brightly colored, retro-style tableware. Think plastic or melamine plates, cups, and utensils in hues like orange, turquoise, and yellow. Consider using vintage-style paper napkins with patterns from the era.
Groovy Pillows: Scatter colorful, retro-patterned pillows around the picnic area for added comfort and style. These pillows can be placed on blankets or seating areas.
Hanging Paper Lanterns: Hang colorful paper lanterns from trees or create a festive canopy above the picnic area. These lanterns can add a fun and whimsical touch to the space.
Vintage Games: Set up vintage lawn games like horseshoes, frisbee, or a hula hoop contest. These games were popular during both the 60s and 70s and will entertain your guests.
Peace Sign Balloons: Decorate with helium-filled balloons in the shape of peace signs and smiley faces. These balloons will add a playful and retro vibe to your picnic area.
Retro Music: Create a playlist of iconic songs from the 60s and 70s, and play it in the background. You can even consider setting up a record player with vinyl records for added authenticity.
String Lights: Hang string lights around the picnic area to create a warm and inviting ambiance. Vintage-style Edison bulbs or colorful globe lights work well for this theme.
Vintage Posters and Art: Hang posters or art prints from the 60s and 70s on trees or walls. Think psychedelic art, iconic album covers, or posters from Woodstock or famous rock bands of the era.
Retro Picnic Baskets: Use vintage-style picnic baskets to hold utensils, condiments, and other picnic essentials. These can also serve as decorations when placed strategically.
Retro Cooler: Keep your drinks cool in a retro cooler with a classic design. It can double as a decorative piece for your picnic setup.
Disco Ball: For a 70s touch, consider hanging a disco ball from a tree or a picnic canopy. It will add a touch of glamour and fun to the atmosphere.
DIY Crafts: Set up a DIY tie-dye station or provide guests with supplies to create their own flower crowns or beaded bracelets, embracing the hands-on, crafty spirit of the 60s and 70s.
Vintage Picnicware: If you can find authentic 60s or 70s Picnic ware, like thermoses, wicker baskets, or picnic sets, incorporate them into your decor for an authentic touch.
Tie-Dye Tablecloths: Use tie-dye tablecloths or fabric as a base for your picnic tables. Tie-dye is an iconic symbol of both decades and will instantly set the retro tone.
Remember to encourage your guests to dress in 60s or 70s attire to complete the nostalgic picnic party experience. With these decorations and ideas, you'll create a picnic party that captures the spirit of these iconic decades and provides a groovy and fun atmosphere for everyone to enjoy.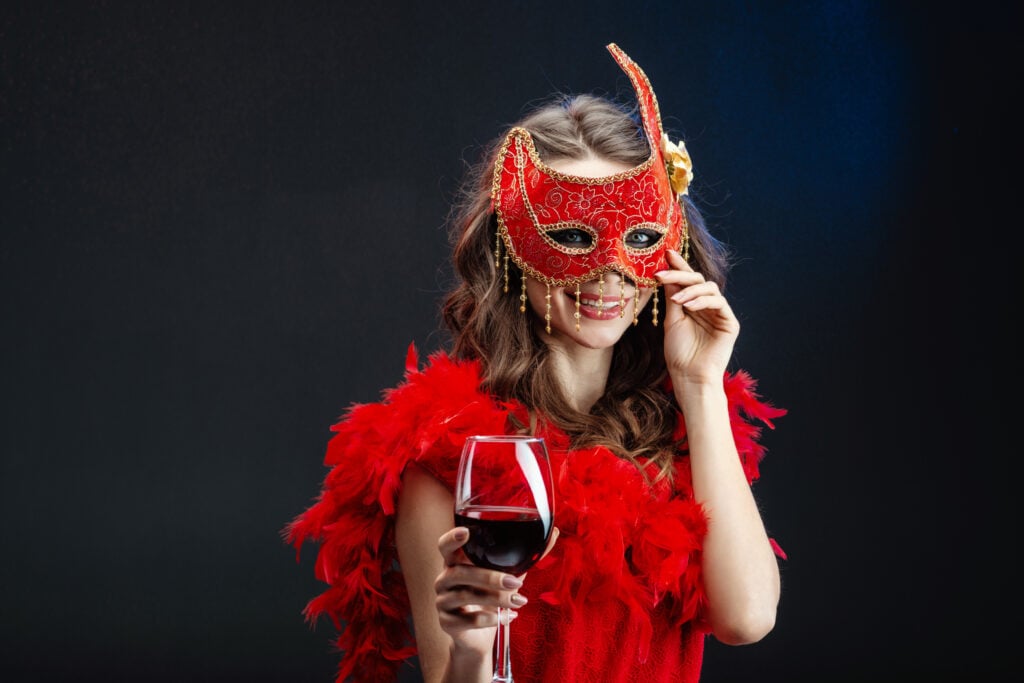 5. Masquerade Ball Extravaganza
For a touch of mystery and glamour, host a masquerade ball. Ask guests to come in elegant masks and fancy dress, and create an enchanting atmosphere with dim lighting and live music. This theme is perfect for a formal dinner party.
Here are masquerade ball party ideas:
Masquerade Masks: Decorate the entrance with an assortment of masquerade masks for guests to choose from as they arrive. Hang them on the wall or place them on a table.
Rich Color Palette: Choose a color palette that exudes elegance, such as deep purples, blacks, golds, and silvers. Use these colors for tablecloths, balloons, and other decorations.
Dramatic Lighting: Create a romantic atmosphere with dim lighting. Consider using candles in decorative holders, string lights, or even chandeliers if your venue allows.
Feather Centerpieces: Incorporate tall feather centerpieces in black, white, or deep jewel tones. These can add a touch of glamour to your tables.
Elegant Table Settings: Use fancy tableware, such as gold or silver chargers, fine china, and crystal glassware. Cloth napkins and elegant flatware can complete the look.
Masked Mannequins: Place mannequins dressed in elegant attire and wearing masks at strategic locations around the party space. This adds a touch of mystique to the decor.
Tulle and Drapes: Hang tulle or sheer drapes from the ceiling to create an enchanted ambiance. You can also use drapes to section off different areas of the venue.
Gilded Frames: Display photos of the guest of honor through the years in ornate frames. Position them on tables or hang them on walls.
Masked Balloons: Decorate balloons with masquerade mask cutouts and arrange them as centerpieces or in balloon bouquets.
Mysterious Mirrors: Place ornate mirrors throughout the venue to add an element of mystery and glamour. You can even use antique-style mirrors if available.
Masked Guest Seating: Use place cards with miniature masks attached to indicate guests' seating arrangements. This adds a unique touch to the table settings.
Masked Silhouettes: Create large silhouettes of masquerade masks and place them on walls or near the entrance. These can be made from cardboard or foam board.
Masked Photo Booth: Set up a photo booth with various masquerade masks and props for guests to take pictures. Provide a backdrop with an elegant masquerade theme.
Feather Boas: Scatter feather boas on tables or drape them over chairs for a fun and glamorous touch.
Gobo Lighting: Consider projecting decorative patterns, such as masquerade masks or intricate designs, onto the walls or dance floor using gobo lighting.
Elegant Drapery: Hang luxurious curtains or drapery around the venue for a more opulent feel.
Elegant Signage: Design signage that matches the masquerade theme, including directional signs, welcome signs, and menu boards.
Mystery and Elegance: Incorporate elements of mystery and elegance into every detail, from the invitations to the party favors. Think lace, satin, and velvet for a luxurious touch.
6. Virtual Celebration
Can't be together to celebrate? In this digital age, virtual birthday parties are a great idea to celebrate with family and friends from afar. Organize virtual wine tastings, online dance classes, or even a movie night via a video call. Send out party favors in advance to make it feel like a genuine party.
7. Memory Scavenger Hunt
Plan a scavenger hunt that takes the birthday person on a journey through their favorite memories. Create clues that lead to locations or objects related to special moments in their life. This meaningful way of spending time together is sure to be a big deal.
A Memory Lane party is a heartwarming and nostalgic way to celebrate a milestone event or simply reminisce about the past.
Create a memory wall where guests can share their favorite memories or write well-wishes for the guest of honor. Set up a large bulletin board or use a section of a wall and provide colorful sticky notes, markers, and pins. Encourage guests to write anecdotes, messages, or memories they share with the honoree and post them on the wall.
This Memory Wall not only serves as a decorative element but also as a conversation starter and a source of joy as everyone reminisces about the past and expresses their appreciation for the guest of honor. Plus, it leaves the honoree with a collection of heartfelt messages and cherished memories to keep.
8. Wine Tasting Extravaganza
If the birthday person is a wine enthusiast, consider a wine tasting party at a local winery or even at home. Hire a professional sommelier to guide the tasting, and pair it with delicious food for an indulgent experience..
A wine tasting party is a delightful way to celebrate someone turning 60, especially if they are a wine enthusiast.
Here are some ideas to help you plan a memorable wine tasting party:
Wine Selection:Choose a variety of wines from different regions and types (red, white, sparkling) to cater to various preferences. Consider including some aged wines to commemorate the milestone.
Wine Tasting Station: Set up a dedicated wine tasting station with each wine labeled and accompanied by information about its origin, flavor profile, and suggested food pairings.
Wine Glasses: Ensure you have enough wine glasses for each guest. Use proper wine glasses suited for red, white, and sparkling wines.
Food Pairings: Offer a selection of appetizers and snacks that pair well with wine, such as cheeses, charcuterie, crackers, bread, olives, and chocolates. Provide a variety to complement different wine types.
Tasting Notes: Provide guests with tasting note cards where they can jot down their thoughts and impressions of each wine. This adds an interactive element to the tasting.
Wine Expert or Sommelier: Consider hiring a wine expert or sommelier to guide the tasting. They can provide insights, tasting tips, and share interesting facts about the wines.
Decorations: Decorate the party space with wine-themed decorations. Use wine barrels, wine crates, and wine bottle centerpieces. You can also incorporate vineyard-inspired elements like grapevines and wine barrel tables.
Wine-Themed Invitations: Send out wine-themed invitations that set the tone for the event. Include details about the wines that will be featured and any dress code (e.g., wine country chic).
Wine Games: Organize fun wine-themed games or trivia to keep guests engaged. Have a blind tasting challenge or a quiz about wine facts and trivia.
Wine Favors: Send guests home with wine-themed party favors, such as mini bottles of wine, wine stoppers, or personalized wine glasses.
Live Music: Consider hiring a live acoustic guitarist or a small jazz band to provide background music, creating a relaxed and enjoyable atmosphere.
Vineyard-Inspired Setting: If possible, host the party in a vineyard or winery to create an authentic wine-tasting experience.
Toast and Speeches: Allow time for toasts and speeches to celebrate the birthday person. Guests can share their well-wishes and memories over a glass of wine.
Themed Decor: Incorporate wine-related decor such as wine cork coasters, wine bottle candles, and wine-themed tablecloths or runners.
Dessert and Cake: End the evening with a dessert and birthday cake that pairs well with wine, like a rich chocolate cake or a fruit tart.
Party Favors: Consider gifting guests personalized wine glasses or wine accessories as party favors to commemorate the event.
9. Movie Theater Night
Rent out a movie theater and screen the birthday person's favorite films. This is a fantastic way to re-live special moments from their life and create new ones with close friends and family.
A movie night is a great way to celebrate a 60th birthday, especially if the guest of honor enjoys watching films.
Here are some movie night ideas to make the celebration memorable:
Outdoor Movie Night: If you have access to outdoor space, consider setting up a projector and a large screen in your backyard or a local park. Arrange cozy seating with blankets and pillows, and watch the guest of honor's favorite films under the stars.
Drive-In Movie Theater: Organize a trip to a nearby drive-in movie theater. Guests can enjoy the comfort of their cars while watching a double feature of classic or recent films.
Home Theater Experience: Transform your living room into a home theater. Rent or borrow a projector and screen, set up surround sound, and create a cinema-like atmosphere with dim lighting and popcorn machines.
Red Carpet Arrival: Roll out a red carpet for the guest of honor and have paparazzi (friends with cameras) capture their "Hollywood" entrance.
Themed Decorations: Choose a theme based on the guest of honor's favorite film or movie genre. Decorate the party area with posters, props, and memorabilia related to the theme.
Costume Party: Encourage guests to dress up as characters from their favorite movies. A costume contest can add some friendly competition to the evening.
Director's Chair: Set up a director's chair with the guest of honor's name on it, and use it for special announcements or to seat the birthday person during the celebration.
Concession Stand: Create a concession stand with movie theater snacks like popcorn, candy, nachos, and soft drinks. You can also offer themed cocktails or mocktails.
Awards Ceremony: Host a mini awards ceremony to recognize the guest of honor's achievements and milestones throughout their life. Present them with a "Lifetime Achievement Award."
Host an interactive movie night where guests dress up and quote lines from a film with interactive elements like "Rocky Horror Picture Show" or "The Princess Bride"..
Personalized Invitations: Send out personalized movie ticket invitations to set the tone for the event.
Movie-themed Cake: Order or bake a birthday cake that reflects the guest of honor's favorite movie or has a film reel or clapperboard design.
Photo Booth: Set up a movie-themed photo booth with props and backdrops related to famous movies. Guests can take pictures to commemorate the event.
A movie night can be a nostalgic and enjoyable way to celebrate a 60th birthday, allowing the guest of honor to relive favorite films and create recent memories with friends and family. Whether you choose an outdoor screening or a cozy indoor theater experience, it will be a memorable celebration for all involved.
10. Cocktail Party Extravaganza
Turn the celebration into a cocktail party with a mixologist on hand to create signature cocktails. Add some fun activities like a dance-off or a karaoke competition to keep the times rolling.
A 60's-themed cocktail party is a fantastic way to celebrate a 60th birthday with a touch of nostalgia and style.
Here are some ideas to help you plan a groovy 60's cocktail party:
Retro Invitations: Send out invitations that evoke the spirit of the 60s. Think psychedelic colors, flower power, or iconic 60s imagery like peace signs and tie-dye.
60s Attire: Encourage guests to dress in 60s fashion. Think bell-bottoms, mini skirts, tie-dye shirts, and go-go boots. Award a prize for the best 60s costume.
60s Music Playlist: Create a playlist featuring music from the 60s. Include classics from The Beatles, The Rolling Stones, Jimi Hendrix, and other iconic artists of the era.
Vintage Decor: Decorate the party space with 60s-themed decorations, including lava lamps, bead curtains, and retro posters. Use bright, psychedelic colors like orange, turquoise, and hot pink.
Lounge Seating: Arrange lounge seating with bean bags, low-slung sofas, or floor cushions to create a relaxed and retro vibe.
Signature Cocktails: Create a cocktail menu featuring classic 60s cocktails such as the Martini, Manhattan, or Harvey Wallbanger. You can also invent your own groovy concoctions and give them retro names.
Fondue Station: Serve a fondue station with cheese and chocolate fondue pots. Fondue was popular party food in the 60s and adds a touch of nostalgia to the event.
Canapés and Finger Foods: Offer a selection of retro-inspired appetizers and finger foods, such as deviled eggs, cocktail sausages, shrimp cocktail, and cheese and pineapple skewers.
Vintage Glassware: Serve cocktails in vintage glassware, like old-fashioned glasses or martini glasses. Find 60s-themed glassware for an authentic touch.
Flower Arrangements:Use colorful flower arrangements featuring daisies, sunflowers, and other blooms reminiscent of the 60s. Place them in retro vases or mason jars.
Photobooth with Props: Set up a 60s-themed photo booth with props like oversized sunglasses, peace signs, and flower crowns. Guests can take fun pictures to remember the party.
Swinging 60s Trivia: Organize a 60s trivia quiz or game to test your guests' knowledge of the era's music, fashion, and historical events.
Retro Desserts: Serve desserts popular in the 60s, such as Jell-O molds, pineapple upside-down cake, or fruit cocktail cups.
Party Favors: Provide guests with 60s-inspired party favors like tie-dye bandanas, peace sign pins, or retro sunglasses.
Groovy Lighting: Use colored string lights or lava lamps to create a psychedelic lighting effect.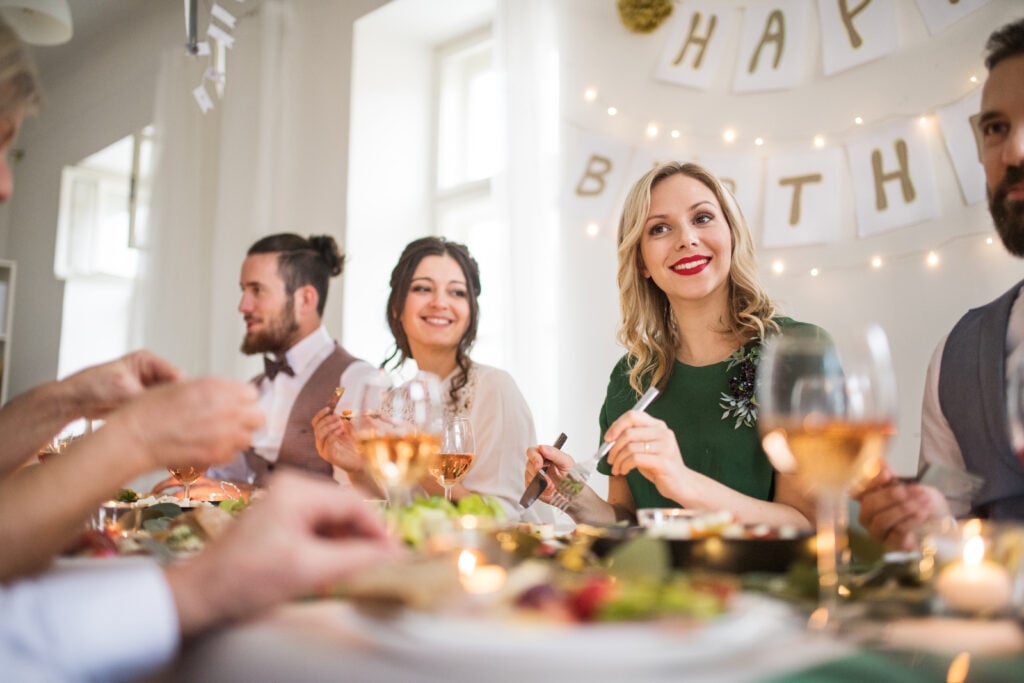 11. A Meaningful Dinner Party
Host an intimate dinner party at one of the birthday person's favorite local restaurants. Enjoy delicious food, quality time with close friends, and meaningful conversations.
Here is some inspiration for a dinner party:
Venue Selection: Choose a venue that holds sentimental value to the birthday honoree, such as their favorite restaurant, a beautiful garden, a waterfront location, or even a cozy home setup. The setting will feel warm and inviting.
Personalized Invitations: Design personalized invitations that reflect the birthday person's personality and style. Include a heartfelt message and RSVP information.
Tribute Speeches: Ask family members and friends to prepare short tribute speeches or letters sharing anecdotes, memories, and well-wishes for the birthday person. These speeches can be a highlight of the evening.
Memory Lane Display: Create a display or collage of photos and memorabilia from different stages of the birthday person's life. This visual journey down memory lane will spark conversations and reminiscing.
Thoughtful Decor: Decorate the party space with items that hold special meaning for the birthday honoree. Consider using photos, heirlooms, or items related to their hobbies and interests.
Slideshow or Video Tribute:Create a slideshow or video tribute featuring pictures and videos from the birthday person's life. Include messages from friends and family who couldn't attend in person.
Personalized Table Settings:Set the table with personalized place cards or name tags that include a memorable photo or quote related to the guest of honor.
Favorite Foods: Plan the menu around the birthday person's favorite dishes and flavors. Include comfort foods, family recipes, or dishes from their favorite cuisine.
Toasts and Blessings: Invite guests to offer toasts and blessings to celebrate the birthday person's life and express gratitude for their presence.
Live Entertainment: Consider hiring a live musician, singer, or a small band to provide background music or perform the birthday person's favorite songs.
DIY Craft or Activity: Set up a DIY craft station or activity related to the birthday person's interests, such as painting, gardening, or crafting, to engage guests and create a meaningful keepsake.
Personalized Cake:Order a cake that reflects the guest of honor's passions, hobbies, or life journey. Include a heartfelt message or an edible photo.
Meaningful Favors: Send guests home with meaningful party favors, such as customized candles, a photo album, or a booklet of the tribute speeches and messages from the evening.
Time Capsule: Create a time capsule by asking guests to bring letters, mementos, or other items to be sealed and opened at a future milestone celebration.
Custom Candle Making Create custom candles that represent the birthday person's favorite things and memories. This fun activity doubles as a party favor for guests to take home.
Hire a Professional Photographer: Capture all the special moments of this landmark birthday with the help of a professional photographer. Having high-quality photos is a great way to ensure lasting memories.
12. Birthday Golf Tourney
I just attended a very special birthday party for two Gal Pal's. The party was designed a golf tournament. We played only 9 holes and ended up back at the club house for the party. It was a blast.
For someone born in the 60's – a 60's-themed golf tournament birthday party is a unique and fun way to celebrate this special milestone. Here are some ideas to help you plan a memorable event:
Retro Dress Code: Encourage participants to dress in retro golf attire.
Vintage Golf Clubs: Allow the use of vintage golf clubs from the 60s or 70s.
Classic Golf Balls: Use old-style or replica vintage golf balls.
Themed Golf Carts: Decorate golf carts with retro designs or accessories.
Classic Scorecards: Design scorecards with a retro look, including fonts and graphics.
Music on the Course: Play music from the chosen era on the course.
Retro Snacks and Beverages: Offer retro snacks and classic beverages.
Vintage Prizes: Source vintage golf memorabilia or retro-themed prizes.
Throwback Hole Signs: Create hole signs with retro graphics.
Scoreboard with Chalk: Use a chalkboard for scorekeeping.
Groovy Awards Ceremony: Host an awards ceremony with a retro vibe.
Photo Booth: Set up a photo booth with retro props.
Vintage Golf Cart Parade: Organize a parade of decorated vintage-style golf carts.
Costume Contest: Hold a costume contest for the best-dressed golfer in retro attire.
Golf Ball Personalization: Offer golf ball personalization with retro designs.
Classic Sponsorship Banners: Display sponsorship banners with a retro look.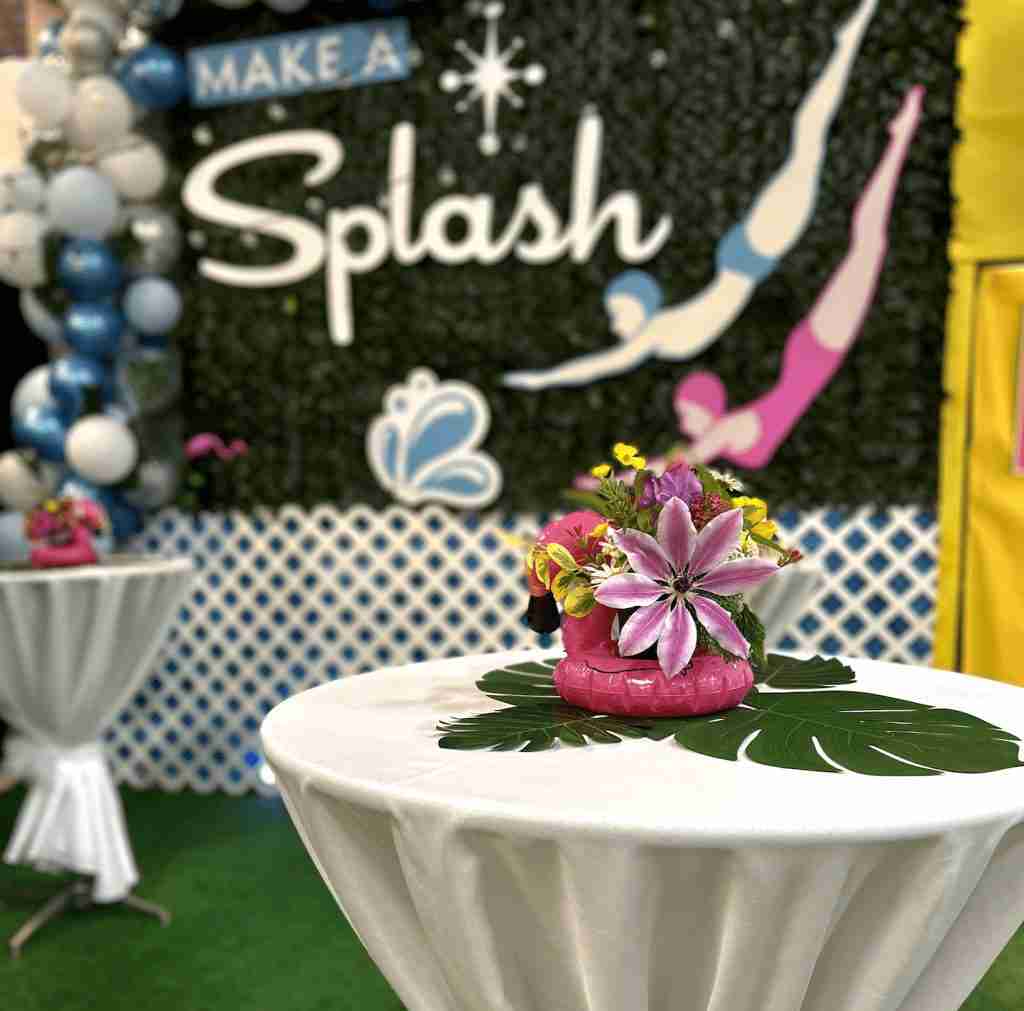 13. Retro Pool Party
Make a splash with a retro pool party! Dive into nostalgia with vintage swimsuits, groovy tunes, and poolside games for a fun and funky summer celebration. Invision a Palm Springs retro pool party.
Retro Pool Party Ideas:
Retro Color Scheme: Bright oranges, yellows, and teals for a vintage look.
Inflatable Pool Decor: Vintage-inspired pool floats and toys.
Tie-Dye Tablecloths: Use tie-dye tablecloths or runners for tables.
Poolside Tiki Torches: Create a tropical atmosphere with tiki torches.
Vintage Posters: Hang retro or beach-themed posters around the pool.
Floating Pool Candles: Add serene ambiance with floating candles in the pool.
Vinyl Record Decor: Use vinyl records as placemats or hang them as decorations.
Retro Lounge Area: Set up a lounge area with bean bags and vintage furniture.
String Lights: Hang string lights for warm evening lighting.
Beach Balls and Surfboards: Scatter these for a playful touch.
Vintage Umbrellas: Provide retro-style beach umbrellas for shade.
No matter which 60th birthday party theme or idea you choose, the key is to celebrate the special occasion with the guest of honor's favorite people, doing their favorite things. Make it a day filled with love, laughter, and unforgettable moments, as they deserve nothing but the best on their 60th birthday. Happy birthday to the birthday girl or boy – may this new decade be filled with happiness, good health, and many more special events!
14. Girls Pajama Party
On a girls trip to Sun Valley, we celebrated my friend Stacey's birthday with a fun PJ party. We had a beautiful cocktail party at my friends home and then a sit down dinner followed by lots of dancing. It was memorable and unique.
Encourage guests to wear their coziest pajamas or loungewear. You can even set a dress code, like "vintage pajamas" or "favorite cartoon characters."
Prepare sleeping arrangements if it's a sleepover party. Arrange sleeping bags, blankets, and pillows in a designated sleeping area.
Another idea is to celebrate a special birthday during the holidays. You could do a fun ugly sweater party or some fun holiday party theme with all the fun holiday decorations around the Christmas tree. Try Christmas dress up themes or New Years for that matter.