Quick and Easy Ways to Fold a Napkin like a Pro
Whether you're hosting a dinner party, throwing an outdoor picnic, or just want to spruce up your table setting for the weeknight family meal, it can be helpful to know how to fold napkins with style. Here are five easy ways that will make your napkins look extra special! These creative napkin folds will take your tablescape to a new level.
When you are setting your table for your entire family and or guests, add some character to your table with creative napkin folds. Folding a boring square cloth napkin into an interesting shape like an origami expert will get your guests talking.
Step By Step Napkin Folding Guide
The step by-step-guide will make your napkin folding experience a fun way to dress up your table. Perfect timing for the holiday season if you are entertaining dinner guests.
First thing you need is a flat surface, so let's get folding! Grab some linen napkins or a stiff fabric napkins work great too. Paper napkins work as well but are not as forgiving. I suggest to starch and iron my your napkins before folding.
Stagger Gently slide your hand under the napkin, sandwich it between your hands, and flip it over.
I chose to leave my trees bare, but feel free to add stars (embellish away) and/or edible glitter or any other little non-toxic bits you can think of! I'd love to see pictures posted to the comments section if you give these a go!!
The following dinner napkin folding tutorial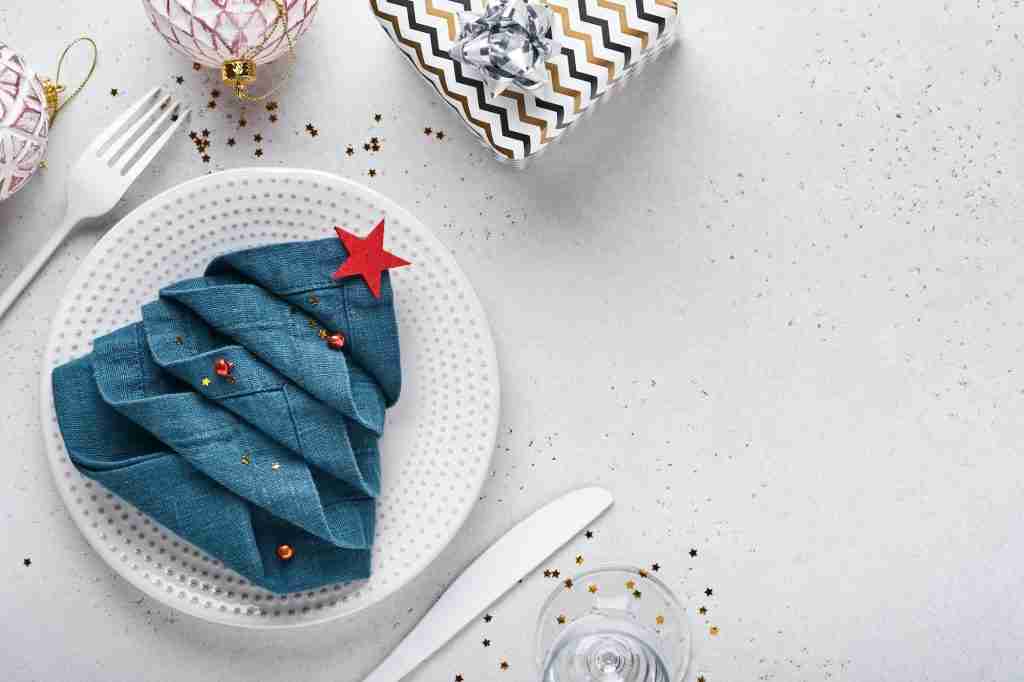 1. How To Fold A Napkin Into A Tree Shape- Christmas Tree Napkin Fold
Christmas Trees made from a napkin is a triangle shape make the ideal holiday meal. Festive napkins folded with precise folds make for a festive Christmas dinner celebration for sure! I use 20″ x 20″napkins, but any 16″x16″ and up size will work great). I prefer to use 100% natural fibers like cotton or linen, but using a poly/cotton blend won't make any difference to the success of the folds. This is optional, but results in a crisper looking tree.
Fold the napkin in half. Make sure the corners are lining up and smooth out any wrinkles.
Fold it in half again. Again, make sure the corners are all lining up with each other. Smooth it out and spin it around so that all the outside corners are facing you.
Flip the folded napkin over again.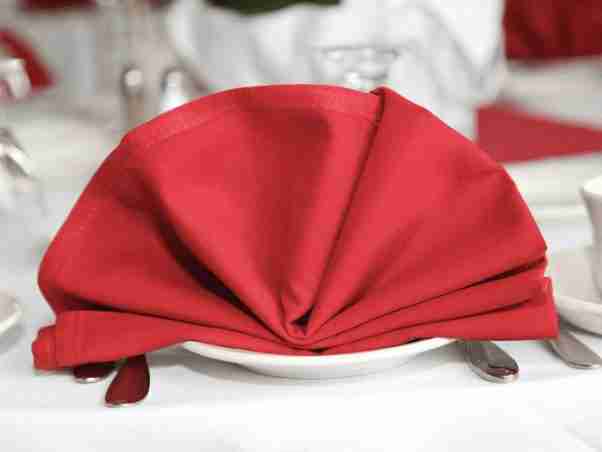 2. The Fan Fold: How To Fold A Napkin Into A Fan Shape
This one looks great and really stands out. Start with a flat, unfolded napkin and then fold it in thirds lengthwise so that you have three equal sections. Then fold the left side over onto the right side by about 2 inches and repeat on the right side over to the left. Finally, turn it over so that what was previously hidden is now visible and you have a fan shape!
3. How To Fold A Napkin- The Double Pocket Fold
For this one, start by folding your napkin in half diagonally from corner to corner so that it's shaped like a triangle once again. Then take each of the two corners of your triangle and tuck them into each other—you should end up with a pocket shape! If your napkin is too large for this fold, simply fold it in half one more time before tucking each corner into itself.
4. How To Fold A Napkin- The Pyramid Fold
This is another great way to add some dimension to your table setting. Start with an unfolded napkin—then fold both sides of the top layer inwardly towards each other until they meet in the middle (like an accordion). Then take each end of this accordion-style fold and bring them up into opposite points at either end of your pyramid shape!
5. How To Fold A Napkin- The Rosebud Fold-
Finally, last but not least – this one takes some practice but looks amazing when done properly! Start by folding your unfolded napkin in half lengthwise twice so that all four layers are together – then roll from one end until it's completely rolled up (it should resemble something similar to sushi rolls). Unroll slightly from one end until there's enough slack remaining to begin forming petals – pull each petal outwardly away from the center of the roll until desired flower shape has been achieved!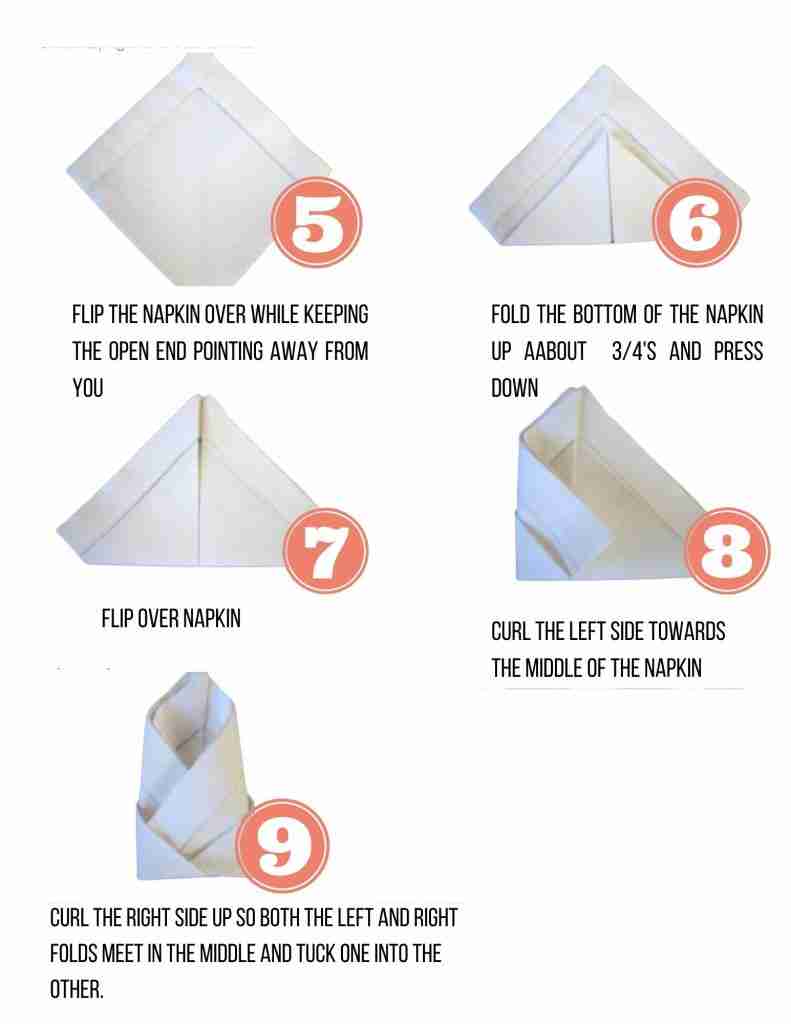 Add some creative flair to your tabletop
The easiest way to add some creative flair to your tabletop doesn't have to be hard—all it takes is just a few simple folds and voila! You'll have eye-catching displays that will wow everyone at your next gathering without breaking a sweat…or breaking out the ironing board! From pyramids and fans to roses and tiers, these five creative ways for folding napkins will liven up any dining experience – making it truly unforgettable! So go ahead – give 'em a try – we promise it's easier than it looks and will certainly pay off when your friends oohh and awe over how pretty they turn out!
With these five simple steps, you'll be able to create beautiful folded napkins for any occasion. Whether you're trying out these techniques for yourself or teaching them to someone else, practice makes perfect—so don't be afraid to experiment! With just a few quick folds here and there, even everyday meals can become more special occasions of their own. Enjoy!
Consider adding an embellishment to your napkin, such as a sprig of greenery, candy canes or a place card holder before placing the folded napkins on the dinner plate for display.
The art of napkin folding gets easier the more you get a hang of a folding technique. There are so many techniques to follow to create elegant shapes. So the next time you hold a dinner party, consider layering your table with a fun napkin fold that will bring your dining table to life.