I wanted to share my new crushed oyster shell path installed by ShellScapes. After I learned about the benefits of oyster shell material for gardens and landscaping, I didn't think twice about removing my gravel garden path (that we use for our golf cart) and replacing it with crushed oyster shells.
If you are seeking an innovative way to transform your landscape and garden into a unique, sustainable gorgeous design, a crushed oyster shell may be an ideal option for you to explore. When people see a seashell driveway or shell pathway in person, it's jaw-dropping.
Get That Coastal Vibe & Transform Your Landscape
My friends from the east coast have told me how oyster shells are used for driveways and paths near the ocean in coastal cities and towns. You probably have seen many romantic pictures of a beautiful white trail to the ocean shore. These beach paths are often installed with crushed oyster shell material. It's lovely, off-white, clean, and drains well.
Think "Coastal Grandmother" and the chill beachy vibe a crushed oyster path offers. It's one way to landscape your home with a Hampton vibe.
For whatever reason, the Pacific Northwest has been in the dark about using the magical sustainable crushed shell material until now. A new company from Bainbridge Island is changing that.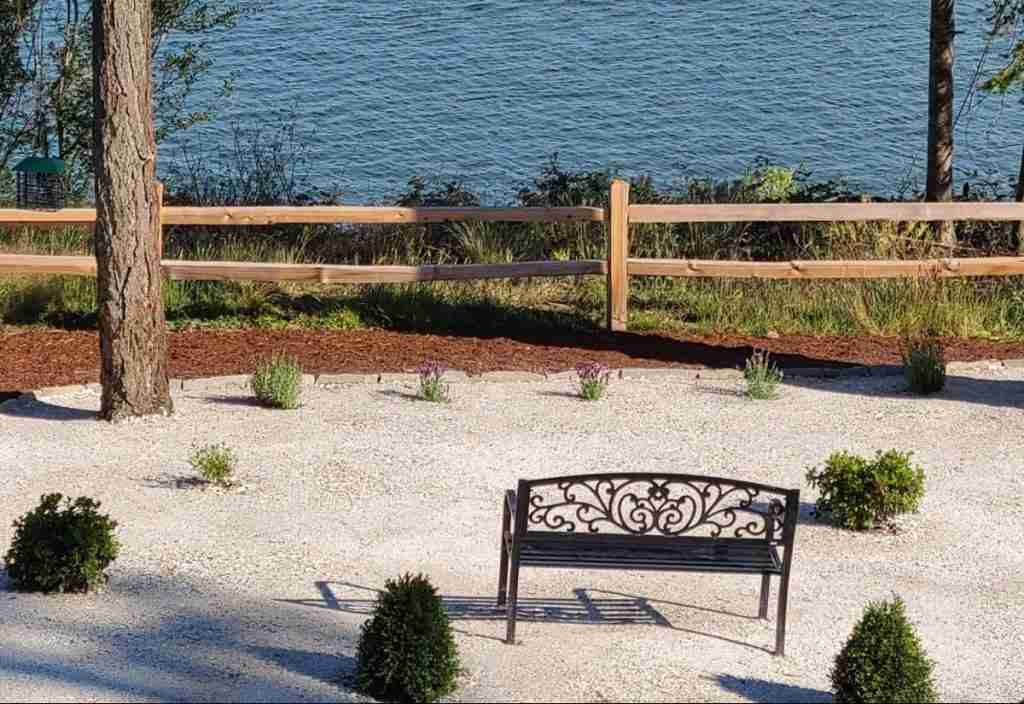 ShellScapes In Seattle
I was introduced to Mark Solboil with ShellScapes . After living in New England, he has always appreciated the beauty of the crushed coastal shell. He has successfully brought the ideation and use of the recycled shell to the Pacific Northwest.
With his background as a marine scientist, he developed partnerships with local oyster growers whose families have been farming in the region since the mid-1800s. With recent changes in technology and other environmental concerns, the shell was no longer being dumped back into the bays and piles of unused oyster shell sits in large piles.
Recycling Discarded Shell
Recycling and reusing the discarded shell, is what companies like ShellScapes does. They locally source product that is utilized on paths, patios, courtyards, driveways, and bocce courts and complements the aesthetic landscape designs of the Pacific Northwest. His business is growing so fast it's been hard to keep up.
The use of oyster shells provides a striking contrast to any landscape and is the fastest growing sustainable landscaping trend in the market today. It's amazing how using sea shells can transform a backyard, driveway, patio or path.
The Coastal Appeal Of The Seashell Hardscape
Our house was designed with the Hampton style in mind. Dark gray stained shingle siding and white trim. The idea of having a winding path along the side of our house made of seashells couldn't have been more perfect. I love the coastal appeal of a Sea Shell hardscape design. Seashell paths is a way to bring the ocean closer to your heart and soul.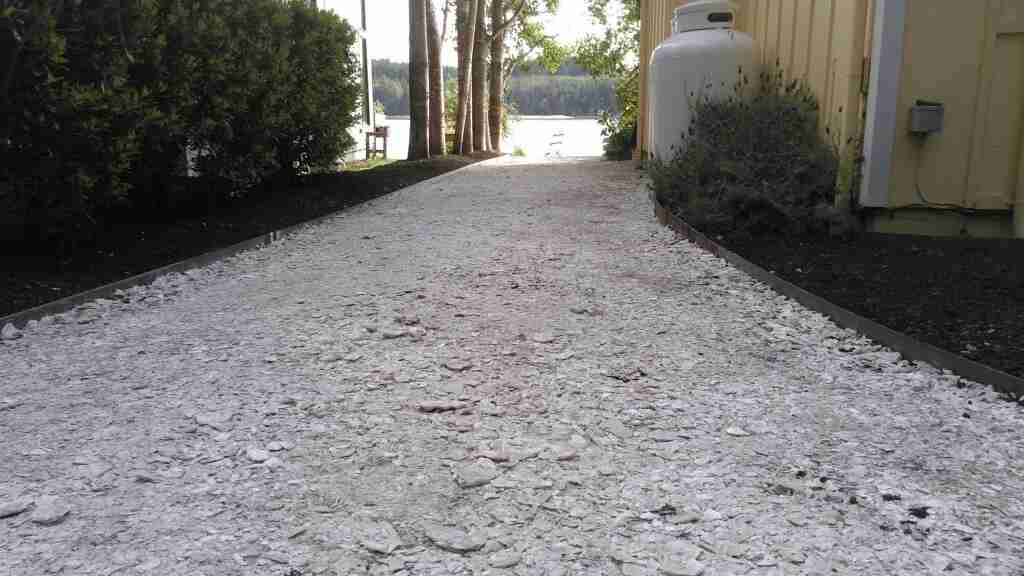 We initially installed the path with gravel. Over the last three years, we have had complications with the gravel getting shuffled around, weeds growing through it (even with the landscape fabric underneath), and pieces of gravel spewed onto our grass, making it a problem when mowing the lawn.
It is recommended to have a three-inch-deep deep application. Depending on the surface, it is usually suggested to layer a gravel base, but it must be compacted and leveled (preferably by a professional), so the surface doesn't become soft.
The general rule of thumb is that one cubic yard of seashell will provide a three-inch-deep cover for a 100-square-foot space.
One of the questions I get is .. Do the seashells stink? By the time the shell reaches your home, the shells have been thoroughly washed, so there should be little left to generate a stink. That said, they may arrive with some natural aroma, but that should dissipate within a day or two. I did not smell any stench at all.
How To Install An Crushed Oyster Shell Path
Determine location of the path

Remove the

ground cover

Install metal edging around the patio and path areas if needed

Flattened and tamper the ground

– add landscape fabric if needed
Lay a thin layer of gravel for the base

Dump oyster shell

on path

Spread the shell as fragments are compacted into a stable surface

Used the compactor

to press the shell material together
Spray with water

Rake

areas if needed.

Used the compactor again

Sprayed water on the path overnight

Hand tamp surface

and use compactor in the morning for a solid smooth finish
The result is a compact, effective surface with a coastal white, mother-of-pearl color that's soft enough to walk over barefoot. The path offers that classic Cape Cod or Hampton feel. I love the coastal vibe.
There are 11 main reasons people use crushed oyster shells. See more here.
Why A Seashell Hardscape?
For my path, I like the idea that the oyster shell is eco-friendly. The shell is outstanding for the soil and drains exceptionally well. We get heavy rains in our area. I have already noticed that we now have excellent drainage with the shell pathway. As the gravel wore down, the drainage became an issue.
Adding crushed oyster shell to your garden helps to create an outdoor garden oasis. Sustainable gardens are part of the growing home trends in 2022.
Esthetically speaking, the white color makes for a stunning landscape feature. The plants look greener around the path, and at night, the trail is nice and bright, almost like the moon lights it up. The reflective shell material is exceptional.
When we drive our golf cart on the path (it gets lots of use), there is no noticeable tire tracks like we had with the gravel. It feels like you are driving on concrete and is nice and quiet, unlike our previous path.
Oyster Shells=Less Garden Pests
I have also noticed we don't have slug or snail issues as we had before. I understand that these garden pests do not like a shell. Yeah! I am also looking forward to less weeding. The crushed shell is dense because of the oyster shell flour that acts as a binding agent. It makes it difficult for weeds to grow. I wish I would of used oyster shell to help bind my flagstone path that I installed.
Next up- Adding shell to my garden
My next project is adding crushed oyster shell to my vegetable garden. Shell matter is a natural fertilizer, and veggies are supposed to grow faster in it. The reason being is that the shell stimulates the soil and balances the soil PH. Cool huh? Learn more about how oyster shell helps your garden thrive.
Since crushed oyster shells could be used as a natural mulch, I will use crushed oyster shell around some of my garden plants and shrubs. The long hot summer took a toll on some of my favorite plants and shrubs, and the shell is an excellent way to increase the natural organic matter in the soil. I love the fact that it's 100% natural and sustainable.
What about the maintenance of a oyster shell path?
The good news: Shell paths and driveways don't crack, and the temperature won't damage the shells. When you use gravel, paths and driveways eventually develop ruts and tire tracks. This is not the case for oyster shell paths and driveways.
Assuming thick layers were applied at the outset, the material will last a long time. Because of compacting it will eventually need replenishing, but not every year (or even every other year). And unlike gravel, crushed shell hardscaping rarely encounters issues with weeds or pests: The shells' sharp edges act as a natural deterrent (but they're not so sharp as to be an issue for tires or shoes).
Contact ShellScapes for an estimate.
Pros and Cons of Installing an Oyster Shell Hardscape
Pros

of an oyster shell hardscape:
Sustainable natural product

Durable

Low maintenance

Light colors mean cooler surface in hot climates.

Provides excellent drainage and prevents runoff

Aesthetically appealing- gorgeous with a "wow" factor

Won't crack or break, requiring repairs

Good for the environment and for the soil

Can be mixed with gravel for larger areas to make it more affordable. The oyster flour will help bind the gravel together.
Cons

of an oyster shell hardscape:
Premium product may cost more than gravel.

Snow removal difficult

Not readily available in all areas, and shipping may be expensive.
There are at least 18 unique and modern walkway path designs that are worth considering. Crushed oyster shell pathway is one of them.