Ah, as the cooler weather makes it debut so does my favorite layering piece. There's nothing quite like slipping into that perfect shacket ensemble.Discover why shackets are the ultimate wardrobe staple for Fall and Winter.
We are sharing the top 28 shacket styles for this Fall and Winter through 2024. From plaid, solid, leather, denim and textured. We have you covered.
For those who don't know what a "shacket" is. A shacket is the lovechild of a jacket and a button-down shirt. It strikes the balance between lightweight comfort and warmth.
Perfect for those transitional weather phases – from late summer's fade to the hesitant whispers of spring. In these 'in-between' moments, shackets stand as your reliable wardrobe heroes
 The 2023 women's shackets are a must have item for sure. Put some of these on your holiday wish list.
Disclosure: This post may contain affiliate links. As an Amazon Associate, I earn from qualifying purchases at no additional cost to you.
The Ideal Layering Piece- Types of Shacket Styles
Shackets have always been popular and this year it's no different. Basically, the shirt-jacket because it is easy to throw on as you head out the door. Whether you are going for a walk, catching up with a friend over coffee, or stepping out for a night on the town. It's an essential item, one I can't do without.
There's a plethora of styles when it comes to women's shirt jackets, each crafted from different materials. Today, I'm thrilled to share some of the most sought-after women's shackets. They've become more than just clothes; they're the signature style for this season.
You may want to consider Investing in the timeless wardrobe staple. The best women's shackets offers a effortlessly layer for added style and warmth, bridging the gap between shirt and jacket. It's one of the easiest ways to transition into the new season in style. It pairs well with straight-leg jeans and white sneakers.
The Cropped Shacket Style
A shorter version, the cropped shacket, sits at or above the waist, creating the illusion of longer legs and accentuating the waist. Ideal for mixing and matching with dresses, skirts, or jeans.
Pair a cropped shacket with some high-wasted pants. Personally, I like to wear skinny jeans because I am short. Based on your body type, you could easily wear straight leg or wide leg jeans depending on your body type.
01
Pocketed Denim Jacket
Denim style cotton fabric. Crop style. Button fastening on the front section. Shirt-style collar. Maxi pockets. Long buttoned sleeve.
Mango: $59.99
02
Cute Plaid Cropped Shacket
Cute and flattering, cropped shacket jacket for women in vintage-inspired plaids will be your fall closet staple and make your outfit pop.
Wearing the womens flannel jacket unbuttoned over cropped tops or shirts, and paired them with jeans, a brown belt and spunky boots for a chic and a little edgy look!
Amazon: $28.77
03
Denim Cropped Shirt-Style
Denim style cotton fabric. Straight design. Short design. Shirt-style collar. Long sleeve with buttoned cuffs. Button fastening on the front section. Two patch pockets on the front.
Mango: 59.99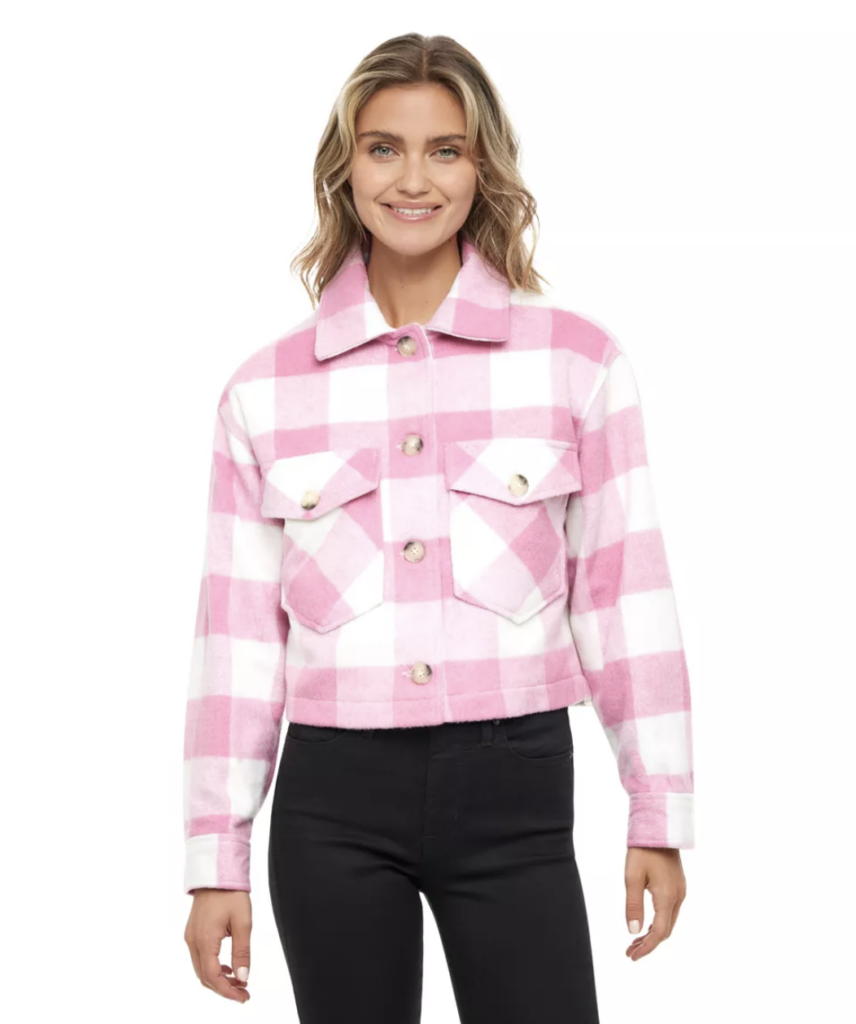 04
Cute Buffalo Cropped Jacket
Full sateen lining for comfort and button front closure for easy layering and wear. This buffalo plaid shirt jacket can be worn dressy or casual and is the perfect fashion update to your Fall and Winter wardrobe
Side entry pocket for storage and to keep your hands warm. Traditional shirt jacket collar and chest patch pockets give this wool like coat a trendy look.
Target: $29.99

05
Boucle Cropped Shacket
The fluffy bouclé construction of this jacket adds toasty warmth to this cropped shirt-jacket that is covered in a bold plaid pattern.
Nordstrom Rack: $39.97
Plaid/Flannel Shacket For Women
A fall and winter essential, the pretty plaids or flannel shacket brings warmth and a cozy feel. Pair it with jeans or black leggings and boots for a relaxed yet stylish look, perfect for a cabin retreat or everyday errands.
Shirt jackets exude a casual vibe, and plaid patterns naturally lean towards informality. Pairing a plaid shirt jacket with relaxed, boyfriend-style jeans emphasizes this laid-back feel. Another option? Try wearing an oversized shacket as a dress for a versatile, trendy look.
06
Longer Plaid Shacket
Crafted from a heavyweight wool blend, this slightly oversized coat features slouchy dropped shoulders, roomy patch pockets and side slits at the curved hem.
Nordstrom: $99.97
07
Blue and White Plaid Shirt- Jacket
Wear this oversized buffalo print shacket for a cozy weekend away. The slightly oversized shirt gives enough room to wear a sweater underneath.
Amazon: $69.42
08
Fitted Plaid Shacket
Straight, slightly cropped silhouette with a relaxed fit. I love the shape of this jacket with a slight puffy sleeve. It's a classic for sure.
Hits at the waist in the perfect spot.
GAP: $148.00
How To Style A Bold Bright Shacket
The key to wearing a bold, bright-colored shacket is to let it take center stage in your outfit. Keep the rest of the ensemble relatively understated to allow the shacket to make a statement.
Let the shacket stand out by pairing it with neutral tones. Opt for black, white, beige, or denim to allow the vibrant shacket to be the focal point of your outfit. Pair the bright shacket with simple, solid-colored tops or dresses. Doing this will balance the overall look and prevent it from appearing too overwhelming.
Mix the bold shacket with different textures to add depth and interest. For instance, pair a bright shacket with leather pants or a silk skirt for a striking contrast.Limit the number of accessories to avoid overpowering the outfit. Instead, opt for subtle accessories that complement the shacket without competing for attention.
For a fashion-forward look, consider a monochromatic outfit and use the bright shacket as the pop of color. Pair it with similarly colored pants or a skirt for a cohesive ensemble.
The Solid and Bold Shacket
09
Bold Pink Felt Shacket
The shacket is made from felt. The shacket features a tortoise button-front closure. The shacket has chest pockets. The shacket has balloon sleeves. The shacket is made from 100% Polyester. The shacket can be machine washed on cold with like colors. The shacket can be line dried.
Amazon: $66.30
10
Bright Cargo Style Shacket
Sunny Lime Cargo Style Shackett. Oversized bellows pockets adorn the chest and sides of this cargo shacket cut in a cool relaxed fit and covered in a bright yellow hue.
Nordstrom:$51.20
The Denim Shacket
Resembling a traditional denim jacket but lighter, the denim shacket comes in various silhouettes and styles. It's a versatile piece that goes well with dresses, skirts, or jeans, adding a touch of casual chic to any outfit.
11
Oversized Denim Shacket
Oversized denim shirt-jacket is timeless and sexy.
t's a versatile piece that goes well with dresses, skirts, or jeans, adding a touch of casual chic to any outfit.
Antropologie: $128.00
12
Denim With Western Flair
The curved yoke and snap buttons offer an iconic western style. The denim lightweight, mid-thigh denim shacket that develops even more character with wear.
Nordstrom; $49.00
13
Darling White Denim Shacket
What a great piece to have in your closet. Just like a denim jacket, this shirt-jacket is so versatile you can dress it up or down. Looks great on anyone.
Express: $61.74
Leather Shacket
This shacket is similar to a leather jacket but lighter and with a more relaxed silhouette, the leather shacket hangs like a cardigan. Versatile in styling, it complements jeans, a white tee, a graphic shirt, or a crop top, making it perfect for date nights, casual outings, or weekend getaways.
14
Buttery Leather Shacket
Where you button it up or or layered, this shirt-jacket done in the brand's buttery-soft faux leather is casually chic for day or night.
Nordstrom: $238.00
15
Cream Faux Leather Shacket
A stylish look layered or alone, this Tommy Hilfiger jacket features trucker-inspired stylings in supple faux leather.
Love the front pockets.
Macy's: $69.50
16
Carmel Faux Leather Shacket
Sport this darling faux leather shacket with jeans or black pants or leggings. Where a white tank top or T-shirt under the shackett.
Vici Collection:$78.00
17
Red Faux Leather Shacket
Crafted of faux leather, Kobi Halperin's button-front Aspen shirt offers his tailored styling and structured topstitching.
Saks 5th Ave: $149.00
18
Leather Vegan Oversized Fit
Comfy shirt in a soft vegan leather fabric and oversized-fit silhouette, featuring left chest pocket, button-up front and curved hem. Comes in various colors.
Abercrombie & Fitch
Solid Shackets With Texture
The following shackets are some of my favorites. Shirt jackets that have a texture are interesting and fun to wear. Additionally, solid colors go with nearly everything and the wool or nubby texture make the the following pieces ideal for fall and winter weather.
Put these on your holiday wish list for sure.