I don't know about you but all my Gal Pals are itching to escape reality these days and unplug from technology, breath fresh air without wearing a constricting mask and reconnect with nature. Glamping may be the ideal adventure you are looking for.
Do you love the outdoors, but pitching a tent on the cold hard ground in the woods is not what you call "fun"? You may want to consider glamping. Especially during the pandemic, we could all use a chance to break away and escape and be positive and productive and practice mindfulness.
What Is Glamping?
Some call glamping luxury camping. Others may refer to it as the ideal way to enjoy the outdoors without skimping on a luxury hotel's comforts. This refreshing style of travel can be a  family adventures that will create memories for a lifetime.
Glamping includes camping in luxury yurts, tipis, airstreams, safari tents, huts and tree houses. It's the ultimate outdoor luxury adventure. It depends on your personal style and budget.  Either way, check out five unique glamping adventures on the West coast.
Why Is Glamping So Popular?
Glamping all began with bringing comfort and luxury to the great outdoors for a truly unique travel experience. Over the past ten years, this trend has grown exponentially and now includes various styles of habitats and levels of luxury.
The 2019 North American Glamping Report is an independent study supported by KOA, or Camp grounds of America, Inc reports that the global glamping market in 2018 was 2.1 billion and increasing. I am starting to understand what the hype is all about.
The younger generation has sparked this new camping trend with the rising popularity of adventure travel and the influence of the internet and social media. Since Covid-19, glamping has become even more popular.
I must admit, glamping always sounded fun to me but I never really looked into it. Then by Gal Pal Jen told me all about her getaway with the family and so I wanted to learn more about glamping options.
Five Unique Glamping Types- Destinations That Will Intrigue You
1. Lakedale Resort, San Juan Island Washington- Tents, Yurts and Airstream Glamping
Take a car ferry in Anacortes (1.5 hour drive from Seattle) for a breathtaking boat ride, or fly to Friday Harbor on a thrilling floatplane and then arrive 8 mins later at the gorgeous Lakedale Resort on San Juan Island.
The unique thing about this resort is that you can go glamping in a yurt with a private hot tub, stay in a romantic lodge room, a cool airstream trailer or a luxury glamping cabin.
My pal Jen tells me that "Lakedale Resort has amazing customer service and island is fun to explore."
The Canvas Tents- Lakedale Resort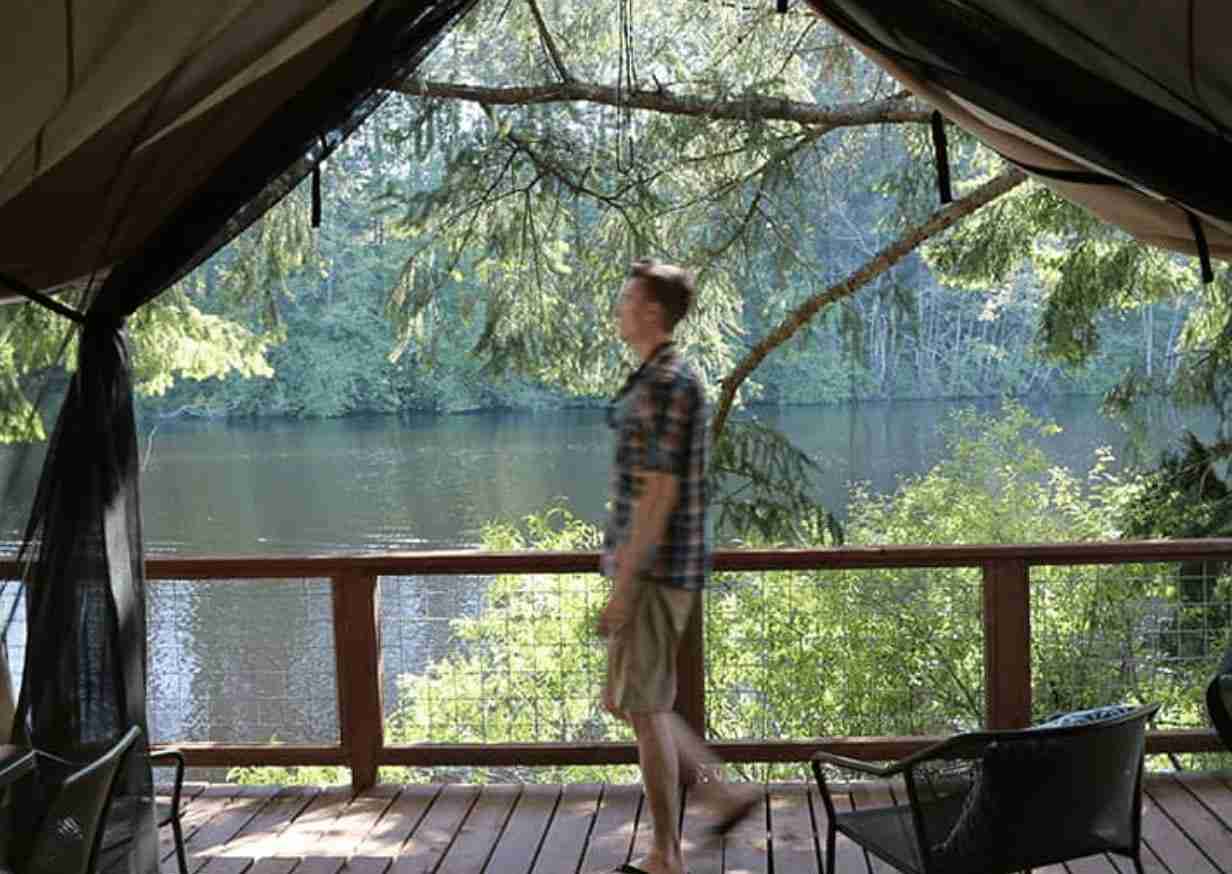 Sixteen wood-floored canvas tent cabins are scattered in the woods along the water on Lakedale Resort's 82 forested acres on San Juan Island.
Each tent comes furnished with a queen bed (pillow-top bedding, cotton sheets, pillows, and a flannel duvet), a table and four chairs, a retro-looking lantern, bath linens, and a full-size futon that sleeps two.
On the porch sits four Adirondack chairs. You can pull up next to the fire to roast marshmallows and make those goey nighttime snacks.
AIR STREAM TRAILER- Lakedale Resort
If campers and trailers are more of your thing, you may get into the vintage vibe of a 1978 Excella Airstream trailer, set on a lakefront campsite. It sleeps four and has a full kitchenette and private bathroom.
Airstream contains a retro dinette table with an extended sofa that converts to a full-size sleeping option, a TV, and a kitchenette with cooktop, refrigerator, and microwave. A separate bedroom with a full-size bed and a private bath with shower let you live the glamping life…in style.  Super COOLIO!
Luxury Yurt Glamping Experience- Lakedale Resort
There are seven 24 foot-diameter yurts so that each structure has it's own private space. These fancy yurts are 450 square feet. Inside you will find a large sitting areas with a sleeper sofa, rocking chair, dining table, as well as a flat-panel TV, wet bar, refrigerator, and bathroom. The king-size pillow-top bed with flannel duvet cover. Doesn't sound so shabby does it?
4313 Roche Harbor Road
Friday Harbor, WA 98250
360-378-2350
2. Rimrock In Tipis, Enterprise, Oregon
Rimrock Inn Tipis, Enterprise, Oregon
When I saw this, I thought it was so cool! How about glamping under the stars in a real tipi? Rimrock Inn offers four authentic, hand-painted tipis perched on the rim of Joseph Creek Canyon in the Wallowa mountains.
Tipis offer the perfect blend of rustic and romance. There's a rustic fire place outside, as well as firewood. Overhead, a billion stars – uninhibited by city lights – sparkle like diamonds.
The tipis are 16-20 feet across and are fully furnished with wooden tables and futons covered in Pendleton Woolen Mills bedding and down alternative pillows/blankets. The shared restrooms are steps away from the tipis.
There is a on-site restaurant that serves delicious dinners made with organic, locally-sourced ingredients.  A wonderful breakfast of granola and fresh fruit, giant cinnamon rolls or biscuits are served for breakfast- included in your stay.
Go canyon hiking trails by day and unwind by campfire at night to a chorus of crickets. Rimrock Inn closes each winter in late October.  The fee per night runs $165 for a family of four.
Distance: 6.5-hour drive from Seattle
rimrockinnor.com, 541-828-7769
3. Tranquil-a-Tree- Tree House Camping
Did you ever dream of living in the Swiss Family Robertson's tree house? If so, you will love this next adventure opportunity.
Tranquil-a-Tree allows guests to stay in a quaint treehouse-style cabin in the woods. There, guests have a private deck and hot tub, as well as many other amenities. You can enjoy all the benefits of camping without the uncomfortable tents. Just make sure to let them know you are bringing a pet with you before you go!
Privacy abounds in this Awesome Tree House! Situated all by itself in it's own grove of majestic, 100 year-old fir trees, enjoy your very own hot tub on a private deck along with all the other amenities of the tree house.  Be at peace with life and nature in our pastoral cabin while being just a short distance from the majestic Columbia River Gorge, it's world-renowned spectacular scenery and waterfalls, and the bucolic villages which line its shores.
From Spring through Autumn, the Wild and Scenic White Salmon and Klickitat Rivers, just few miles away, offer White Water Rafting, Kayaking, Canoeing, Fishing, Swimming, and other water sports.
White Salmon Washington is 3.45 hours from Seattle and 1.10 hours from Portland Oregon.
https://www.tranquilatree.com
4. Rolling Huts, Washington- Glamping In Rolling Huts
The Methow Valley in Washington is a mecca for cross-country skiing in the U.S. The area boasts over 120 miles of accessible ski trails in and around the quaint town of Winthrop. Trails range in difficulty, providing plenty of options for novice visitors and seasoned trail veterans.
Designed as a modern alternative to camping by Tom Kundig of Olson Kundig Architects in Seattle, the six huts are grouped as a herd, each with views of the mountains. Stunning design! Rolling Huts are open annually.
The Rolling Huts is a collection of six luxury accommodations that have an incredible view of the mountains of Washington's Methow Valley. With all the modern amenities you could hope for, all snuggly fit into a tiny house, Rolling Huts makes glamping with your pooch a paw-fect experience to remember!
The Rolling Huts
The construction of each hut is simple. It is, in essence, an offset, steel-clad box on a steel and wood platform. Walls are topped by clerestory windows, over which a SIPs panel roof floats in an inverted, lopsided V.  The rustic character of the materials responds to the natural setting.
The six huts are grouped as a herd: while each is sited toward a view of the mountains (and away from the other structures), their proximity unites them. Showers and a parking area are located in and near the centrally located barn, a short distance from the herd. The huts evoke Thoreau's simple cabin in the woods—structures that take second place to nature.
Each hut comes equipped with a small refrigerator, microwave, fireplace and Wi-Fi. There is a sleeping platform perfect for two, and modular furniture in the living area that can be reconfigured to sleep two more.
Each hut has an adjacent portable toilet. Full bathrooms and showers are housed in the centrally located barn a short distance away.
Rolling Huts are 3.45 hours from Seattle Washington. Book a hut anytime during the year at aprox $135 a night.
18381 HWY 20, Winthrop WA 98862
Toll-free
877.223.1137
Phone
509.996.4442
5. Safari West- Glamping In Sonoma County
Escape to Africa by way of Sonoma County…You can't travel to Africa anytime soon but you can discover the Sonoma Serengeti.
Between fields of grapevines and rustic restaurants in Northern California's wine country is a herd of African wild African animals.
40 Mammals and 73 Bird Species
The reservation houses 40 species of mammals and 73 species of birds, in a park designed to feel like an African savannah in the middle of California in a 400- acre wildlife preserve in Sonoma County's Santa Rosa.
Unlike a traditional zoo, Safari West's animal residents roam throughout the grounds (okay, a few carnivores are kept separate to keep them from eating their neighbors).
The entire Safari West experience is a kid-friendly adventure for families to enjoy together. Th tours are designed to educate guests of all ages.  Safari West  strives to actively promote conservation and environmental education concepts to all guests, whether they are with us for an hour or a week.
The whole experience at Safari West is one of building connections and making discoveries; getting back to basics and enjoying the profound simple pleasures of family and nature that are all too often overlooked.
Glamping In An Authentic Botswana Tent- So cool!
If anything is "not to be missed," it is that sense of serenity one finds while gazing at graceful giraffe nuzzling her newborn or the surge of raw adventure while witnessing an energetic herd of wildebeest galloping across the horizon. Overnight lodging is also available – the true 'glamping' experience!
Glamping could be an ideal girl trip! 
 The Gal Pal Getaway Package:
Book a reservation here:
3115 Porter Creek Road Santa Rosa, California 95404 – United States
+1 800 616 2695
www.safariwest.com
[email protected]
Consider glamping as a way to escape reality and create memories of a lifetime. Let me know if you try any of these accommodation recommendations in this post.
Cheers to you all. Stay stafe girl friends!!