Gal Pal Inspiration

Facebook-f


Twitter


Google-plus-g


Envelope

45
Inspirational And Encouraging Quotes For Women
Quotes are those little reminders that we all need now and then. Some are powerful enough to inspire, empower and remind us of what is important in life. 
We love quotes quotes because they meet us right where we are. No matter what we are going through. In the middle of celebration or pain. I hope these quotes make your day gals. 
So here is the beautiful collection of empowering and inspirational quotes  by some amazing women, that  may resonate with you.  Girlfriends,  we know we have the potential to be the best humans we can be… sometimes we need a little push to chase our dreams and rise above that inner critic. 
45 Inspirational And Empowering Quotes That May Resonate with You


1.   "I was smart enough to go through any door that opened." – Joan Rivers
2.   "Cautious, careful people, always casting about to preserve their reputations can never effect a reform." – Susan B. Anthony
3. 
4.  "Knowing what must be done does away with fear." –  Rosa Parks
5.  "I didn't get there by wishing for it or hoping for it, but by working for it." – Estée Lauder
6.  "Power's not given to you. You have to take it." –Beyonce Knowles Carter
7.  "The most difficult thing is the decision to act, the rest is merely tenacity." – Amelia Earhart
8.
9.  "Drama is very important in life: You have to come on with a bang. You never want to go out with a whimper." – Julia Child
10.  "A woman with a voice is, by definition, a strong woman." – Melinda Gates
11.  "We need women at all levels, including the top, to change the dynamic, reshape the conversation, to make sure women's voices are heard and heeded, not overlooked and ignored." – Sheryl Sandberg
12.  "Fearlessness is like a muscle. I know from my own life that the more I exercise it the more natural it becomes to not let my fears run me." – Arianna Huffington
13.  "A girl should be two things: who and what she wants." – Coco Chanel
14.  The most courageous act is still to think for yourself. Aloud." – Coco Chanel
15.  "No one ever became a success without taking chances… One must be able to recognize the moment and seize it without delay." – Estée Lauder
16.  "Find something you're passionate about and keep tremendously interested in it." – Julia Child
17.  "What you do makes a difference, and you have to decide what kind of difference you want to make." – Jane Goodall
18.  "I never want to be called the funniest Indian female comedian that exists. I feel like I can go head-to-head with the best white male comedy writers that are out there. Why would I want to self-categorize myself into a smaller group than I'm able to compete in?" – Mindy Kaling
19.
20.  "A woman is the full circle. Within her is the power to create, nurture and transform." – Diane Mariechild
21.  "Courage is like a muscle. We strengthen it by use." – Ruth Gordon
22.  "Let go of who you think you're supposed to be; embrace who you are."– Brene Brown
23. 
You don't have to have a million social followers. You don't have to be rich or famous. You don't have to come up with the next big app or run for president. You just have to serve.

Maria Shriver

Tweet

24.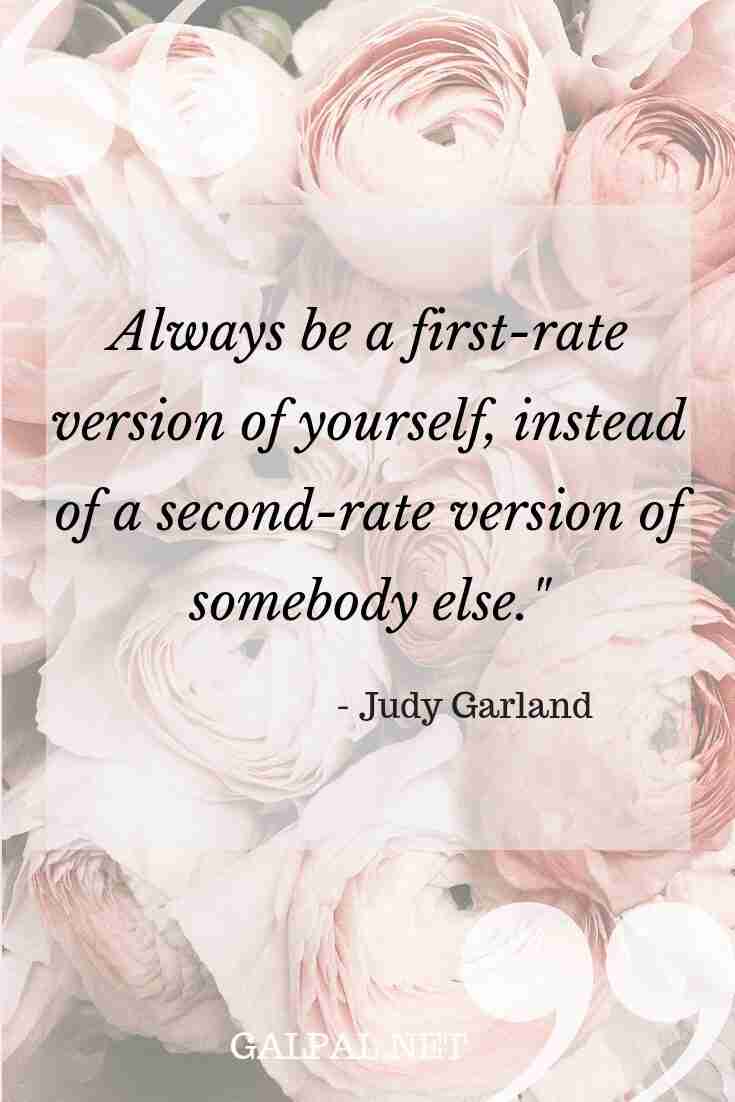 25. "Remember that you are among the blessed. You are still here, so you still have a shot to make an impact with your life and benefit others. – Maria Shriver
26.  "The thing women have yet to learn is nobody gives you power. You just take it." – Roseanne Barr
27.  "Women belong in all places where decisions are being made. … It shouldn't be that women are the exception. " Ruth Bader Ginsburg
28.
Perfectionism is a self destructive and addictive belief system that fuels this primary thought: If I look perfect, and do everything perfectly, I can avoid or minimize the painful feelings of shame, judgment, and blame.

Brene Brown

Tweet

29.  "There is no limit to what we, as women, can accomplish."  Michelle Obama
30. "Women will be hidden no more. We will not remain hidden figures. We have names. … It was woman that gave you Dr. Martin Luther King, Jr. It was woman that gave you Malcolm X. And according to the Bible, it was a woman that gave you Jesus. Don't you ever forget it."
Janelle Monáe
31. "I am a woman with thoughts and questions and shit to say. I say if I'm beautiful. I say if I'm strong. You will not determine my story—I will."
Amy Schumer
32.  "A revolutionary woman can't have no reactionary man."
Assata Shakur
 33. 
34.  "What I've discovered is that most tears come from our inability to tell our story. One of my teachers once told me, "Tell your story. Your story will heal you, and it will heal someone else." Iyanla Vanzant
35.  "God is in the midst of her; she shall not be moved; God will help her when morning dawns." Psalm 46:5
36. 
37.  "Men kick friendship around like a football, but it doesn't seem to crack. Women treat it like glass and it goes to pieces."– Anne Morrow Lindbergh
38.  "Women's friendships are like a renewable source of power."– Jane Fonda
39.  "I guess what I'm saying is, let's keep lifting each other up. It's not lost on me that two of the biggest opportunities I've had to break into the next level were given to me by successful women in positions of power. If I'm ever in that position and you ask me, 'Who?' I'll do my best to say, 'You' too. But in order to get there, you may have to break down the walls of whatever it is that's holding you back first. Ignore the doubt — it's not your friend — and just keep going, keep going, keep going." —Talking as Fast as I Can: From Gilmore Girls to Gilmore Girls, and Everything in Between
40.  "I just love bossy women. I could be around them all day. To me, bossy is not a pejorative term at all. It means somebody's passionate and engaged and ambitious and doesn't mind leading."  – Amy Poehler, Actor
41.  
41.  You are the one that possesses the keys to your being. You carry the passport to your own happiness." – Diane von Furstenberg
42.  "Imperfections are not inadequacies; they are reminders that we're all in this together."- Brené Brown
43.   Never regret a day in your life. Good days give you happiness and bad days give you experience. —Unknown
44. You only live once, but if you do it right once is enough. – Mae West 
45.  
https://galpal.net/wp-content/uploads/2020/07/I'm-selfish-impatient-and-a-little-insecure.-I-make-mistakes-I-am-out-of-control-and-at-times-hard-to-handle.-But-if-you-can't-handle-me-at-my-worst-then-you-sure-as-hell-don't-deserve-me-at-my-best."-1.mp4
There is no elevator to success — you have to take the stairs. 

Anonymous

Tweet

Friends, I hope some of these words will bring a smile to your face and will resonate with you one way or another.  If you want to see more quotes, see more here. Please share with your Gal Pals. 
Take Care,