Be Generous And Make A Difference This Holiday
Shop For Goods That Give Back To Causes That Matter To You
What if you could do your holiday shopping safely online during these unprecedented times, knowing each product you bought supports a meaningful charity you care about? How cool would that be?
Guess what? It's now possible thanks to Generous Goods.
What is Generous Goods?
Generous Goods is a brilliant new shopping platform that recognizes brands that give back by empowering consumers to purchase goods that make this world a better place.
Generous Goods was dreamed up by Lindsay Browning, a heartfelt human being and  lifelong volunteer who made it a mission to discover great products that give back to good causes. Browning recognized that It was challenging to identify "Generous Goods" and wondered why there wasn't a single place to search, compare, and purchase them. There are many generous brands out there, but they're not always easy to find! Now there is!
Lindsay Browning – Founder
Lindsay Browning came up with the name and concept for Generous Goods almost a decade ago. Even before "social enterprise" was a well-known phrase, brands were making a meaningful decision to use business as a force for positive change. Lindsay was so impressed with the generosity of these brands that it really impacted her. When coming up with the name for the company, she wanted to feature the term generous.  "I also love the double meaning of "goods" both as consumer items and as little sparks of positive energy making the world a better place," says Browning.
"We're proud to say there's no other place where you can find a substantial, searchable, and well-researched collection consisting entirely of products that give back! Whether you wish to search by cause, product or brand, we have curated our collection, so it's ultra-easy to browse, learn, and shop.
You can shop by the cause or shop by the product or brand. 
Women Owned Business That Does Good
As you can imagine when I met Lindsay and her all-woman team I was blown away. Why?  I am inspired because of the size of their hearts, generosity not to mention work ethic.  The small and mighty group of women happen to also be busy mothers juggling on-line learning while building a business. Yikes! I can totally relate! 
 As I have gotten to know the women behind Generous Goods, I have been impressed with their ability to create, curate and grow during such a difficult time in history. I love the fact that the team cares so much about helping others. 
Generous Goods + Gal Pal Goods Announcement
I can't tell you how honored I am that Generous Goods invited Gal Pal Goods to join the collection of brands that give back to good causes! In case you didn't know. Gal Pal just launched an online store named Gal Pal Goods. Gal Pal Goods  offers a host of fun-positive products that look great and support parent resource education and access to education for girls around the world, from home goods to apparel.
I feel so honored to also serve as a guest curator for the 2020 Generous Goods Holiday Gift Guide. Check out my Generous Goods picks for this holiday here.
Why Is Generous Goods So Unique?
Browning tells us that "Generous Goods is unique because we do not sell any products. We are a searchable directory and referral source. This has been part of our mission from the beginning since we do not want to take away from the give back our brands build into their models."

 

"We think our communities are our very best asset. Our community of mission-driven brands, and our community of cause-driven shoppers. Our entire mission is to connect the two. "
The Business Launch Timing Is Perfect
Browning shares, "like so many businesses around the world, we've used these unprecedented times to reflect and pivot. We really feel the energy from our brand and shopper communities that our mission and our message matter now more than ever. People are keen to be connected with brands that do good and make purchasing choices with real impact."
How Zoom Has Opened Doors Of Opportunity To Collaborate And Build Connections
Zoom has also opened up a whole new world – literally – for Generous Goods. Browning told me  "It's been such a pleasure to meet and collaborate with brands across the country and around the world." Building deep connections and friendships with mission-driven founders, hearing their stories, discovering their products, and sharing them with the world is what motivates the Generous Goods team to dream and hustle every day.
One brand meeting that comes to mind, in particular, was an emotional zoom call with the North Carolina-based founder of Thread Talk, a maker of beautiful organic cotton blankets. Hannah Kay Herdlinger escaped from domestic abuse, moved across the country, and with no previous experience, created a brand that gives back to fund necessary items for domestic abuse shelters across the country.

 

She's incredible. We also happened to speak with a handful of Minneapolis-based brands over the summer, in the wake of the riots. It was so moving to hear how they had expanded their giving missions to help support Black Lives Matter initiatives and fund local rebuilding efforts in their home state. 

 

I also have to give a shout out to Atlas Accessories Founder Gregory French, whom we met with last spring via zoom while he was sheltered in place in London. I think he is officially the Most Interesting Man in the World, and I will never forget hearing about the incredible personal journey that led to the creation of his gorgeous one-of-a-kind men's bracelets. 
How Do You Go About Choosing What Brands To Feature As Part Of your Shopping Platform?
I asked Browning how the Generous Goods team go about selecting which brands they want to work with. She was clear that  for a brand to qualify for the Generous Goods Collection, it must actively give back to a good cause. Generally, these "givebacks" fall into one of four categories: 
Percent of Proceeds, when a brand designates a portion of the proceeds from sales of a single product, product line, or entire collection for donation to a specific cause. The majority of our brands fall into this category.
Buy one, Give one, where a brand donates an item of a similar function of the value for every item sold (one beanie donated to cancer patients or homeless shelter residents for every one sold, for example).
"Act of Goodness," where a brand funds a specific charitable act for every item sold. One tree planted, for example, or ten meals donated.
Global Community Empowerment, where a brand has partnered with one or more communities in a developing country, helps create jobs, improve access to education and health care, and combat systemic poverty. 
It so happens that many of the brands are founded by women, and Generous Goods very proud to promote the sisterhood!!
Examples Of Brands On Generous Goods That Have A Mission To Support Meaningful Causes
I am so  very honored to give back to women and children with products like the GG Go Girl bath mat.
Generous Goods voraciously believes that each Woman and Girl shall have her own voice, room of one's own, power, independence and freedom to choose how to live on this planet with respect, equality and safety.  Generous Goods believes in empowering every FEMALE, at all ages and stages to live authentically and to embrace her best life.
Generous Goods celebrates brands, products and charitable non-profits dedicated to strengthen and lift every Woman and Girl.  Sisterhood is Global. Gal Pals are global!
Start every morning off on a positive note with the Go Girl Bathmat from Gal Pal Goods. Made from cushioning memory foam, this soft, stylish and tailored bath mat will coordinate easily with any bathroom decor. Inspire every gal to carry the Go Girl anthem in her heart and mind all day long!
Purchase from Gal Pal Goods Gift guide at Generous Goods! 
Founder Lauren VanScoy started Essence One after discovering essential oils' benefits during her battle with anxiety and depression. Her brand donates 10% of proceeds to support mental health advocacy and education.
Serve Kindness creates beautifully vibrant colored hand blown glass bowls that bring joy to every table. Their products help support local New England glass artists and charitable organizations that work to spread beauty and kindness. Shoppers are given a list of the company's current nonprofit partners spanning multiple causes and regions they can choose when they purchase.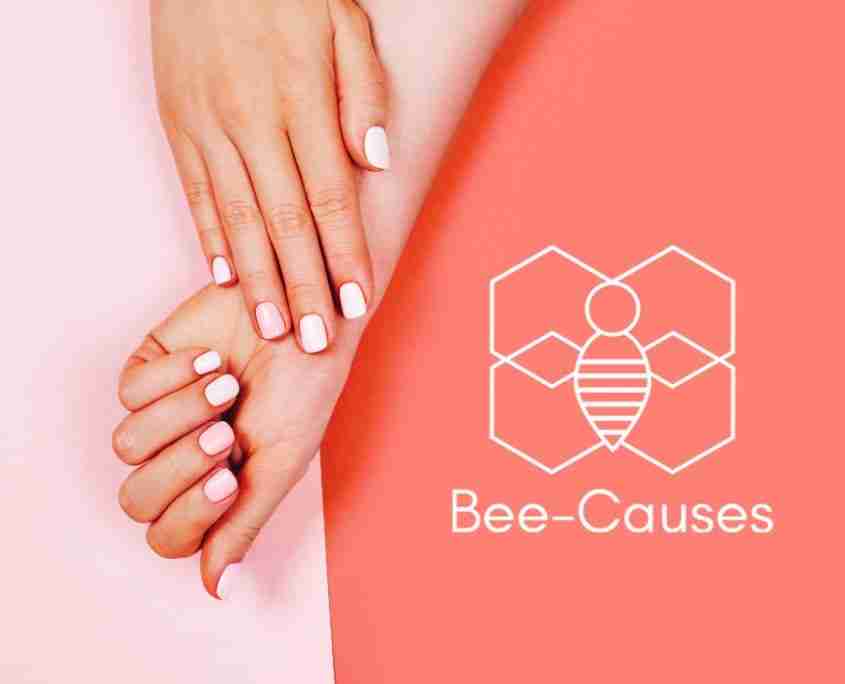 Bee-Causes makes beautiful "five free" (no nasty stuff) nail enamels that do good. The brand donates a portion of proceeds to help fight childhood cancers and Parkinson's Disease. They also have a program that allows nonprofits to create a custom polish kit to raise funds for their organizations. 
All-women jewelry brand based in Minnesota that plants one tree for every piece of jewelry sold.
The maker of the coolest water bottle accessory you didn't know you needed (but trust us, you do). Donates 25% of proceeds to fight climate change through carbon farming and soil health.
Founded specifically to break the cycle of poverty and vulnerability to sex trafficking that plagues many Filipino communities, Dignity Coconuts' 100% pure coconut oil products have helped establish a local economy that that provides jobs, fair trade, education, clean water, and life skills training.
My shopping experience on the Generous Goods platform has been very positive. It's easy to navigate and I have discovered so many unique products I have never seen before. 
Browning said, "we've been SO touched and humbled by the feedback we've received! Brands and shoppers alike recognize the challenges of finding products that give back and are so grateful to have a trusted, searchable source. Perhaps my favorite comment from a brand was from a founder who said if she wasn't running her own company, she'd like to work for Generous Goods! I felt the same way about her brand, incidentally. Our founders' stories are so powerful."
Browning told me that they have found ways to work with nonprofits directly by building mini-stores featuring products and brands that give back to extraordinary nonprofits. I can only imagine how rewarding it must be to support communities, brands, and nonprofits that are making our World a better place. Wow. 
Gal Pal Good's Invitation To Join the Generous Goods Collection
When Gal Pal Goods was invited to be featured in the Holiday gift guide, I was beyond honored and thrilled. I am also excited to brilliantly serve as a guest curator for the Generous Goods 2020 Holiday Gift Guide! My shortlist of goods for the holiday that gives back can be found here.